Lake Lucerne, Wisconsin, USA
Lake Locations:
USA - Midwest - Wisconsin - Lake Superior Northwoods Region -
Also known as:  Lucerne Lake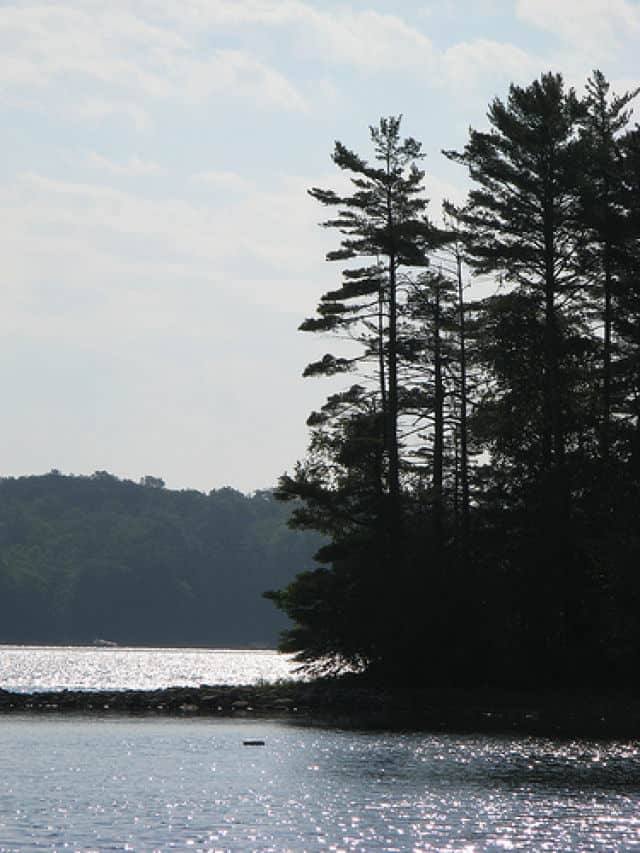 Tucked away in the Lake Superior Northwoods Region of Wisconsin, Lake Lucerne has provided the perfect getaway spot for generations of lakelubbers. The thousand-acre natural lake has served many families with prime views of a pristine lake and forest from their own front porch. Well-supplied with seasonal and year-round homes, quiet Lake Lucerne can provide it all: swimming, fishing, sailing, boating, water skiing and pontooning. Visitors arrive with some regularity to watch the water ski shows on Lake Lucerne which are hosted by a local restaurant. Produced by the Crandon Water Ski Club, the shows are quite an attraction weekly during the summer. The rest of the time, residents and visitors float lazily on pontoon boats, canoe or kayak along the shore and enjoy such wildlife as bald eagles and loons.
Fed by several intermittent streams, the only outlet is small Swamp Creek. A public boat launch allows visitors to enjoy the bountiful waters. Fishing is popular at Lake Lucerne, with anglers catching northern pike, walleye, largemouth bass, smallmouth bass, panfish, splake, whitefish, rock bass, black crappie and yellow perch. Ice fishing is nearly as popular as summer angling.
The entire area is sought out for its variety of recreational activities both on the surrounding lakes and off them. Forest County boasts of over 405 miles of groomed, state-funded snowmobile trails winding through the Chequamegon-Nicolet National Forest in lightly populated communities. Visitors to the local area can also enjoy cross-country ski trails, birding and nature trails, nearby canoe routes, ATV trails, mountain biking, hiking, cycling and just plain enjoying nature. During hunting season, the Nicolet National Forest is open to hunting during the season for white tailed deer, black bear, wild turkey, ruffed grouse, coyote and duck among others.
There is plenty of activity to keep any restless vacationer busy around the lake. Golf courses, movie theaters, restaurants and shopping can be found at nearby Crandon. Two Native American casinos are located within the county. The Forest County Pottawatomie Cultural Center, Library and Museum offers exhibits and native handcrafted items for sale. At Laona, history buffs can ride an authentic steam train to historic Camp Five Logging Camp and visit the museum, blacksmith shop and country store. A second logging museum is located at nearby Wabeno, where the museum preserves relics, pictures and records of the colorful period in history when most of Forest County's European settlers arrived. Art shows, festivals, auto shows and local events mean there is always something going on nearby.
But the really BIG event each summer at nearby Peshtego Lake is 'Footstock', the National Championship of Endurance Barefooting (water skiing). Competitors come from many states around to enjoy the festivities and the grueling racecourse. Competitors also wear outrageous costumes, have leech-eating contests and occasionally get paintballs shot at them – all of which have turned the popularity for the two-day event into a national cult phenomenon. Water Ski Magazine has dubbed the event the "craziest water ski championship in America," and the New York Times calls it "a Nascar race on water, only with a crash on every lap." Perhaps it is the legacy of the rough-and-tumble logging and mining crews that first settled the area; odd and extreme sporting events are hugely popular in the area.
Located just east of the City of Crandon and Lake Metosta, Lake Lucerne is just close enough to town to make purchasing lake supplies and groceries convenient, but far enough away to remain quiet and unhurried. Lake Lucerne shares its name with at least two other lakes of the same name in Wisconsin. Both of the others are farther south and closer to population centers. This northernmost Lake Lucerne has avoided being over-run by developers and resort builders and is unlikely to see much more heavy development. Forest County is 59% public land, and 50% of the homes are seasonal. The Nicolet National Forest preserves 661,400 acres in Florence, Forest, Langlade, Oconto, Oneida, and Vilas counties. So, a cottage at the lovely lake is like residing in the midst of an exclusive lake community surrounded by woods and wetlands.
One small resort rents cottages on the lake to vacationers. Other visitors arrange for a weekly rental of one of the many private homes that are offered as vacation rentals. Because many lake cottages stay in the family for several generations, even seasonal residents form a cohesive community. Most cottages have their own docks and provide for their own swim areas. Many cottages can be rented year-round for the convenience of ice fishermen, snowmobilers and cross-country skiers. The Lake Lucerne Advancement Association monitors water quality and coordinates lake concerns with the State to assure the lake stays clear and clean.
The large number of lakes in the area assures that there are nearly always lakefront lodgings to be found in the immediate area. Crandon has several modern chain hotels, and there are many resorts, bed-and-breakfasts and campgrounds in Forest County. Real estate also exists, both vacant properties for building and existing homes along the lakefront. So no matter where your interests lie, you can likely indulge your hobbies at lovely Lake Lucerne. Grab the fishing rods and the swim gear and come on up to Lake Lucerne. You'll love this very special lake!
Things to do at Lake Lucerne WI
Vacation Rentals
Fishing
Ice Fishing
Boating
Sailing
Swimming
Canoeing
Kayaking
Water Skiing
Golf
Camping
Campground
Hiking
Biking
Cross-Country Skiing
Snowmobiling
Hunting
Wildlife Viewing
Birding
National Forest
Museum
Movie Theater
NASCAR
Shopping
Casino Gambling
Fish species found at Lake Lucerne WI
Bass
Black Bass
Black Crappie
Crappie
Largemouth Bass
Northern Pike
Perch
Pike
Smallmouth Bass
Splake Trout
Sunfish
Walleye
Whitefish
Yellow Perch
---
Lake Lucerne WI Photo Gallery
Lake Lucerne WI Statistics & Helpful Links
Spread the word! Share our Lake Lucerne WI article with your fellow Lake Lubbers!