Lake Lucerne, Switzerland
Lake Locations:
Switzerland - Lucerne - Nidwalden - Obwalden - Schwyz - Uri -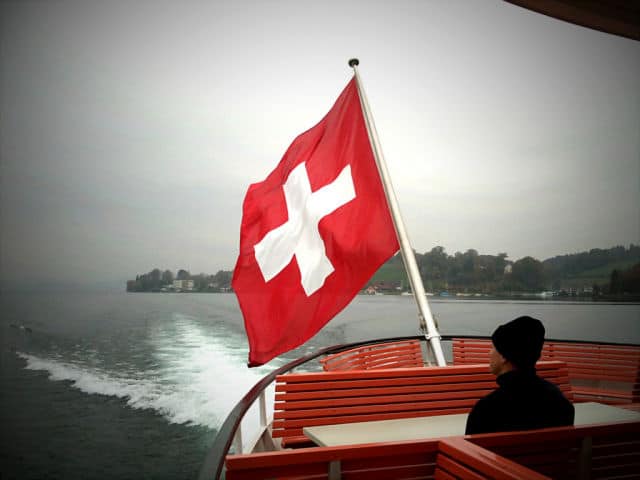 With a shoreline that rises steeply into the mountains to a height of more than 4,900 feet, Lake Lucerne is the fourth largest lake in Switzerland. Its 28,000 acres spread across the four Swiss cantons (states) of Uri, Schwyz, Unterwalden and Lucerne.
Lake Lucerne's surface appears irregularly shaped and receives inflows from the Muota River, Engelberger Aa, Sarner Aa and the Reuss River which also exits the lake at the city of Lucerne. The lake's water levels are maintained by a water spike (also called a needle dam or a weir) in the Reuss River in Lucerne; built in 1859, the spikes are lowered into or removed from the river manually to control water levels.
The lake is a center for family water fun for residents and visitors from around the world. Pedaloes, boating, waterskiing, swimming, and fishing for the local favorite, whitefish, as well as perch, bass, lake trout, catfish, and carp are activities enjoyed by those who prefer an active vacation. For those who prefer to lie back and relax, the lakeside beach recently celebrated its 125th anniversary; the beach boasts vendors of local cuisine and a bar for your convenience and enjoyment. Lake Lucerne also has steamer cruises that provide scenic tours as you indulge in a meal of excellent local specialties. Paddle wheel boats also provide the same service if you prefer to take a step back in time as you enjoy a sunset cruise watching the sun slowly drop behind the majestic Alps. Boat transportation is a quick and convenient option to small villages around the lake for day excursions.
The city of Lucerne is a world renowned tourist center. Although these visitors arrive from destinations around the globe, Lucerne is also a top vacation destination for a large number of Swiss. While Lake Lucerne is a big draw, the city is thought to provide the true Switzerland experience with its picturesque mountains, crystal clear lake, alpine village atmosphere, goat trails winding through rolling green meadows plus numerous historic landmarks. Chapel Bridge, a covered wooden bridge, was built in the early 1300's as part of the city's fortifications and is a top destination for sightseers. Further on, the Water Tower, built around 1300, is a unique architectural feat with its octagonal shape and over 110 feet high; through the years it has been utilized as an archive, treasury, prison, and torture chamber and is believed to be the most photographed monument in Switzerland. The Musegg Wall was built also for the city's defense with its rampart walls built in 1386 and nine of the original watch towers still intact with three open to the public. The Lion Monument is carved high in the side of the hill in memory of members of the Swiss Guard who were killed protecting the King of France.
If you prefer more modern diversions, then the Lake Lucerne area is sure to please. Opportunities for climbing, diving, horseback riding, mountaineering, rock climbing, sailing, bungee jumping and parasailing are available for your fun and excitement. Hiking and biking around Lucerne are the best ways to experience the way of life of the locals as you travel through their communities; local maps with marked trails are available at most tourist areas. During the winter, skiing, snowboarding, winter hiking, ice skating, sledding, snow tubing, snow biking, sleigh rides and husky pulls will keep you busy through the cold months. Local outfitters, guides, and sports shops can provide equipment needed and instruction to maximize your fun.
Holiday flats, grand hotels, guest houses, spas, and campgrounds are available for your vacation rentals and accommodations during your stay at Lake Lucerne. Dining opportunities go beyond the typical Swiss food to international cuisine. Try a boxed lunch of local cheese, pear bread and a local wine for your midday meal as you stroll through the cobbled streets, but dress in your finest for an elegant evening of dining in one of the many five star establishments.
Historical monuments, scenic mountain backdrops, great food, a beautiful lake, and lots of outdoor activities make the perfect equation for a memorable vacation. Lake Lucerne has been attracting visitors for centuries, and like its great wines, it only improves with age.
Things to do at Lake Lucerne CHE
Vacation Rentals
Fishing
Boating
Sailing
Swimming
Beach
Water Skiing
Parasailing
Tubing
Camping
Campground
Hiking
Ice Skating
Rock Climbing
Biking
Snowboarding
Horseback Riding
Fish species found at Lake Lucerne CHE
Bass
Carp
Catfish
Lake Trout
Perch
Trout
Whitefish
---
Lake Lucerne CHE Photo Gallery
Lake Lucerne CHE Statistics & Helpful Links
Spread the word! Share our Lake Lucerne CHE article with your fellow Lake Lubbers!