Lake Livingston, Texas, USA
Lake Locations:
USA - Southwest - Texas - Piney Woods -
Also known as:  Livingston Reservoir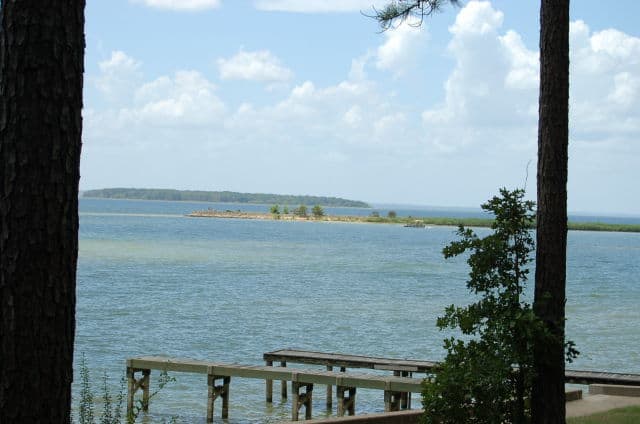 Sometimes referred to as a "water wonderland," Lake Livingston is the second largest lake contained entirely within Texas. With over 450 miles of shoreline, it covers 83,000 acres and runs through four different counties: Polk, Walker, San Jacinto, and Trinity. The Trinity River Authority created Lake Livingston, under contract with the City of Houston, for municipal, industrial, and agricultural water supply. The Authority completed the Lake Livingston Dam in 1969, creating a reservoir 39 miles long and 7 miles wide at its widest. At 2-1/2 miles long and an average height of 55 feet, the dam controls the flow of the Trinity River. Several communities dot the shoreline making it an excellent place to live or visit.
Lake Livingston is only 80 miles north of Houston, making it an ideal weekend getaway or day trip. Noted for its boating opportunities, Lake Livingston has over 100 boat launching ramps in state parks, resorts, home communities, and marinas around the lake. However, due to the size of the lake there is usually plenty of room on the water for pontoon boats, speed boats, ski boats, and fishing boats, even on busy holiday weekends. To take full advantage of the water, head to the lake during the week when you will have it almost to yourself.
Besides boating, Lake Livingston offers hiking, picnicking, swimming, geocaching, 5,000 campsites, and fishing in several parks along the shore. Lake Livingston State Park, located one mile southwest of the town of Livingston, offers mountain biking, hiking and equestrian trails along with a swimming pool, campsites, nature study and a lighted fishing pier. The park is located near the ghost town of Swartwout, a steamboat landing in the 1830s and the meeting place of Polk County's first commissioners court. Wolf Creek Park, managed by the Trinity River Authority, is located near Cape Royale, a lake community with abundant wildlife and an 18-hole golf course. The park has camping, water sports, fishing and boating. There are 30 campsites for RV's, 54 tent sites with water and electricity, and 19 campsites with water only. The park has a marina to launch personal watercraft and boat rentals for those who don't have their own boat.
Known for its catfish and white bass fishery, a day at Lake Livingston would not be complete without a little fishing. Lake Livingston is often referred to as the "Catfish Capital of Texas." Fish records include a 78-pound blue catfish, a 114-pound flathead catfish, a 12.88-pound hybrid striped bass and a 31.5-pound striped bass. Fishing is great from shore as well as in a boat, so anyone with a rod and reel stands a good chance of catching something. Other fish in the lake include largemouth bass, blue gill, channel catfish, white bass, and black crappie.
If wildlife is where your interests lie, then Lake Livingston is definitely a place you want to visit or have a second home. White tail deer roam the shores and area communities along with opossums, raccoons, squirrels and foxes. Located just off the Texas Coastal Birding Trail, Lake Livingston is not short on bird varieties either. Some of the more common birds are cardinals, blue jays, humming birds, road runners, eagles, snowy egrets, turkey vultures, blue herons, and ducks. The humming birds are most commonly seen in early May and leave the area by the end of September. Eagles are best seen during the winter months all along East Texas and down the coastline. Birds and mammals are not the only wildlife common along the shores of the lake. Watch out for alligators, which can be found living in the creeks, and always be aware of poisonous snakes including water moccasins and rattlesnakes.
Lake Livingston has pleasant weather most of the year with winter averages of 55 degrees, spring and fall averages of 75 degrees, and summer averages of 92 degrees. The lake, which is kept at a constant level with typical variations of one to two feet, has an average depth of 23 feet with the deepest water near the dam at 90 feet. During your drive to Lake Livingston in the spring, you will be assured of seeing the famous Bluebonnets from March to early May along with Indian Paint Brush, Indian Blankets, and Buttercups.
Whether a weekend trip or a year-round weekend home, Lake Livingston is one of the best kept secrets just an hour north of Houston. Check out the vacation rentals, which include waterfront homes, boat houses, and acreage in the many small coves that make up Lake Livingston. Pack up the kids, grab your fishing poles, and head to the Piney Woods of East Texas.
Things to do at Lake Livingston
Vacation Rentals
Fishing
Boating
Swimming
Swimming Pool
Golf
Camping
Picnicking
Hiking
Biking
Horseback Riding
Wildlife Viewing
Birding
State Park
Fish species found at Lake Livingston
Bass
Black Bass
Black Crappie
Blue Catfish
Catfish
Channel Catfish
Crappie
Flathead Catfish
Largemouth Bass
Striped Bass
White Bass
---
Lake Livingston Photo Gallery
Lake Livingston Statistics & Helpful Links
At LakeLubbers.com, we strive to keep our information as accurate and up-to-date as possible, but if you've found something in this article that needs updating, we'd certainly love to hear from you!
Please let us know about it on our Content Correction form.
Spread the word! Share our Lake Livingston article with your fellow Lake Lubbers!