Lake Kegonsa, Wisconsin, USA
Lake Locations:
USA - Midwest - Wisconsin - Southern Savanna Region -
Also known as:  Yahara Chain of Lakes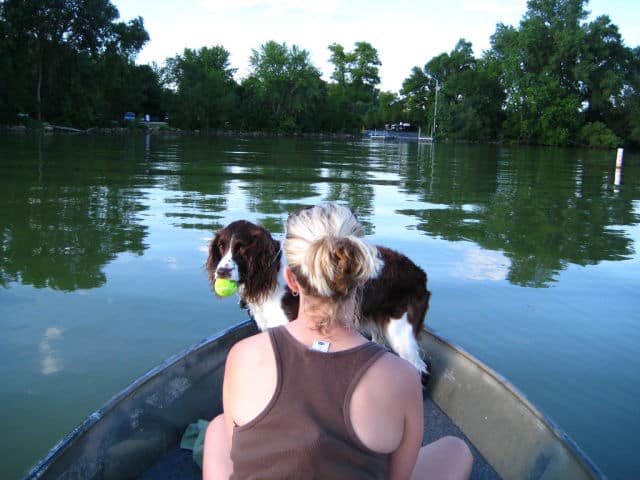 Lake Kegonsa gets its name from "Ke-go-e," the Chippewa word for fish, and it has been called the "Lake of Many Fishes." The lake is in Dane County near Madison, Wisconsin and along with Lake Mendota, Lake Monona, and Lake Waubesa, makes up the Yahara Chain. Linked by the Yahara River, all the Yahara Lakes formed during the last Ice Age. One of the glaciers that covered Wisconsin left behind boulders, rocks, sand, and silt when it melted. The debris dammed sections of an old river valley, some believe to be the ancient Wisconsin River, and created the lakes.
The Yahara Lakes are natural lakes but there are dams and locks to maintain water levels and for navigation. The LaFollette Dam completed in 1938 controls the water levels of Lake Kegonsa. Water levels are set by the Wisconsin Department of Natural Resources and maintained by the Dane County Public Works. Lake Kegonsa is the third largest lake in the Yahara Chain and the southern most lake. Early settlers called the lake First Lake because it was the first lake they came to when travelling north up the Yahara River. The lake's earliest name, however, is "Na-sa-ko-cha-te-la" which is Winnebago or Ottawa for "Hard Maple Grove." In the 1880's developers started building summer cottages around the lakes, a practice that has expanded today. Lake Kegonsa is rimmed with private homes.
Only 1.5 miles of its 10-mile shoreline is publicly owned.
Most of the publicly owned shore is in Lake Kegonsa State Park. Established in 1962 and opened to the public in 1966, the park is 342 acres of oak woods, wetland marsh and prairie. The State Park is a great place to see wildlife such as deer, foxes, raccoons, and turtles. There are also herons, ducks, geese and other waterfowl. Visitors can explore the park on hiking trails, and in winter there are cross country ski trails. Camping and swimming are popular summertime activities. Lake Kegonsa provides public access to the lake for boating.
Lake Kegonsa is a popular place for sailing, motor boating, and waterskiing. The lake is highly eutrophic with plentiful populations of fish. Anglers will find crappie, bluegill, and perch, and there are also large mouth bass and walleye. The lake has earned its "Lake of Many Fishes" name.
Midway between Stoughton and McFarland, Lake Kegonsa has easy access to any amenities a visitor could want. Accommodations range from campgrounds to resorts, along with shopping and restaurants. With its rich history as a small resort community, its parks, and access to Lake Waubesa, the Village of McFarland is sure to add to any trip to Lake Kegonsa. Stoughton has about twice the population of McFarland and a proportional number of amenities. Stoughton straddles the Yahara River and with its active Historical Society and District, it is a charming place to visit. For those who prefer the cultural opportunities of a big city, Madison is an easy drive from Lake Kegonsa. Madison is Wisconsin's state capital and the second largest city in the state.
With plenty of room for boating, abundant fish populations and all the amenities of McFarland and Stoughton, Lake Kegonsa is a great Wisconsin getaway. Add the cultural opportunities of Madison and a trip to the "Lake of Many Fishes" is sure to delight all.
Things to do at Lake Kegonsa
Vacation Rentals
Fishing
Boating
Sailing
Swimming
Water Skiing
Camping
Campground
Hiking
Wildlife Viewing
State Park
Shopping
Fish species found at Lake Kegonsa
Bass
Bluegill
Crappie
Largemouth Bass
Perch
Sunfish
Walleye
---
Lake Kegonsa Photo Gallery
Lake Kegonsa Statistics & Helpful Links
At LakeLubbers.com, we strive to keep our information as accurate and up-to-date as possible, but if you've found something in this article that needs updating, we'd certainly love to hear from you!
Please let us know about it on our Content Correction form.
Spread the word! Share our Lake Kegonsa article with your fellow Lake Lubbers!