Lake Kanasatka, New Hampshire, USA
Lake Locations:
USA - New England - New Hampshire - Lakes Region -
Also known as:  Long Pond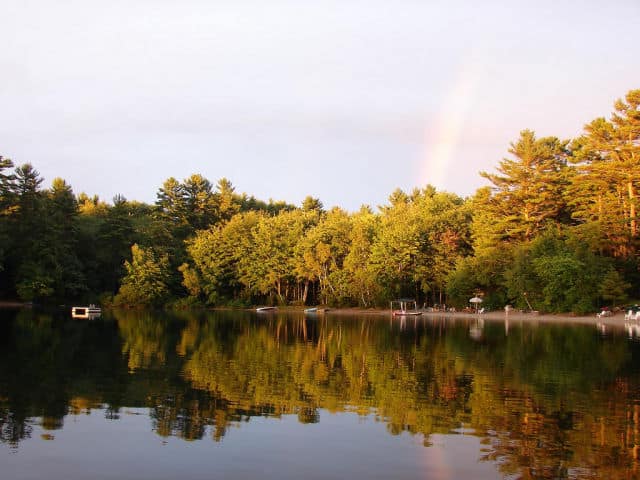 Lake Kanasatka is a clear, 371-acre freshwater lake set among New Hampshire's towering trees and surrounded by sloping hillsides. The lake was once named Red Hill Pond for the hill beyond its northern shoreline. Lake Kanasatka is used mostly for recreational purposes throughout the year. A day on the lake will reveal anything from anglers out in the early morning to children swimming in the summer or ice skating in the winter.
Old maps dating back to the 1800s also refer to Lake Kanasatka as Long Pond due to its long, narrow shape, about two miles long and .3 miles wide. The lake was once used to float logs to the old sawmill, which is currently the location of a bait shop. Inflow comes from a variety of sources, including Wakondah Pond, which lies to the west, snow melt from surrounding hillsides, and underground springs. A dam, which was built in 1954 and is now owned by the New Hampshire Water Division, regulates the lake's water levels. The lake averages 18 feet deep with a maximum depth of 40 feet. Water that flows out from the dam follows a stream which eventually empties into Lake Winnipesaukee, New Hampshire's largest lake at 44,586 acres.
The heavily-wooded shoreline at Lake Kanasatka makes for a perfectly peaceful getaway, and visitors find a plentiful number of lakeside vacation rentals and real estate opportunities here. Take your pick of lake activities, which range depending on when you visit. Fall and spring are both good times for exploring and hiking along trails nearby, while summer simply demands most of your time to be spent on or in the lake. Wakeboarders and water skiers can be seen racing atop the shimmering surface, while kayakers and canoeists paddle leisurely along the shoreline. Bundle up during the winter for ice skating and ice fishing atop this wonderland.
Anglers find Lake Kanasatka to be a promising spot for reeling in catches of smallmouth bass, largemouth bass, chain pickerel, white perch, yellow perch, sunfish and brown bullhead. A public boat launch allows everything to enter the lake except skicrafts, such as jet skis. Be mindful of loons nesting in various spots around the lake.
The Town of Moultonborough resides less than five miles to the northeast of Lake Kanasatka, where families happily call the area home. If you're just visiting, check out any summertime music festivals downtown, or drop into a cafe while exploring unique shops scattered throughout the town. For a bit more escapism, check out the Castle in the Clouds, a castle built atop a nearby mountain in the early 1900s. Learn of its history, born of a millionaire shoemaker, and tour the grounds, which are open May through October.
For more of an outdoor adventure, the southern section of the White Mountain National Forest is only 20 miles from the shores of Lake Kanasatka. At 800,000 acres, visitors come for backcountry skiing, hiking, camping or scaling Mount Washington, the highest point to the north of the Smoky Mountains. Wildlife abounds in this forest, with sightings of bear, moose and the reintroduced peregrine falcon.
It is all within a short reach of Lake Kanasatka. Whether you're wishing to grill out during the summer or snowshoe around the lake in the winter, Lake Kanasatka offers a fulfilling spot to find a bit of peacefulness.
Things to do at Lake Kanasatka
Vacation Rentals
Fishing
Ice Fishing
Boating
Swimming
Canoeing
Kayaking
Water Skiing
Wakeboarding
Camping
Hiking
Ice Skating
Wildlife Viewing
National Forest
Fish species found at Lake Kanasatka
Bass
Black Bass
Brown Bullhead
Chain Pickerel
Largemouth Bass
Perch
Pickerel
Pike
Smallmouth Bass
Sunfish
White Perch
Yellow Perch
---
Lake Kanasatka Photo Gallery
Lake Kanasatka Statistics & Helpful Links
Spread the word! Share our Lake Kanasatka article with your fellow Lake Lubbers!