Lake Hortonia, Vermont, USA
Also known as:  Hortonia Lake, Horton Pond
Welcome to the ultimate guide for history, statistics, local fun facts and the best things to do at Lake Hortonia.
If you're considering Lake Hortonia vacation rentals, we've made it super easy to explore accommodations and nearby hotels using the interactive map below. Simply click on a listing to compare similar properties, best rates and availability for your dates. Or keep scrolling to read our Lake Hortonia guide!
Lake Hortonia visitor and community guide
Lake Hortonia, in the Crossroads of Vermont Region, inhabits a special place in the history of Vermont and Rutland County. Although the original pond may have been natural, the outlet – a tributary of Hubbardton River – was first dammed in the 1790s. The resulting impoundment became Horton Pond, later Lake Hortonia, named after the builder of the dam and his water-powered grain and lumber mills. By the time of its creation, the towns of Brandon and Hubbardton had been in existence for over 30 years. The little town of Hubbardton, six miles south of the lake, was where the Green Mountain Boys flew the first American flag into battle against the British in 1777.
The mills have been gone for many years, as has the settlement called Hortonville that grew up around the dam. Hortonville Rd still winds around the north side of the lake. Now, instead of wagon-loads of grain and logs, the road serves to bring cottagers and residents to the lovely placid pond they call home. Here, residents swim, sail, wakeboard, pontoon, jet ski, water ski, canoe and kayak on the nearly 500-acre lake. As many lakes in Vermont have low boating speed limits and prohibit personal watercraft, the lake is especially prized by those who enjoy faster boating speeds and jet skis. Only 25 miles from Rutland and 15 miles from Ticonderoga, NY, Lake Hortonia is ideally positioned as a commuter community for the larger cities. What better way to relax after a hard day on the job than lounging on the deck overlooking Lake Hortonia?
Lake Hortonia has had a reputation as an excellent fishing lake for many years. State trophy fish records show Lake Hortonia recording several species trophies caught, including black crappie, largemouth bass, northern pike, smallmouth bass and yellow perch over the years. The lake also holds brook trout, brown trout, rainbow trout and lake trout and landlocked salmon, but the salmon are off-limits to anglers. The Lake Hortonia Ice Fishing Derby is one of Vermont's biggest ice fishing tournaments. Officially held in Hubbardton, the event always takes place the second weekend in February. Vermont Fish and Wildlife owns the dam which was last rebuilt in 1955. They maintain a small public boat access at the dam with space for fishing from shore.
The Battle of Hubbardton was the only Revolutionary War battle fought entirely in Vermont. Although the colonists technically lost the battle, it marked the beginning of the end for Burgoyne and his great plan to divide New England from the rest of the colonies. A massive British invasion from Canada chased the Continental Army from Mount Independence south to Hubbardton. The Green Mountain Boys succeeded in holding up British Regulars long enough for the main forces to retreat. While the British held the field and technically won the battle, their losses were so heavy that they gave up chasing the Americans to tend to their wounded. The Hubbardton Historical Society maintains the Hubbardton Battlefield Monument at the edge of the Hubbardton Battlefield Wildlife Management Area. A group of re-enactors recreate the historic battle here annually, drawing large numbers of visitors interested in historic military actions.
The quaint town of Brandon, eight miles to the east of Lake Hortonia, is a vacation destination in its own right. Settled in the 1760s, this village has maintained its authentic New England charm. Two hundred and forty-three buildings in Brandon are listed on the National Register of Historic Places. Brandon actually has two village greens with the Neshobe River flowing between them. Brandon has attracted a number of local artists and craftsmen who maintain shops and galleries in or near Brandon.
Among the many events held in Brandon, Art in the Snow is held during the winter months to help brighten the cold days. The Great Brandon Auction and the town's Yard Sale Day attract antique and collectible fans. Brandon also hosts 'The Largest Independence Day Celebration in Vermont', followed by the Basin Bluegrass Festival, also known as "Pickin' By The Pond." The Brandon Museum and Visitor Center is housed at the Stephen A. Douglas Birthplace, featuring information about the life of this famous American statesman. A walking tour is available, featuring information on abolitionist activities and the Underground Railroad in Brandon. A Civil War Reenactment unit sometimes holds battle reenactments on the banks of the Neshobe River in Brandon.
The visitor wishing more outdoor activity can find plenty of hiking and mountain biking trails both on the country roads surrounding Lake Hortonia and at nearby Bomoseen State Park. The 3,576-acre park is located in the Taconic Mountains on the shores of Lake Bomoseen, the largest lake entirely within Vermont's borders. The park offers camping, fishing, swimming, picnicking and several marked hiking trails including a self-guided Slate History Trail. Just east of Brandon, the Green Mountain National Forest offers hiking, rustic camping, rock climbing, canoeing and nature observation. Several locations for downhill skiing exist within a 20-mile radius. The full complement of winter sports can be enjoyed near Lake Hortonia, making it a year-round vacationer's paradise.
Vacation rentals at Lake Hortonia can usually be found in the form of private self-catering cottages and homes. Most provide a canoe or rowboat along with the rental. Off the lakefront, Rutland County is well-supplied with country inns and bed-and-breakfasts, often with excellent views and menus. The larger towns provide hotels and motels along the main highways. Campgrounds are numerous in the area, although they fill up quickly on holiday weekends. As with most popular vacation venues, early reservations will assure the best possible choices. So come and enjoy history near Lake Hortonia. Whether your joy is a full day of antique hunting or angling for that elusive trout, you can indulge to your hearts content at Lake Hortonia. See you soon!
Custom Lake Hortonia house decor
Read our full review of these personalized lake house signs.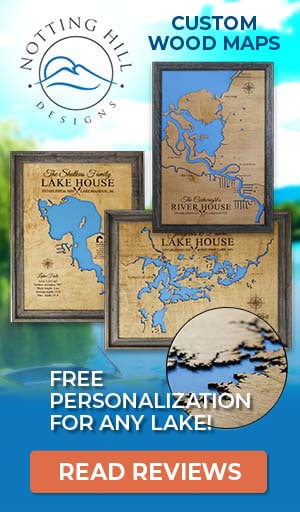 Things to do at Lake Hortonia
Vacation Rentals
Fishing
Fishing Tournaments
Ice Fishing
Boating
Sailing
Swimming
Canoeing
Kayaking
Jet Skiing
Water Skiing
Wakeboarding
Campground
Picnicking
Hiking
Rock Climbing
Biking
Downhill Skiing
Hunting
Wildlife Viewing
State Park
National Forest
Museum
Antiquing
Fish species found at Lake Hortonia
Bass
Black Bass
Black Crappie
Brook Trout
Brown Trout
Crappie
Lake Trout
Largemouth Bass
Northern Pike
Perch
Pike
Rainbow Trout
Salmon
Smallmouth Bass
Trout
Yellow Perch
---
Best hotels and vacation rentals at Lake Hortonia
The Lake Hortonia map shown above is a simple and stress-free way to search for trip accommodations. But if you want to take a deeper dive to find the ideal waterfront home, cabin, condo, hotel or resort, visit our favorite lodging partners by clicking the buttons below.
Note: These are affiliate links so we may earn a small commission if you book through them. While there is no extra cost to you, it helps provide resources to keep our site running (thank you)! You can read our full disclosure policy here.
---
Lake Hortonia photo gallery
New photos coming soon!
Lake Hortonia statistics & helpful links
We strive to keep the information on LakeLubbers as accurate as possible. However, if you've found something in this article that needs updating, we'd certainly love to hear from you! Please fill out our Content Correction form.
Advertise your Lake Hortonia vacation rental
LakeLubbers will soon offer homeowners and property managers the opportunity to to showcase their vacation rentals to the thousands of lake lovers searching our site daily for accommodations. If you'd like additional details, please contact our advertising team here.
Looking for the Lake Hortonia forum?
LakeLubbers previously offered visitors the ability to create accounts and participate in lake forums. When we overhauled the site's content management system in 2021 we had to disable those features. We're evaluating options and welcome your comments and feedback here.
We also encourage you to join our lake-lovin' community on Facebook and Instagram!
Spread the word! Share our Lake Hortonia article with your fellow Lake Lubbers!