Lake Heritage, Pennsylvania, USA
Lake Locations:
USA - Mid-Atlantic - Pennsylvania - Pennsylvania Dutch Country -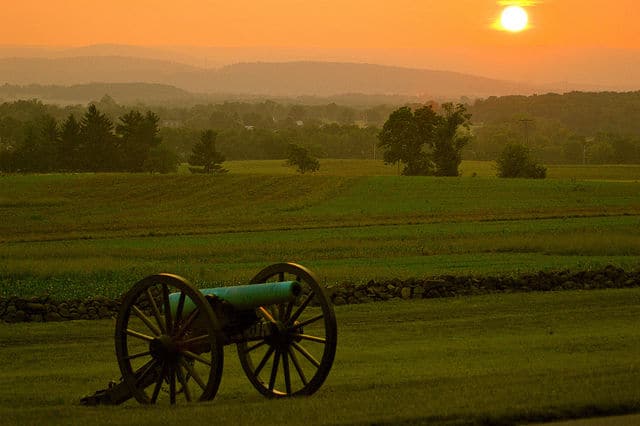 One of Pennsylvania Dutch Country's best residential neighborhoods is Lake Heritage, a gated community built around the shores of a 154-acre, private lake. Swimming, boating, fishing and water sports dominate the activities in the community. Only a couple of miles from historic Gettysburg, Lake Heritage is the perfect address for anyone who enjoys the water yet wants to be near town. Lake Heritage serves all of those needs.
Built in 1965 as a private development, the Lake Heritage Community started selling building lots soon after incorporation. The US Army Corps of Engineers built the dam across Plum Run, and the lake took nearly two years to reach full capacity. Planned into the development were both lakefront lots and back-lots with deeded access. Several community lots offer boat launches, picnic areas and swimming space. Lots are spacious and give the treed shoreline a rural feeling. A community clubhouse with kitchen, meeting rooms, swimming pools for both adults and toddlers, bathhouse, basketball courts, picnic pavilions, tennis courts and playgrounds make this an attractive place to raise children. Only two commercial properties around the perimeter keep the area very residential. A private marina allows space for boat storage and boating supplies, while a hair and nail salon is at hand for residents. Most community regulations are enforced via the Lake Heritage Property Owners Association.
Sailing is a favorite at Lake Heritage. All boats need a Pennsylvania boat registration and LHPOA boat sticker with lot number. A pontoon boat patrol assures that water laws and regulations are obeyed. Pontoons, ski boats, canoes, kayaks, row boats and small sailboats are welcome, while personal watercraft, airboats and power racing boats are prohibited. A Ski Club holds regular activities for water skiers with members visiting other lakes and putting on exhibitions at Lake Heritage. The Ski Club also helps to organize community activities such as the LH Regatta Days where a crab feast, games, contests, food venders and exhibits provide a festival atmosphere. Strict observation of boating rules assures there is plenty of room for all lake users, including slower paddle craft. Many arms and coves mean there is shoreline for all to enjoy. Quiet residential streets are great for walking or cycling.
Lake Heritage is privately-owned, so little information is available regarding lake depths and fish species. Area lakes hold largemouth bass, crappie, walleye, bluegill, sunfish and catfish. LHPOA limits catches to six trout, six bass, or six walleye. A standard Pennsylvania fishing license is required. In winter the lake is often drawn down for maintenance purposes, but notice is posted for all property owners as to the dates. LHPOA also treats the lake for algae and weeds when necessary. Guest boaters are not allowed, and guests must be accompanied by residents with all credentials when on the water.
The area around Lake Heritage is primarily farmland. Just west of the lake, Gettysburg National Military Park preserves the famed Gettysburg Battlefield, along with several other monuments of historic importance. Trained tour guides are recommended for touring the battlefield and will even drive a guest's car so that they can concentrate on the sights. Self-guided tours by walking or bicycling can also bring history to life through the use of field guides and audio CDs. All tours can be arranged at the Gettysburg Visitor's Center and Museum. A film sponsored by The History Channel gives a good introduction into the importance of the battlefield, while the museum offers 11 exhibit galleries with interactive displays and artifacts. The visitor center also holds the famed "Cyclorama of the Battle of Gettysburg", a massive oil painting that depicts the action at Pickett's Charge on July 3, 1863. The Cyclorama measures 377 long, 42 feet high, and weighs 12.5 tons!
The small City of Gettysburg holds a wealth of historical detail that will delight any Civil War buff. The American Civil War Museum, Gettysburg Battle Theatre, and Gettysburg History Center are all close to the Military Park, along with General Lee's Headquarters Museum, the Hall of Presidents, and several other small museums and monuments. Gettysburg itself has an historic Mainstreet which provides a fine walking tour of some unique homes and buildings. Families with children enjoy the Explore & More Child Museum and the many parks and playgrounds. Gettysburg has plenty of restaurants and lodgings including hotels, small guest stays and bed & breakfasts. The capital city of Harrisburg is only 45 minutes away. Route 30 through Amish country offers dozens of small restaurants, crafts shops and great antique shopping. As a place to call home, Lake Heritage offers all of the advantages.
There are no short-term lodgings at Lake Heritage, but Gettysburg has nearly anything a visitor could desire. There is usually real estate available at Lake Heritage for those looking to buy. It's the ideal place to settle in and enjoy the water after a hard day at work. Call the Community offices and ask for a brochure. Or, enjoy a week in the area visiting museums and exploring national heritage while scouting out the area.
Things to do at Lake Heritage
Fishing
Boating
Sailing
Swimming
Swimming Pool
Canoeing
Kayaking
Water Skiing
Tennis
Picnicking
Biking
Museum
Playground
Antiquing
Shopping
Fish species found at Lake Heritage
Bass
Black Bass
Bluegill
Catfish
Crappie
Largemouth Bass
Perch
Sunfish
Trout
Walleye
---
Lake Heritage Photo Gallery
Lake Heritage Statistics & Helpful Links
Spread the word! Share our Lake Heritage article with your fellow Lake Lubbers!