Lake Hamilton, Arkansas, USA
Lake Locations:
USA - South - Arkansas - Ouachitas -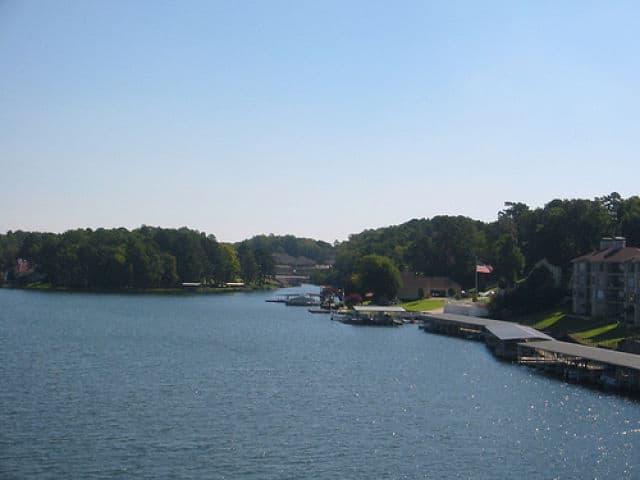 Located on the southern edge of Hot Springs, Lake Hamilton is a premier vacation destination. This beautiful lake was formed in 1932 with the construction of the Carpenter Dam on the Ouachita River. The Dam is named after Flave Carpenter, the pioneer peace officer who discovered the site while tracking down outlaws along the Ouachite River. Ouachita is a Native American word that means "good hunting grounds and sparkling silver water." The only hunting that happens at Lake Hamilton today is for treasures in one of the many area shops, but the "sparkling silver water" still draws visitors from all over.
Lake Hamilton has almost 200 miles of shoreline characterized by small coves and inlets, and is almost entirely surrounded by homes, restaurants, and resorts. The lake covers 7200 acres and stretches out over 18 miles in length. Arkansas Scenic 7 Byway crosses over the lake. In addition to relaxing at one of the many resorts, visitors can enjoy all types of watersports. Speed boats, sailboats, canoes and kayaks share the waters of Lake Hamilton.
Fishing is also a popular pastime, and Lake Hamilton's mix of water temperatures support habitats for a variety of fish. The Arkansas Fish and Game Commission operates the Lake Hamilton Fish Hatchery, and releases fingerlings into the lake each year. Angling opportunities include striped, spotted, white and smallmouth bass; black and white crappie; flathead, blue, channel, and bullhead catfish; walley and chain pickerel. The Commission also stocks the lake with rainbow trout. Lake Hamilton has hosted several fishing tournaments, and with the fishing resources being managed by the Arkansas Game & Fish Commission, it is sure to host many more.
Seven public recreation areas provide ample opportunities for nature lovers. Three islands dot Lake Hamilton: Rabbit Island, Little Goat Island, and Big Goat Island. Also known as Electric Island, the 118 acre Big Goat Island may be enjoyed for hiking, picnicking, and wild life viewing. Bald eagles spend winter months on the island. Garvan Woodland Gardens is a 210 acre botanical garden accessible by boat and car. The Gardens are home to flowers, bonsai, and a spectacular spring daffodil display. Visitors can also cruise the lake on a riverboat offering sightseeing, lunch, dinner and dance cruises.
Lake Hamilton is a reservoir created for hydropower generation and municipal water supply. Power generation and water levels are controlled by Entergy Arkansas Inc. (previously Arkansas Power & Light). The power company lowers water levels three to nine feet in the winter for shoreline maintenance and control of nuisance aquatic vegetation. Arkansas Power & Light constructed Carpenter Dam to provide power for the resort community of Hot Springs. Hot Springs Reservation, now Hot Springs National Park, was created over 100 years before the Dam to protect the natural springs that flow from Hot Springs Mountain. Hot Springs National Park is the oldest and smallest area in the national park system. Visitors to the Springs can touch the 147 degree thermal water, tour the historic Fordyce bath house, or hike one of the many trails.
With all the amenities of a premier resort community and sparkling silver waters, Lake Hamilton is sure to delight all the senses.
Things to do at Lake Hamilton
Vacation Rentals
Fishing
Fishing Tournaments
Boating
Sailing
Canoeing
Kayaking
Picnicking
Hiking
Hunting
Birding
National Park
Fish species found at Lake Hamilton
Bass
Black Bass
Bullhead Catfish
Catfish
Chain Pickerel
Crappie
Pickerel
Pike
Rainbow Trout
Smallmouth Bass
Trout
White Crappie
---
Lake Hamilton Photo Gallery
Lake Hamilton Statistics & Helpful Links
Spread the word! Share our Lake Hamilton article with your fellow Lake Lubbers!