Lake Granbury, Texas, USA
Lake Locations:
USA - Southwest - Texas - Prairies and Lakes -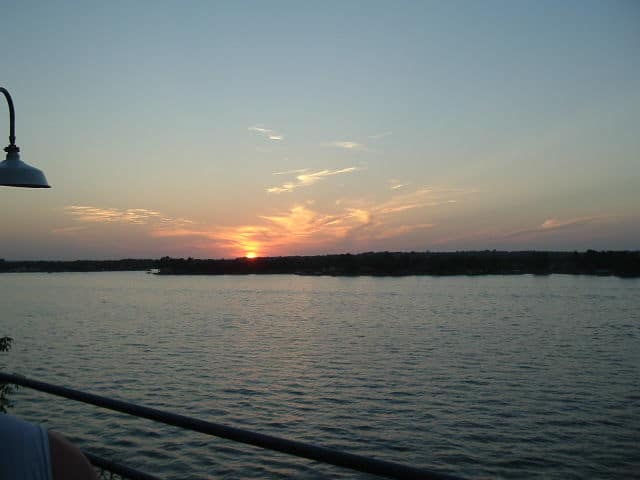 One of only three lakes that dam the Brazos River, Lake Granbury was created in 1969 to provide storage capacity for flood and storm waters for municipalities, industries, and agriculture. Lake Granbury and De Cordova Bend Dam are managed by the Brazos River Authority. Located in the Prairies and Lakes region of Texas, Lake Granbury is an hour west of Fort Worth. The 103-mile shoreline is dotted with facilities for recreation, camps, and private homes. It edges the town of Granbury and follows the looping channel of the Brazos River. Lake Granbury furnishes water for the Authority's Lake Granbury Surface Water and Treatment System. This system supplies water to Hood and Johnson Counties in north Texas.
The near-constant water level and boating facilities on Lake Granbury make this body of water one of the more popular weekend retreats for the Dallas/Fort Worth area. There are several public access areas operated by the Brazos River Authority or the City of Granbury, all with boat launch ramps and restrooms, and some with fishing piers, camping facilities, and a swimming area. Other activities enjoyed on Lake Granbury include water skiing, jet skiing, windsurfing, and scuba diving.
Fish found in Lake Granbury include largemouth bass, catfish, crappie, white bass, striped bass, and sunfish. Striped bass and largemouth bass fishing is rated very good, particularly around any of the 1000-plus board docks and piers. All species are managed under statewide regulations with the exception of largemouth bass, which has a 16-inch minimum length and a daily bag limit of 5 black bass in any combination.
For off-the-water fun, go to Dinosaur Valley State Park located northwest of Glen Rose, south of Lake Granbury. Set on the Paluxy River, Dinosaur Valley State Park is home to the best preserved dinosaur tracks in the world. While wading in the Paluxy River, you can walk on Apatosaurus and T-Rex tracks in the riverbed just below the surface of the shallow river. Call in advance to ask if the water is clear enough to see the tracks. Visit during the week for the best chance to see the tracks when there are fewer visitors. Facilities include campsites with hook-ups, restrooms, showers, grills, and water. Other activities include hiking, biking, swimming, horseback riding, and picnicking.
Also close to Lake Granbury are Fossil Rim Wildlife Center, Meridian State Park, Cleburne State Park, Acton State Historic Site, Comanche Peak Visitor's Center, and Squaw Creek Reservoir. In Glen Rose check out the quaint downtown square that features shops, restaurants, a museum and the historic Somervell County Courthouse. Bernard's Mill & Art Museum (built in the 1860's and listed with the National & Texas Historic Places) has twelve rooms of original oils, bronzes, watercolors, and etchings.
Lake Granbury, which is set on the prairies of north Texas, is a nice oasis in an otherwise dry part of Texas. The clear blue water welcomes anyone who visits or decides to live there. Vacation rental homes are available, so bring your family for a relaxing Lake Granbury vacation.
Things to do at Lake Granbury
Vacation Rentals
Fishing
Boating
Swimming
Jet Skiing
Water Skiing
Scuba Diving
Camping
Picnicking
Hiking
Biking
Horseback Riding
Wildlife Viewing
State Park
Museum
Fish species found at Lake Granbury
Bass
Black Bass
Catfish
Crappie
Largemouth Bass
Striped Bass
Sunfish
White Bass
---
Lake Granbury Photo Gallery
Lake Granbury Statistics & Helpful Links
Spread the word! Share our Lake Granbury article with your fellow Lake Lubbers!