Lake Fork, Texas, USA
Lake Locations:
USA - Southwest - Texas - Piney Woods -
Also known as:  Lake Fork Reservoir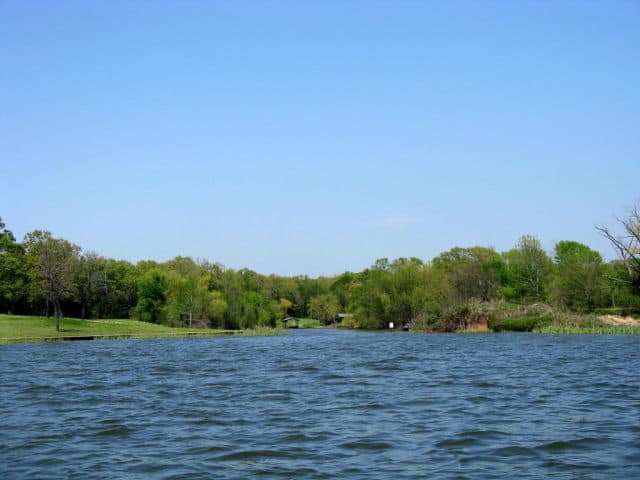 Lake Fork (also called Lake Fork Reservoir) covers an impressive 27,264 acres in northeast Texas, on the border of the Piney Woods and Prairies and Lakes tourism regions. The Sabine River Authority completed the Lake Fork project in 1985 by damming Lake Fork Creek, a major tributary of the Sabine River, for municipal and industrial water supply and recreation. Birch Creek and Big Caney Creek also flow into Lake Fork. Water levels typically vary by two to four feet annually.
Due to minimal clearing of trees prior to the impoundment of Lake Fork Creek, Lake Fork has excellent habitat for fish. Nationally recognized because of its trophy largemouth bass fishery, Lake Fork claims more than 60% of the Texas Top 50 largest bass ever caught. The state record (as of summer 2012) still resides at Lake Fork Reservoir with an 18.18 pound bass that was caught in January 1992. It surpassed the old record of 17.67 pounds caught in November 1986, also in Lake Fork.
Mid-February to April are the best months for bass fishing during the day; hot summer months call for night fishing. Bass are not the lake's only draw for anglers. With 42 square miles of water surface, 315 miles of shoreline to fish, and depths up to 70 feet, Lake Fork anglers also catch white crappie, black crappie, channel catfish, bluegill, and redear sunfish.
Special regulations (along with the standard statewide regulations) govern largemouth bass and crappie catches. Largemouth bass are subject to a 16- to 24-inch slot limit. Bass 16 inches and shorter and 24 inches and longer can be harvested with a daily bag limit of 5 fish, of which only 1 fish can be 24 inches or greater. During the months of December, January and February, there is no minimum length limit on crappie. Daily bag is 25 in any combination of black and white crappie, and all crappie caught must be retained (culling is not permitted). In other months, crappie are subject to a 10-inch minimum length limit and a daily bag of 25.
The Sabine River Authority (SBA) operates several boat ramps and a free day-use area on Lake Fork, in addition to many private-owned access areas around the lake. Boat launch ramps are available at Lake Fork Bridge on Highway 515 and on the south shore of Lake Fork Reservoir on Highway 154. The SBA boat ramp on Highway 154 is located at a day use park that includes a fishing pier with wheelchair access, restrooms, swings, and a pavilion with picnic tables. You can obtain maps and information at the lake headquarters at Lake Forks Dam on Texas 182.
Other activities that visitors enjoy at Lake Fork include water skiing, boating, jet skiing, canoeing, kayaking, swimming, and bird watching. The Lake Fork area is home to bird species such as the bald eagle, wood thrush, Arcadian flycatcher, Kentucky warbler, and swallow-tailed kites. The ivory-billed woodpecker – thought to be extinct at one time – also makes its home in the area.
When boating, watch for debris and stumps in the shallower water along the shoreline. That's where the larger fish like to hide. Kayaking and canoeing are becoming more popular at Lake Fork. Canoes' shallow hulls can get you closer to the shore – and closer to big fish.
For wildlife viewing at Lake Fork, there's no better time to see wildlife than early in the morning or early in the evening. Expect to see turkey, deer, raccoons, opossums, and various song birds.
To get a feel for the history of the area, go to Quitman, which was founded in 1850 as the county seat of Wood County. Attracting a large number of settlers from the southern states, Quitman quickly became the trading center for the county. Visit the historic downtown area with period buildings and the feel of small town turn-of-the-century America. Other towns close to Lake Fork include Emory, Greenville, Lake Fork, Mineola, Sulphur Springs, and Winnsboro.
For a bit of east Texas charm and some of the entire state's best fishing, try Lake Fork for a day or a weekend. It just might become a lifelong friend.
Things to do at Lake Fork
Vacation Rentals
Fishing
Boating
Swimming
Canoeing
Kayaking
Jet Skiing
Water Skiing
Picnicking
Wildlife Viewing
Birding
Fish species found at Lake Fork
Bass
Black Bass
Black Crappie
Bluegill
Catfish
Channel Catfish
Crappie
Largemouth Bass
Redear Sunfish (Shellcracker)
Sunfish
White Crappie
---
Lake Fork Statistics & Helpful Links
Spread the word! Share our Lake Fork article with your fellow Lake Lubbers!