Lake Ellsworth, Oklahoma, USA
Lake Locations:
USA - Southwest - Oklahoma - Great Plains Country -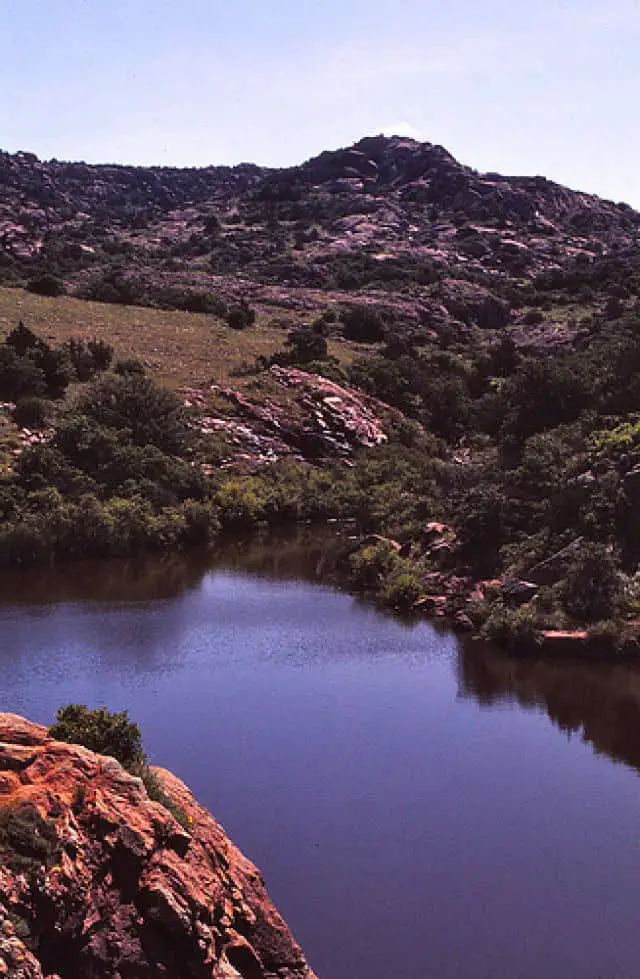 Lake Ellsworth is a 5,600-acre reservoir nestled in the Great Plains region of Southwest Oklahoma. The City of Lawton completed Ellsworth Dam in 1962, creating Lake Ellsworth to provide water to area residents and a recreational destination for tourists. Lake Ellsworth is actually the larger of two lakes near Lawton. Lake Lawtonka is west of the city and is not quite half the size of Lake Ellsworth.
Lake Ellsworth has 43 miles of shoreline offering ample room for camping, picnicking, swimming, and an area for all-terrain vehicles. The City of Lawton offers picnic areas, campsites, and boat ramps at its campgrounds: Edgewater, Chandler Creek and Collier Landing. If you like roughing it in the wilderness, the three parks have primitive camp site rentals through the City's Parks and Recreation Department. For those of us who like more creature comforts, RV hookups are available as well. You should call ahead to check for availability. Additional RV campsites are available at lakefront resorts which also offer convenience stores, boat gas, and bait and tackle shops. Vacation rentals are available nearby in and around Lawton and Medicine Park.
There are some whopper-sized fish in Lake Ellsworth. In 1999 an angler reeled in one for the record books, an 85 pound, 4 ounce Blue Catfish, a state record at the time. Lake Ellsworth boasts a wide assortment of challenges for anglers, including channel catfish, crappie, flathead catfish, largemouth bass, saugeye, sunfish, walleye and white bass.
Water sports are a big draw to the wide open sections of Lake Ellsworth; wakeboarding, water skiing and jet skiing are popular pastimes. Swimming is allowed in most areas of the lake except near the dam, boat ramps and boat house areas. There are no lifeguards, so swimming is at your own risk. Check with the Lawton Parks and Recreation department for the complete list of guidelines.
A visit to Lake Ellsworth and the surrounding area presents travelers with the unique opportunity to see one of the last wide open grazing areas in the United States. Wichita Mountains Wildlife Refuge is home to a resurging population of American bison. Hunted to near extinction, the bison's numbers are growing. Looking over the herd gives visitors a glimpse of what Native Americans and early settlers used to see. The Refuge is also home to the Rocky Mountain elk, white-tailed deer and Texas longhorn cattle.
Medicine Park is an historic Oklahoma resort town near the main entrance of the Wichita Mountain Wildlife Refuge. Located along the "healing waters" of Medicine Creek, Medicine Park is not just a place to stay when visiting the wildlife refuge, it is a destination. It is a town with unique cobblestone architecture and a plethora of art galleries featuring resident artists.
The City of Lawton, Oklahoma is known as one of the most diverse communities in the southwest. It is 50 miles southwest of Oklahoma City. The City has ample shopping opportunities, accommodations, and several casinos for those who are adventurous with what is in their wallets.
Native American history and the natural history of the area are honored by the indoor and outdoor exhibits of the Great Plains Museum in Lawton. Tourists can get a feel for what life on the frontier was like while visiting both the Great Plains Museum and the Fort Sill Museum. The Fort Sill Army base dates back to 1869 and was a headquarters for United States Army units trying to stop Indian raids on nearby settlements. There is a museum where visitors can get a look at 20th century weaponry and walk through buildings constructed by Buffalo Soldiers. The Apache warrior, Geronimo, was held at the fort. His grave is on the grounds. Today Fort Sill is a U.S. Army Field Artillery Center. It is the only active Army base of all the forts built on the South Plains during the Indian wars.
While visiting the Lake Ellsworth area offers the best in outdoor recreation and a chance to connect to our country's frontier history, the City of Lawton is also looking to the future. Renovations to the downtown area are well underway and new residential developments and shopping centers are springing up in the area.
Things to do at Lake Ellsworth OK
Vacation Rentals
Fishing
Boating
Swimming
Jet Skiing
Water Skiing
Wakeboarding
Camping
Campground
Picnicking
Wildlife Viewing
Museum
Shopping
Casino Gambling
Fish species found at Lake Ellsworth OK
Bass
Black Bass
Blue Catfish
Catfish
Channel Catfish
Crappie
Flathead Catfish
Largemouth Bass
Perch
Saugeye Perch
Sunfish
Walleye
White Bass
---
Lake Ellsworth OK Photo Gallery
Lake Ellsworth OK Statistics & Helpful Links
Spread the word! Share our Lake Ellsworth OK article with your fellow Lake Lubbers!