Lake Eden, Vermont, USA
Lake Locations:
USA - New England - Vermont - Stowe-Smugglers' Notch -
Also known as:  Eden Lake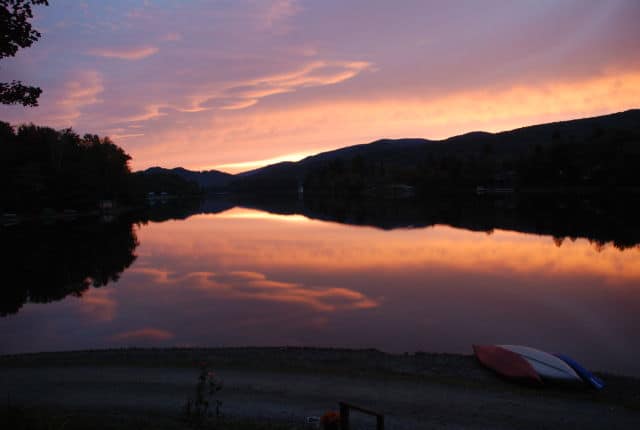 Vermont is home to some stunning lakes, including Lake Eden, named after a town with the same name. The Town of Eden was chartered to 72 Green Mountain Boys who fought in the Revolutionary War in hopes it would become a "Biblical Eden" or paradise to those who settled there. The region is full of magnificent mountain peaks, and has numerous lakes and rivers winding through the landscape known as the Stowe and Smugglers Notch region of Vermont. Although Eden Lake is small, it provides ample room for a host of recreational activities.
Lake Eden is part of the Lamoille River watershed. The Gihon River exits Lake Eden and flows into the Lamoille River, which eventually makes its way into Lake Champlain. The Lake Eden Dam was built at the mouth of the Gihon River around 1900. Canoeists and kayakers will enjoy the beautiful Vermont scenery as they travel the 85 mile stretch of the Lamoille River.
Private campgrounds, vacation rentals, and bed-and-breakfasts welcome visitors and provide pleasing getaways for weary travelers. Real estate can also be found for those who desire a lake residence or want to own their own vacation home. Visitors and residents enjoy swimming, canoeing, kayaking, and fishing on the crystal clear waters of Lake Eden. Anglers can cast in their line for record breaking rainbow trout and smallmouth bass.
Lake Eden is nestled between Stowe and Jay Peak where additional overnight accommodations, real estate, restaurants and shopping can be found. Less than an hour's drive though scenic Vermont is Smugglers' Notch State Park. Smugglers' Notch is a narrow pass through the Green Mountains of Vermont. Smugglers' Notch received its name after the U.S. Congress passed an embargo of British goods in the early 1800s. The British circumvented the embargo by shipping goods to Canada, where local traders smuggled the goods into the United States through Smugglers' Notch Pass. More than 100 years later the Pass was used during Prohibition to smuggle liquor from Canada. Now Smugglers' Notch State Park offers campgrounds, which provide easy access to Bingham Falls. Another place of interest located near Lake Eden is Long Trail, home to the oldest long distance trail in the country. Built between 1910 and 1930 by the Green Mountain Club, Long Trail follows the main ridge of Green Mountains from Massachusetts to Canada. Hiking Long Trail provides spectacular panoramic vistas.
Visitors to Lake Eden can also plan a day trip to Montreal, Canada. A passport is needed to cross the US/ Canada boarder but once in Montreal, visitors can enjoy touring historical sites and soaking in the French-speaking culture. The cuisine at fine restaurants will satisfy any palate, and after a bite to eat visitors can take pleasure in some fantastic shopping.
Lake Eden is also located near excellent ski resorts and championship golf courses. In the summer visitors can enjoy a round of golf, then return in the winter for skiing, snowmobiling and snowshoeing. Eden also is home to dogsled teams that offer tours for those who want to learn more about the sport.
No matter what time of year, Eden Lake provides a striking backdrop for your vacation getaways. Vibrant autumns to snowy white winters will add a sense of peace and tranquility to the lake atmosphere. This four-season destination provides a serene haven that will invite you to return time and time again.
Things to do at Lake Eden
Vacation Rentals
Fishing
Swimming
Canoeing
Kayaking
Golf
Camping
Campground
Hiking
Snowmobiling
State Park
Shopping
Fish species found at Lake Eden
Bass
Black Bass
Rainbow Trout
Smallmouth Bass
Trout
---
Lake Eden Statistics & Helpful Links
Spread the word! Share our Lake Eden article with your fellow Lake Lubbers!