Lake Darling, North Dakota, USA
Lake Locations:
USA - Midwest - North Dakota - Northwest -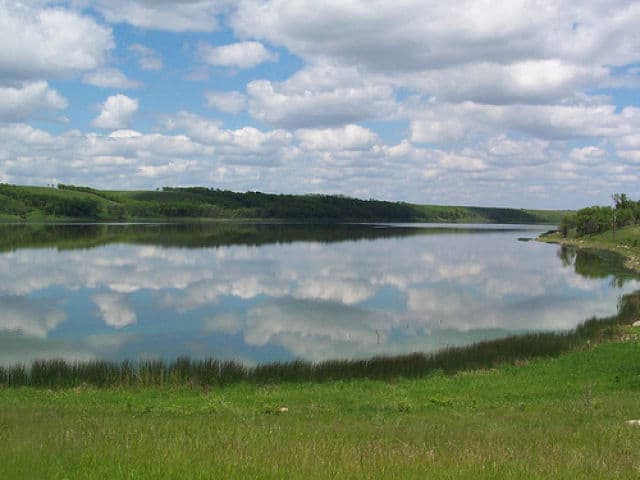 Lake Darling is the focal point of the Upper Souris National Wildlife Refuge located in northwest North Dakota. The Refuge is beautifully situated along a narrow band of river bottom woodlands, gentle rolling hills, and fertile floodplains. Lake Darling was built by the U.S. Fish and Wildlife Service and was created for water supply, wildlife propagation and waterfowl staging and resting.
Lake Darling was named after a political cartoonist Jay N. "Ding" Darling, who became director of the newly formed Bureau of Biological Survey. After the Great Plains suffered a drought in the 1930's, the population of ducks diminished. Darling helped push the Duck Stamp Act through Congress. Proceeds from the sale of Duck Stamps were used to purchase three refuges, with Upper Souris National Wildlife Refuge being one of them.
Lake Darling provides walking and hiking trails to enjoy the area's beauty. There are even areas open for berry picking. In the winter cross-country skiing can be enjoyed along the 3.5-mile Prairie-Marsh Scenic Drive. Lake Darling also provides several designated canoe routes for those who like a leisurely paddle around the lake. Photographers will also enjoy the abundant flora and fauna around the lake. In the spring the Refuge sets up photo blinds that provide close-up viewing and photographing of the dance of the sharp-tailed grouse. Lake Darling has three lake access points with boat ramps, parking lots, two picnic areas as well as a visitor center. The Visitor Center has interpretive exhibits and a book store.
The Refuge has a special rifle deer season in which the hiking trails and designated activity areas are closed for safety reasons. Anglers will enjoy the 13 bank-fishing areas and two designated boat fishing areas at Lake Darling. Ice fishing is also allowed in designated access points. There are many species of fish in Lake Darling, but like other North Dakota lakes the most popular fish are the northern pike and walleye. Anglers must walk in designated areas and abide by Federal and State regulations.
Since Lake Darling is located in the Upper Souris National Wildlife Refuge, some recreational activities are prohibited, including camping, water skiing, swimming, use of all-terrain vehicles, jet skis, and related vehicles. Boats and canoes are prohibited between October 1 and April 30.
For natural enthusiasts, Lake Darling is a delightful haven with ample wildlife to view. The Refuge was designated as a Globally Important Bird Area by the American Bird Conservancy, and up to 350,000 waterfowl can be seen around Lake Darling during the spring and fall migrations. Some of the waterfowl include tundra swans, pintail, canvasbacks, redheads, and buffleheads. In 1940 a resident Canada geese flock was re-introduced to the Refuge. Now the flock has grown to about 250 geese. Other than birds, visitors may spot deer and antelope, and on rear occasions elk and moose.
Whether visitors want a peaceful setting for a family picnic or enjoy a hike while taking in all the beauty around them, Lake Darling has a lot to offer. Visitors may find Lake Darling a place they would like to see time and time again.
Things to do at Lake Darling
Fishing
Ice Fishing
Boating
Canoeing
Picnicking
Hiking
Cross-Country Skiing
Wildlife Viewing
Birding
National Wildlife Refuge
Fish species found at Lake Darling
Northern Pike
Perch
Pike
Walleye
---
Lake Darling Photo Gallery
Lake Darling Statistics & Helpful Links
Spread the word! Share our Lake Darling article with your fellow Lake Lubbers!