Lake Conroe, Texas, USA
Lake Locations:
USA - Southwest - Texas - Piney Woods -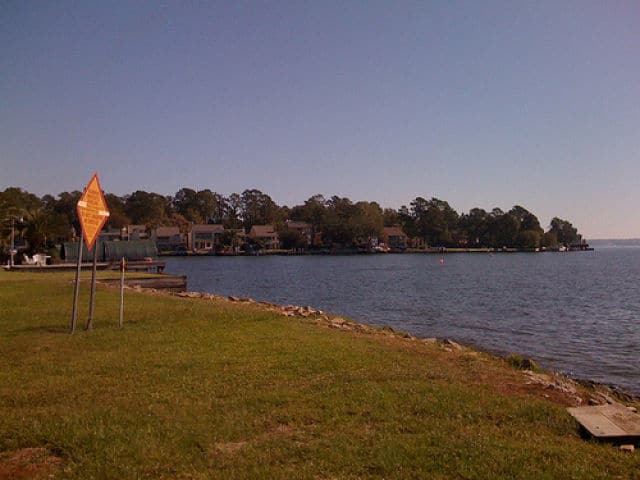 Houstonians often enjoy weekend getaways at Lake Conroe, a beautiful manmade lake in the Piney Woods region of eastern Texas. Lake Conroe is home to numerous lake-loving families and an exhilarating spot for tourists craving water sports, golf and tennis, as well as excellent shopping and dining.
In the early 1970's, the San Jacinto River Authority and the City of Houston constructed the Lake Conroe Dam by impounding a portion of the San Jacinto River. Lake Conroe is a reliable source of drinking water for the city of Houston, and it provides commercial irrigation water for area companies and businesses. The lake is brimming with open water in the lower two-thirds of the reservoir, with timber present along the river channel in the upper parts. A few one-of-a-kind aquatic plants thrive in shoreline areas.
Stands of evergreens in Sam Houston National Forest and the many wooded areas around the San Jacinto River basin encircle the lake with cool shade. Luxury resorts, beautiful homes and waterfront real estate developments also surround Lake Conroe. Wonderful angling opportunities abound at Lake Conroe making it a true paradise for outdoor lovers.
Located 200 miles south of Dallas, Lake Conroe is 21 miles long and 6 miles wide. It greets outdoor lovers who savor yachting, water skiing, jet skiing, golfing, swimming, picnicking along wooded shores, and luxuriating in the warm balmy air. Lake Conroe is surrounded by the eclectic malls of Houston, historic Montgomery antiques, Cynthia Woods Mitchell Pavilion and theatres.
Lake Conroe Park offers clean, clear waters that are great for fishing, swimming, sightseeing or picnicking. The park provides barbecue grills, fishing piers, volleyball and horseshoe courts, plus a huge enclosed pavilion. The shoreline is a favorite among avid swimmers. Outside park boundaries, water skiing, jet skiing, boating and sailing are popular activities. Summertime never ceases to usher in live bands and special events to Lake Conroe. The southern portion of the lake is filled with beautiful homes, and the north shore is richly stocked with catfish, largemouth bass, white bass, stripers, bream and crappie. You can swim, boat, fish or take a dinner cruise on the one of-a-kind Southern Empress paddlewheel boat.
Anglers easily hook largemouth, white and striped bass, bluegill and catfish. While the bass population is low, the opportunity to catch a trophy largemouth bass is excellent at Lake Conroe. Largemouth bass anglers are often lucky in the shallow water in the early spring and fall. The introduction of hybrid striped and white bass has added an extra dimension to the sport fishery at Lake Conroe as year-round fishing for hybrid striped bass is rapidly growing in popularity.
Channel catfish and crappie are the most abundant at Lake Conroe, offering anglers an opportunity for excellent catches. Anglers rejoice in their bluegill catches as this species often grows to enormous sizes at Lake Conroe. White crappie weighing over two pounds are also common.
There are a fabulous variety of interesting activities at Lake Conroe as the crystal clear water offers many year-round treats for everyone. Lake Conroe brims with acres of sheer beauty, one-of-a-kind sight-seeing tours and excellent fishing. The delightful entertainment, shopping, and dining opportunities thrill both visitors and long-time residents.
Things to do at Lake Conroe
Vacation Rentals
Fishing
Boating
Sailing
Swimming
Jet Skiing
Water Skiing
Golf
Tennis
Picnicking
National Forest
Antiquing
Shopping
Fish species found at Lake Conroe
Bass
Black Bass
Bluegill
Catfish
Channel Catfish
Crappie
Largemouth Bass
Striped Bass
Sunfish
White Bass
White Crappie
---
Lake Conroe Photo Gallery
Lake Conroe Statistics & Helpful Links
Spread the word! Share our Lake Conroe article with your fellow Lake Lubbers!