Lake Chicot, Arkansas, USA
Lake Locations:
USA - South - Arkansas - Delta -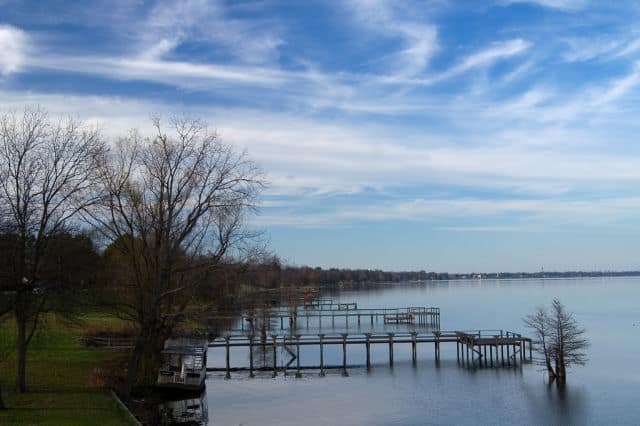 In the southeast corner of Arkansas lies a prominent — though under appreciated — natural wonder: North America's largest ox-bow lake and Arkansas's largest natural lake. Shaped like a "C", it is 20 miles long and at some places just shy of a mile wide. The stately cypresses and willows along its banks frame scenic vistas of waters unexpected in the flat, delta landscape of the state's southeastern corner. When the turbulent Mississippi River changed course more than 500 years ago in what would become Chicot County, Arkansas, it left behind a separate, more serene natural wonder – Lake Chicot. Once the Mississippi River's main channel, the lake was cut off when the river altered its course.
The state's first-ever study of its recreational needs, published in 1940, recommended Lake Chicot "be given prime consideration for an addition to the State park system." this eventually led to the creation of Lake Chicot State Park. An expanded visitors center with an attractive covered entranceway and more parking greets new arrivals. Four renovated, lakefront cabin duplexes are now suitable for use by persons with physical handicaps and offer fireplaces. The marina store has been spruced up and a fuel dock added. And, a barrier-free fishing pier, a courtesy dock, and a barrier-free restroom have been constructed.
The beauty of Arkansas's largest natural lake continues to serve as one of the park's main attractions. Sunsets often blaze dazzling colors across the open water and the big sky afforded by the area's flat terrain. In late summer, small cypresses across from the park sometimes appear as if covered with snow as hundreds of wading birds, including great and snowy egrets, fly in to roost. Warm-season, evening barge tours of a swampy area at the lake's north end reveal alligators, owls, raccoons and other wildlife.
The lake's fishing and birding opportunities draw many visitors to the area. Fishing has made Lake Chicot a prime vacation spot. Crappie and bream are favored targets during spring and fall, while catfish are sought year round. Because of its southern location, optimum fishing on Lake Chicot usually begins earlier in the spring than on Arkansas's other major lakes.
For birdwatchers, the area produces late summer sightings of wood storks and other species rarely seen in Arkansas, while winter draws bald eagles and abundant waterfowl to the area. Resident songbirds and woodpeckers can be found along the park's Delta Woodlands Trail throughout the year and they are joined in spring and fall by migratory warblers.
Also available at the visitors center is a brochure for a self-guided "Levee Tour," much of which runs atop the embankments that now protect nearby Lake Village and the surrounding area from the Mississippi's floods.
Tour highlights include waterfowl and wading birds in the water-filled borrow pits from which dirt for the levees was taken, the remains of a Native American mound, a site called Whiskey Chute where river pirates once roamed and a visit to the Lake Chicot Pumping Plant. Housed in a building eight stories tall and one-and-a-half times the size of a football field, the U.S. Army Corps of Engineers' plant prevents muddy farmland runoff from befouling the lake. The Lake Chicot Pumping Plant, which began operating in 1985, is housed in an eight-story-tall building one-and-a-half times the size of a football field.
Connerly Bayou is a main source of water for Lake Chicot (rainfall is the other). The Corps built a gated dam across Ditch Bayou, which flows out of the lake's southern end, to help stabilize the water levels in the lake.
The Corps' pumping plant project worked so well that Lake Chicot is now classified as a clear-water lake. Its water quality and fisheries restored, the lake is attracting increased numbers of wildlife, sportsmen and vacationers.
Lake Village is the largest community on the shore of the Lake, providing shopping, lodging, supplies and excellent restaurants.
Source: Arkansas Department of Parks & Tourism
Things to do at Lake Chicot
Vacation Rentals
Fishing
Boating
Cabin Rentals
Hiking
Wildlife Viewing
Birding
State Park
Shopping
Fish species found at Lake Chicot
---
Lake Chicot Photo Gallery
Lake Chicot Statistics & Helpful Links
Spread the word! Share our Lake Chicot article with your fellow Lake Lubbers!