Lake Carlton, Oklahoma, USA
Also known as:  Robbers Cave State Park
Welcome to the ultimate guide for history, statistics, local fun facts and the best things to do at Lake Carlton.
If you're considering Lake Carlton vacation rentals, we've made it super easy to explore accommodations and nearby hotels using the interactive map below. Simply click on a listing to compare similar properties, best rates and availability for your dates. Or keep scrolling to read our Lake Carlton guide!
Lake Carlton visitor and community guide
One small lake in Southeastern Oklahoma, Lake Carlton provides a giant-sized helping of recreational opportunities. Not to be confused with larger Carlton Lake west of Oklahoma City, this Kiamichi Country reservoir was built in the 1930s expressly to provide recreational opportunities. Civilian Conservation Corps (CCC) employees dammed the Fouche Maline River five miles north of Wilburton and built stone picnic shelters and recreational facilities along the eastern bank of the new 46-acre lake. Lying beneath the scenic Sans Bois Mountains, Lake Carlton sits amid some of the most picturesque scenery in the region. Pine forests and rocky cliffs ideal for hiking, rock climbing and wildlife viewing make Lake Carlton one of the best locations in the area to spend some quality time with the great out-of-doors.
Lake Carlton lies wholly within Robbers Cave State Park. The 8,246-acre park actually contains three lakes in total. Adding Lake Wayne Wallace and Coon Creek Lake nearby, the state park offers a combined 189 acres of water surface. Lake Carlton is named in honor of Carlton Weaver, a state legislator from Wilburton who devoted much of his career to assuring the state park was created. Several camping areas are located within the state park which contains a lodge with rental rooms, cabins, playground, amphitheater, nature center, miniature and disk golf, camp store, RV dump, showers and full-service hook-ups. A separate equestrian campground allows horse owners to camp with their horses and ride the miles of horseback trails. A rental stable in the park rents horses for riding on some of the trails. A group campground is available for youth groups, and the lodge holds meeting rooms and banquet facilities. Reservations can be made in advance for lodge rooms, cabins, campsites and facilities use.
A boat ramp serves private boat launchers, and the concession rents canoes, kayaks and paddleboats. The lake is too small for water sports such as water skiing. A swimming beach offers plenty of space to cool off on a hot day, and picnic pavilions provide a shady spot for a picnic. Designated a state park in 1935, the grounds still hold a number of well-maintained stone and timber buildings built by the CCC. The two-mile shoreline is a great place to spot native waterfowl, wildlife and songbirds. One popular event held at the park is the Annual Cardboard Boat Race, where homemade cardboard boats compete to stay afloat and pass the other contestants in friendly competition and knee-slapping hilarity. In the spring, an annual Easter Egg Hunt is provided for area children.
Fishing is a popular activity at Lake Carlton. Oklahoma Department of Wildlife stocks the lake with channel catfish and trout. The lake also holds largemouth bass, smallmouth bass, perch, crappie and bream. An annual Trout Derby is held during trout season just below the dam. All Oklahoma fishing regulations are in effect, and anglers must possess the appropriate license. Private boats must carry a state registration sticker. Many supplies can be purchased at the camp store. Lake Carlton is the perfect spot to spend a few days in the campground or a cabin and fish from rental canoes or paddleboats.
A number of trails throughout the park provide plenty of room for walking, hiking and mountain biking. Many of the more strenuous trails along the west shore of the lake travel through interesting sandstone formations and up steps built into narrow passages. Via these trails, hikers can reach a number of scenic vantage points to look out over the lake to the mountains beyond. In autumn, the hardwoods in the area add bright splashes of scarlet and gold to the green of the pines. And one hike nearly everyone takes is the one to the famous Robbers Cave that overlooks Lake Carlton. For those less mobile, a road travels up to a parking area near the caves. Those with an adventurous nature will find plenty of opportunities for rock climbing and rappelling. Robbers Cave Wildlife Management Area abuts the southeast portion of the state park, offering another 6,180 acres of public land for wildlife viewing and nature exploration. The area holds deer, bear and a wide assortment of smaller mammals.
Local legend has long claimed that famous outlaws Jesse James and Belle Starr used the cave as a hideout between bank-or train-robbing forays. The date of 1871 is carved into a wall of the cave, and looking out of the entrance gives a breathtaking view over the mountains and lakes below. There is no proof that any of these famous outlaws ever came to the cave, but the legend has persisted for over 100 years. Certainly Belle, Jesse and the Younger brothers did occasionally work together and passed through the area regularly, so the story is at least plausible. Younger kids will definitely be excited at the thought of visiting the notorious hideout.
Another item of unusual interest can be found an hour away at Heavener Runestone Park. The famous runestone has been the subject of much scholarly debate since its discovery in the 1870s. Some reports say that the carved stone was first discovered in 1832 by a Choctaw hunting party. None could read the strange carvings until researchers claimed that it contained Viking runes. Since that time, researchers have gone back and forth as to its authenticity. At the current time, most scholars believe it to be an early hoax, but the stone remains shrouded in mystery. The idea that Viking explorers visited southeastern Oklahoma a thousand years ago excites the imaginations of the curious. The stone is located in the City of Heavener in a city-maintained park that is open days.
Lake Carlton and its scenic surroundings is a fine place to spend a week or more. If visitors want more accommodations than a campsite or cabin, the lodge offers very comfortable rooms. The surrounding area holds many RV parks, guest cottages and small motels. The small city of Wilburton has several hotels, motels and bed & breakfasts. Small and quaint museums in the area can make this trip a real adventure into little-known history, some possibly bordering on myth. The Lutie Coal Miners Museum, rodeos, the Robbers Cave Fall Festival and other events all offer unusual experiences not often encountered. You may like the laid-back, small rural town atmosphere so much that you look for real estate nearby. So pick up the fishing rod, pack the hiking boots and come on down to Lake Carlton.
Custom Lake Carlton house decor
Read our full review of these personalized lake house signs.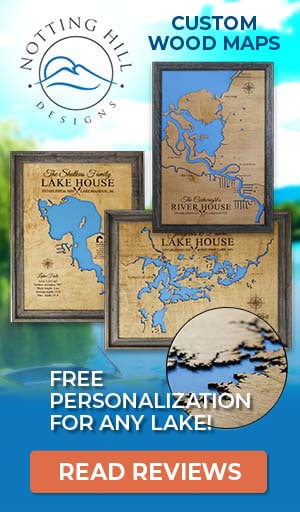 Things to do at Lake Carlton
Vacation Rentals
Fishing
Boating
Swimming
Beach
Canoeing
Kayaking
Water Skiing
Golf
Camping
Campground
Picnicking
Cabin Rentals
Hiking
Rock Climbing
Biking
Horseback Riding
Hunting
Wildlife Viewing
State Park
Museum
Playground
Fish species found at Lake Carlton
Bass
Black Bass
Catfish
Channel Catfish
Crappie
Largemouth Bass
Perch
Smallmouth Bass
Trout
---
Best hotels and vacation rentals at Lake Carlton
The Lake Carlton map shown above is a simple and stress-free way to search for trip accommodations. But if you want to take a deeper dive to find the ideal waterfront home, cabin, condo, hotel or resort, visit our favorite lodging partners by clicking the buttons below.
Note: These are affiliate links so we may earn a small commission if you book through them. While there is no extra cost to you, it helps provide resources to keep our site running (thank you)! You can read our full disclosure policy here.
---
Lake Carlton photo gallery
New photos coming soon!
Lake Carlton statistics & helpful links
We strive to keep the information on LakeLubbers as accurate as possible. However, if you've found something in this article that needs updating, we'd certainly love to hear from you! Please fill out our Content Correction form.
Advertise your Lake Carlton vacation rental
LakeLubbers will soon offer homeowners and property managers the opportunity to to showcase their vacation rentals to the thousands of lake lovers searching our site daily for accommodations. If you'd like additional details, please contact our advertising team here.
Looking for the Lake Carlton forum?
LakeLubbers previously offered visitors the ability to create accounts and participate in lake forums. When we overhauled the site's content management system in 2021 we had to disable those features. We're evaluating options and welcome your comments and feedback here.
We also encourage you to join our lake-lovin' community on Facebook and Instagram!
Spread the word! Share our Lake Carlton article with your fellow Lake Lubbers!