Lake Bomoseen, Vermont, USA
Lake Locations:
USA - New England - Vermont - Crossroads of Vermont -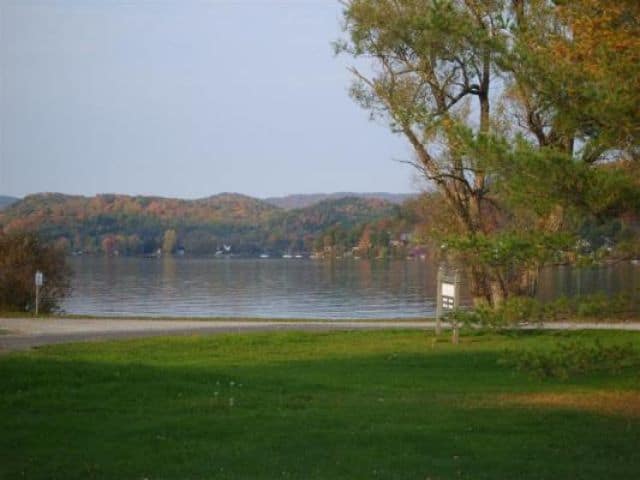 Lake Bomoseen is the most prominent lake in Vermont's Lake Region, located in the west-central part of the state. Stretching almost 9 miles long and one mile wide and covering an expansive 2,370 acres, Lake Bomoseen is the largest lake contained entirely within Vermont's state borders. The lake has a maximum depth of 65 feet and was formed by glaciers many thousands of years ago.
Lake Bomoseen is partially encompassed by Bomoseen State Park, a 3,576 acre park that serves recreational purposes as well as being a state wildlife sanctuary. Both the state park and lake cozy up to the Taconic Mountains, the northern end of the Appalachian Mountain Range.
At Bomoseen State Park, you will experience a visual history of the area: several quarry holes, remnants of this slate-producing region, mark the grounds. In their heyday, the quarries provided slate to the West Castleton Railroad and Slate Company, which was conveniently located between Lake Bomoseen and Glen Lake. The State Park first opened to the public in 1960 and now boasts lush green acres, campsites, a swimming beach, picnic area, hiking trails, and boat rentals.
Lake Bomoseen offers plenty of activities for your enjoyment. Take a swim in the pleasantly cool waters at any of the three public beaches, take a hike or ride your bike on The Long Trail, play some golf, or even spend an afternoon shopping at Diamond Run Mall, Vermont's second largest shopping mall. If fishing is your pleasure, then Lake Bomoseen will not disappoint. Largemouth bass, smallmouth bass, and northern pike swim the waters, and anglers take delight in their catches.
After a full day of playing on the lake, find a safe locale and hide from the ghosts of the lake's boatmen. As legend has it, three Irish immigrant slate workers crossed the lake one evening in their rowboat, never to return. Their bodies were never found. To this day, lake residents swear that they see an unfamiliar, oarless rowboat silently crossing the lake. It is said that the three men are still trying to get to the other side.
Things to do at Lake Bomoseen
Vacation Rentals
Fishing
Boating
Swimming
Beach
Golf
Camping
Picnicking
Hiking
Wildlife Viewing
State Park
Shopping
Fish species found at Lake Bomoseen
Bass
Black Bass
Largemouth Bass
Northern Pike
Pike
Smallmouth Bass
---
Lake Bomoseen Photo Gallery
Lake Bomoseen Statistics & Helpful Links
At LakeLubbers.com, we strive to keep our information as accurate and up-to-date as possible, but if you've found something in this article that needs updating, we'd certainly love to hear from you!
Please let us know about it on our Content Correction form.
Spread the word! Share our Lake Bomoseen article with your fellow Lake Lubbers!