Lake Austin, Texas, USA
Lake Locations:
USA - Southwest - Texas - Hill Country -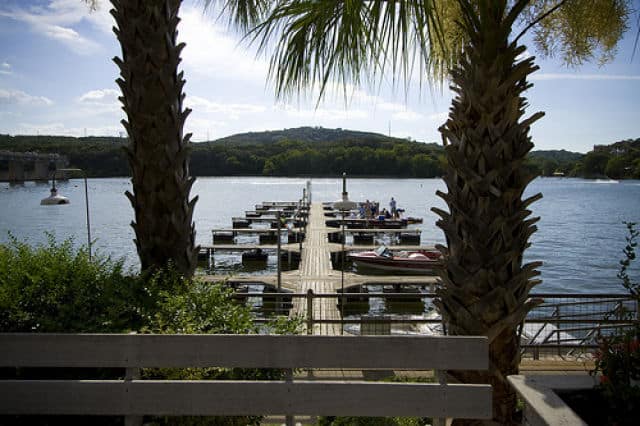 Scenic Lake Austin snakes its way through the Austin Hill Country on the Colorado River in Central Texas. It is the sixth lake down the chain of the Highland Lakes, with the Mansfield Dam and Lake Travis at the north end and Tom Miller Dam and the city of Austin at its southern end. Formerly named Lake McDonald, Lake Austin was formed in 1939 by the Lower Colorado River Authority and is now used for flood control, drinking water, electrical power generation, and recreation. Lake Austin is a "pass-through" lake that does not store water.
Lake Austin, with its widest point measuring only 1300 feet, is more like a river lined with expensive mansions up in the hills along its 24 miles of shoreline. With clear blue water and little fluctuation in water level, Lake Austin is a favorite for boating, fishing and sitting back to people-watch and enjoy the scenery. Lake Austin has a couple of small coves for swimming and raft-ups, and the skiing and wakeboarding are excellent when the lake is not too crowded. Almost all the shoreline around Lake Austin is privately owned, which limits access to the public, but there are plenty of public boat ramps available. Fun bars and restaurants right on the water are plentiful for good food, drinks, and live entertainment. For those looking for a more leisurely way to enjoy Lake Austin, a scenic cruise aboard an authentic riverboat is a perfect way to enjoy the natural beauty of the Lake Austin limestone cliffs, spy the lakeside mansions, and photograph the picturesque Pennypacker Bridge, also known as 360 Bridge.
Fishing is good at Lake Austin all year long with fall and spring months being the best seasons to fish. This is mostly because high boat traffic in summer can make fishing difficult. Once the weather warms up and the days become longer, leisure boat traffic outweighs fishing traffic. Lake Austin has been stocked with several species of fish intended to improve recreational fishing. Fish present in Lake Austin include largemouth bass, catfish, and sunfish, although Lake Austin is best known for quality bass. Most of the shore is covered by either reeds or boat docks, both of which can be prime hiding spots for bass. The lake is typically described as 'Big Bass in Grass' by local anglers. There is a large amount of submerged vegetation, such as Eurasian water milfoil, pondweed and hydrilla in Lake Austin. Over the past few years the non-native hydrilla has become more abundant, resulting in local controversy of how to rid the lake of it. The Lower Colorado River Authority has intentionally lowered the water levels in the lake during January and February so that freezing air temperatures might destroy substantial portions of the hydrilla. Sterile grass carp that feed on hydrilla have also been introduced into the lake. The lower water levels in winter also allow residents to perform repairs and routine maintenance on docks.
If you get the call for fine dining, culture and nightlife, head to the city of Austin, capital of Texas, located at the southern end of Lake Austin. It is full of historic landmarks and unusual tourist attractions, from the beautiful Texas State Capitol with its pink granite façade, to the Congress Avenue Bridge and its nightly bat flights. The Governor's Mansion, the Bob Bullock Story of Texas Museum, and the Texas State Cemetery are also popular stops for visitors interested in Texas history. Austin is widely known for its diverse music community, billing itself as "live music capital of the world," so you are likely to hear music around every street corner.
Lake Austin offers it all–water sports, natural beauty, and the excitement of a great city.
Things to do at Lake Austin
Vacation Rentals
Fishing
Boating
Swimming
Wakeboarding
Museum
Fish species found at Lake Austin
Bass
Black Bass
Carp
Catfish
Grass Carp
Largemouth Bass
Sunfish
---
Lake Austin Photo Gallery
Lake Austin Statistics & Helpful Links
At LakeLubbers.com, we strive to keep our information as accurate and up-to-date as possible, but if you've found something in this article that needs updating, we'd certainly love to hear from you!
Please let us know about it on our Content Correction form.
Spread the word! Share our Lake Austin article with your fellow Lake Lubbers!