Lago San Pedro, Ecuador
Also known as:  Lake San Pedro, San Pedro Lake, Imbakucha
Welcome to the ultimate guide for history, statistics, local fun facts and the best things to do at Lago San Pedro. If you're considering Lago San Pedro vacation rentals and hotels, we've made it super easy to compare and book using the interactive map below. Or keep scrolling to read our Lago San Pedro Guide!
Lago San Pedro Visitor and Community Guide
Lago San Pablo is Ecuador's second-largest lake but rapidly approaching first-place in popularity. Located less than two hours north of Quito, Lake San Pablo lies less than five miles from scenic Otavalo and is developing as a tourism destination in its own right. Set against a green backdrop of dormant volcanoes, the lake is easily accessible from the Pan American Highway and is becoming a favored location for holiday villas and weekend getaways. Lago San Pablo even sports a yacht club, and sailboats are commonly seen skimming the windy surface. Several lodges and resort hotels dot the shoreline and offer a variety of water-based and trail-oriented activities.
The ancient natural lake lies in a closed basin at an elevation of 8700 feet, so the water averages a cool 65 degrees. Swimming therefore isn't usually high on the list of activities visitors enjoy here. Waterskiing, kite-skiing, tubing, personal watercraft, canoeing, kayaking and wakeboarding are all favorites, with a few resorts renting equipment and offering lessons. Most fishing is done by local anglers. The lake supports a form of largemouth bass and carp, but they are not plentiful, so fishing is not attractive enough to encourage angler tourism. A paved highway encircles the lake, providing ever-changing views that can be enjoyed from a vehicle. Many visitors enjoy hiking or horseback riding around the perimeter and into the surrounding highlands. Guided tours can be arranged for visitors. The majority of the lakeshore and surrounding hillsides is used for terraced farming, with corn, food crops, cattle and flowers being grown. There are currently some concerns about degraded water quality due to agricultural run-off that scientists are working to address.
Most of the water in the lake comes from River Itambi, a small mountain stream originating high on Imbabura volcano. Over 90% of the lake's water originates here, although several other small tributaries provide inflow during the rainy season. Excess water escapes via a swampy area at the north end of the lake that gives rise to the River Peguche. The shallows around the lake support the type of reeds that the Quichua natives traditionally use to make their reed mats. The ecosystem created by the lake offers a wide variety of native birdlife including various ducks, herons and other waterfowl. The Peguche River descends rapidly via a series of spectacular waterfalls once it leaves the wetlands, cascading nearly 60 feet in a breath-taking display of nature.
The trail to Peguche Falls is well-maintained and is one of the most popular visits for tourists to Otavalo. The rain forest-like area created around the falls also supports large numbers of birds and masses of blooming flowers among the tall trees growing here. The location is less than five miles north of Otavalo and easily reached by car. The Peguche Waterfall is considered sacred to the local Quichua who imbue the falls and river with a legend of gold, guarded by the devil and two black dogs. The pool at the bottom of the falls is important for ritual bathing the night before the beginning of Inti Raymi, a religious event lasting several days. The Quichua community members living near the base of the falls are considered some of the region's most skilled handicrafters and are always willing to display their wares for sale.
Otavalo is a choice destination for a traditional countryside visit outside of the big city of Quito. Otavalo is the center of Quichua cultural life. The marketplace on Saturday mornings is something no visitor to Ecuador should miss. This traditional marketplace begins at dawn, with the animal market occurring at six am. After the livestock are taken care of, the hundreds of stalls filled with local handicrafts, reed mats, textiles, vacuna wool sweaters, embroidered blouses, looms, leatherwork, rugs, beads, wood carvings, paintings, hats and wool ponchos become the focal point. The marketplace is held in the city 'square', called the Plaza de Panchos and is an excellent place to find one-of-a-kind items and gifts. Otavalo is particularly geared toward visitors, with several hotels and guest houses for rent. The town is filled with excellent restaurants, many offering specialty dishes derived from local cuisine.
Lago San Pedro and Peguche Waterfall are not the only ecology-based destinations within a short distance of Otavalo. Ten miles to the south, the Mojanda Lakes or Lagoons beckon energetic hikers who make the climb to view the three lakes within the collapsed twin volcano domes. The area around the lakes contains some of the last remnants of high-altitude forest, now protected in the area. The increasingly rare condor can sometimes be seen soaring nearby. Less than nine miles from Lago San Pedro, the Cuicocha Lagoon offers hiking, kayaking and guided walks. Known in the native language as Lake of The Gods, an interpretive center here teaches about the local flora and fauna. A four-mile hiking trail is very popular. Part of the Cotacachi-Cayapas Ecological Reserve, the large park serves to protect one of the last sections of coastal Andes rainforest in Ecuador. Only twenty miles from Lago San Pablo, the pyramids at Cochasqui are located near the village of Cayambe. This extremely important archeological site isn't far off the Pan American Highway. A small museum on-site offers interpretive exhibits showcasing the astronomical alignments created by truncated pyramids and trenches built by the pre-Incan Caranqui. Located on the equator, the complex displays the advanced astronomical knowledge of the native people long before the Inca's arrival.
Lago San Pedro and Otavalo are becoming more popular as holiday destinations for foreign visitors. Occasionally lakeside villas or ranches may be found for sale, although they are somewhat rare. A few owners rent either houses or entire estates on a short-term basis: Many can either be chosen as self-catering or a local cook and housekeeper can be arranged for. A number of special-interest lodgings and resorts in the area focus on entertaining visitors interested in photography, local Quichua culture or Andes ecology. Otavalo offers such entertainments as mini-golf but this is primarily a native town based around the Otavaleno culture. Although most shopkeepers and vendors speak Spanish and possibly some English, Quichua is still the native language and Quichua culture and dress are commonplace. A visit here is a cultural treat among people who have managed to hold onto their native traditions while surviving economically in the modern world. Therefore, visitors shouldn't expect the usual highly-commercialized vacation hot-spot. Otavalo and Lago San Pedro are the very heart of Ecuador. Hope you can visit and experience it soon!
Custom Lago San Pedro House Decor
Read our full review of these personalized lake house signs.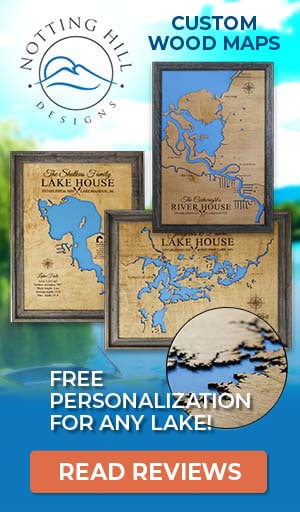 Things to Do at Lago San Pedro
Vacation Rentals
Fishing
Boating
Sailing
Swimming
Canoeing
Kayaking
Water Skiing
Wakeboarding
Tubing
Golf
Hiking
Horseback Riding
Waterfall
Birding
Museum
Fish Species Found at Lago San Pedro
Bass
Black Bass
Carp
Largemouth Bass
---
Best Hotels and Vacation Rentals at Lago San Pedro
The Lago San Pedro map shown above is a simple and stress-free way to search for trip accommodations. But if you want to take a deeper dive to find the ideal waterfront home, cabin, cottage, condo, hotel or resort, visit our favorite lodging partners by clicking the buttons below.
Note: These are affiliate links so we may earn a small commission if you book through them. While there is no extra cost to you, it helps provide resources to keep our site running (thank you)! You can read our full disclosure policy here.
---
Lago San Pedro Statistics & Helpful Links
We strive to keep the information on LakeLubbers as accurate as possible. However, if you've found something in this article that needs updating, we'd certainly love to hear from you! Please fill out our Content Correction form.
Advertise Your Lago San Pedro Vacation Rental
LakeLubbers will soon offer homeowners and property managers the opportunity to to showcase their vacation rentals to the thousands of lake lovers searching our site daily for accommodations. If you'd like additional details, please contact our advertising team here.
Looking for the Lago San Pedro Forum?
LakeLubbers previously offered visitors the ability to create accounts and participate in lake forums. When we overhauled the site's content management system in 2021 we had to disable those features. We're evaluating options and welcome your comments and feedback here. We also encourage you to join our lake-lovin' community on Facebook, Instagram and Pinterest!
Lago San Pedro Photo Gallery
New photos coming soon!
Spread the word! Share our Lago San Pedro article with your fellow Lake Lubbers!