Lago Pehoe, Chile
Also known as:  Pehoe Lake
Welcome to the ultimate guide for history, statistics, local fun facts and the best things to do at Lago Pehoe.
If you're considering Lago Pehoe vacation rentals, we've made it super easy to explore accommodations and nearby hotels using the interactive map below. Simply click on a listing to compare similar properties, best rates and availability for your dates. Or keep scrolling to read our Lago Pehoe guide!
Lago Pehoe visitor and community guide
Located at the southern end of Chile, at the edge of the Andes Mountains, Lago Pehoe is a spectacular sight. The scenic lake is visited by thousands every year-most of them visitors to the larger Torres del Paine National Park. Lago Pehoe isn't a lake for swimming or water sports; the highest summer temperatures rarely reach over 60 degrees. Fed by glaciers, Lago Pehoe glows with beautiful blue hues caused by glacial 'flour', or rock dust suspended in the water. Towering Cuernos del Paine peak is reflected on the lake's surface. The wind blows from the west almost constantly during the summer-up to 70 miles per hour-and rain is frequent. Lago Pehoe is one of the most iconic and frequently photographed sights in Chilean Patagonia.
Lago Pehoe is a natural lake, fed by the Paine River and lakes upstream. The name Pehoe is derived from words in the native Tehuenches language meaning 'hidden lake'. Likewise, the word paine means blue in that same tongue. A stunning 213-foot waterfall heralds the entrance of water from Nordenskjold Lake. The Salto Grande or Great Falls are often the destination of short hikes to the lake and can be seen even better from various lookout points along the shore. Another waterfall celebrates the exit of the Paine's water into the riverbed where it continues its journey toward the sea. At least one small hotel offers lodgings along the lakeshore and is considered a major starting point for several hikes in the area. A small fleet of motor boats carries visitors to the far side of the 5,436-acre lake.
Most people arriving at Lago Pehoe come to tour the nearly 598,600 acres of Torres del Paine National Park. The park has been voted by National Geographic as the 5th most beautiful place in the world and holds a wealth of wildlife, unusual plants and spectacular geological formations. The Torres del Paine, the three peaks of the Paine massif, are a trio of strikingly steep needles of granite reaching to 8,200 feet. Grey Glacier is located eight miles from Lago Pehoe, and tourist guides take groups of visitors there regularly to admire the massive ice fields. Another favorite tour is to view the glacier by boat from the surface of Lago Grey and to watch it calve ice floes into the water. Increasingly, eco-tourism brings visitors to view the plant and animal life found here.
The area around Lago Pehoe is one of the places where the endangered guanacos are found in abundance. These small wild relatives of llamas and alpacas thrive on the sparse grasses and sedges found particularly in the wetlands bordering the lakes and rivers. Their main predator, the puma, is also found here. Foxes and the endangered Chilean huemul or South American deer, can also be found in the park. Torres del Paine Park is one of the rare breeding areas for the Andean condor. Other birds of prey which likely breed here are the Magellanic horned owl, black-chested buzzard-eagle, chimango caracara, austral pygmy-owl and cinereous harrier. Other unusual birds can be found in the park, including Darwin's rhea, Chilean flamingo, coscoroba swan and Magellanic woodpecker.
Serious hikers often come prepared to spend several days hiking the many trails within Torres del Paine National Park. Due to the delicate ecosystem, all hikers must stay on marked trails and camp only in designated camping areas. Many of the campsites are very primitive and often free. Others have some rudimentary services and a fee is charged. There are a number of concessionaire-operated hotels, hostels and inns located along the Paine River. Although not usually up to European standards, the hotels are comfortable and usually have a restaurant. Food is an issue even for campers as no fires are allowed within the Park, and even camp stoves are prohibited in many of the campsites. Good planning and good maps are essential for camping here, and signing on with a tour guide will assure that one isn't left unprepared.
All types of guided tours are available within the Park. Vehicle tours take visitors to some of the most popular sites. Horseback tours can lead less physically-fit tourists into areas they wouldn't be able to walk. Canoe and rafting trips are led on the rivers in the area with guide and all necessary equipment furnished. However, seeing much of the park requires traveling by foot with sturdy hiking shoes and appropriate camping gear. Driving to the lake by car usually means starting from Punta Arenas, a trip of over four hours. The Argentina border route takes nearly as long and may require currency changes and border paperwork.
Visiting Lago Pehoe is a once-in-a-lifetime adventure. A trusted travel agent and tour guide can make the trip enjoyable and memorable. It is best to make certain that any accommodations chosen are reserved in advance and that activities are seasonally appropriate and allowed. Remember that summer here are the months of December through February-and nothing much happens during the winter.
So, if you're the type of traveler who enjoys a challenge, lives to visit out-of-the-way locations, and view sights few of your friends have seen, Lago Pehoe is for you!
Custom Lago Pehoe house decor
Read our full review of these personalized lake house signs.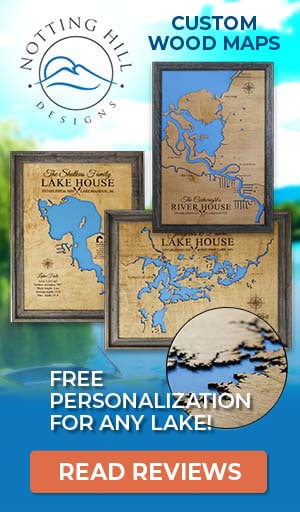 Things to do at Lago Pehoe
Vacation Rentals
Boating
Swimming
Canoeing
Camping
Hiking
Horseback Riding
Waterfall
Wildlife Viewing
Birding
National Park
---
Best hotels and vacation rentals at Lago Pehoe
The Lago Pehoe map shown above is a simple and stress-free way to search for trip accommodations. But if you want to take a deeper dive to find the ideal waterfront home, cabin, condo, hotel or resort, visit our favorite lodging partners by clicking the buttons below.
Note: These are affiliate links so we may earn a small commission if you book through them. While there is no extra cost to you, it helps provide resources to keep our site running (thank you)! You can read our full disclosure policy here.
---
Lago Pehoe photo gallery
New photos coming soon!
Lago Pehoe statistics & helpful links
We strive to keep the information on LakeLubbers as accurate as possible. However, if you've found something in this article that needs updating, we'd certainly love to hear from you! Please fill out our Content Correction form.
Advertise your Lago Pehoe vacation rental
LakeLubbers will soon offer homeowners and property managers the opportunity to to showcase their vacation rentals to the thousands of lake lovers searching our site daily for accommodations. If you'd like additional details, please contact our advertising team here.
Looking for the Lago Pehoe forum?
LakeLubbers previously offered visitors the ability to create accounts and participate in lake forums. When we overhauled the site's content management system in 2021 we had to disable those features. We're evaluating options and welcome your comments and feedback here.
We also encourage you to join our lake-lovin' community on Facebook and Instagram!
Spread the word! Share our Lago Pehoe article with your fellow Lake Lubbers!