Lago O'Higgins, Chile & Argentina
Also known as:  Lago Bernardo O'Higgins, Lago San Martin
Welcome to the ultimate guide for history, statistics, local fun facts and the best things to do at Lago O'Higgins.
If you're considering Lago O'Higgins vacation rentals, we've made it super easy to explore accommodations and nearby hotels using the interactive map below. Simply click on a listing to compare similar properties, best rates and availability for your dates. Or keep scrolling to read our Lago O'Higgins guide!
Lago O'Higgins visitor and community guide
Reaching Lago O'Higgins on the Chile/Argentina border takes some effort. Lago O'Higgins is known as Lago San Martin on the Argentina side. Located in the Patagonian Aisen (or Aysen) Region, Lago O'Higgins is the deepest lake in the Americas. With a maximum depth of 2,743 feet, this is not only the deepest known lake in South America, but also the deepest known accessible glacial lake in the world. Lake Vostok in Antarctica, while deeper, is a sub-glacial lake with its surface buried under miles of ice.
Lago O'Higgins is located in one of the most inaccessible areas of the world, tucked between the Andes Mountains on the east and the Southern Ice Cap on the west. Fed by the Mayer River and other glacial streams, the eight arms of the lake sprawl into drowned valleys on both sides of the international border. The milky-blue water owes its hue to the 'rock flour' of finely ground rock carried by the glacier melt in the streams that flow into the lake. Because strong winds can create dangerous waves, small boats are not usually an option in the main parts of the lake. Locals know which areas are usually safe, but paddle sports should not be attempted without a trusted guide. The lake forms the headwaters of the Rio Pascua, one of the fastest-flowing rivers in Chile. After it leaves the lake, the Rio Pascua tumbles wildly through rapids, gorges and waterfalls to reach the Pacific Ocean.
The massive lake lies in one of the least-populated regions of South America, an area crowned by glaciers and ice caps, steep valleys and unusual flora and fauna. The area around the lake and river is home to such animals and birds as the torrent duck, river otter, culpeo fox, huemul (an Andean deer so endangered that its population has dipped below 3,000), hawks, harriers, condors and the Magellanic woodpecker. For most of the last century, the area was accessible only on foot or horseback and via small airplane, with some visitors and supplies crossing the lake from Argentina via ferry. Only recently has the Carretera Austral highway finally reached the town of Villa O'Higgins – the end of the road. Opening the gravel highway provided a route for long-distance cycle and hiking trekkers to enjoy the region, leading to more visitors who engage in strenuous sports. The road is mostly gravel and in many areas deserted except for the occasional cyclist camping beside the path. Whitewater rafting is just becoming a tourism industry on the rushing rivers in the area. Because only limited supplies can be purchased in the area, visitors are encouraged to bring everything they think they will need.
The area around Lago O'Higgins that is flat enough for grazing is primarily used for sheep and cattle ranching. Above the rolling pasture lands, glaciers cap the mountains, some with active volcanic vents. Villa O'Higgins has become the base camp for fly fishermen who come to pursue the rainbow and brown trout that the rivers and streams are known for. Sport fishing expeditions can be arranged from Villa O'Higgins, and boat cruises on Lago O'Higgins take sightseers to the base of the huge O'Higgins Glacier.
Small Villa O'Higgins is the site of five popular, though rugged, hiking trails. One, Sendero Humedales Rio Mayer, leads to wetlands frequented by a variety of native birds. Others lead toward the glaciers and the surrounding peaks. Guides to these trails are available at the tourist kiosk in Villa O'Higgins. At the southern end of the lake, Chile's largest protected area – nearly nine million-acre Bernardo O'Higgins National Park – contains several smaller glaciers and well-known Glacier Pio XI. The South American summer, from November to March, is most popular time for visits to the area. Winters can be chilly, although the lake does not freeze, and snowstorms can quickly turn into howling blizzards in the valleys.
Both names for the lake, O'Higgins and San Martin, are named after heroes of the two countries' struggle for their respective independence. Villa O'Higgins itself is a relatively new town, officially dedicated in 1966. Prior to its official village designation, a few workers who stayed behind when a large ranching operation departed were the sole inhabitants until joined by new settlers. The town has scrambled to forge an identity based on both its traditional ranching and on the increasing amount of tourism in the area. Young artists are gradually reviving traditional Patagonian craft techniques, like rawhide braiding and woodworking, to create everyday utensils and souvenirs. Festivals have become annual events, with rodeos, a cattle drive and anniversary 'asado' (barbecue) enjoyed by residents and visitors alike. A number of small hotels and fishing resorts have grown up in the area, and a few restaurants and markets now serve up basic supplies. An irregular ferry boat schedule will take passengers to the Argentina side of Lago O'Higgins, where they must pass Customs to reach another gravel road which will eventually take them to El Chalten, Argentina. Experienced visitors often arrange to lease a horse for convenient travel.
At present, there is a serious threat to Lago O'Higgins in the form of a massive hydroelectric scheme that would place three dams on the Rio Pascua and two on the nearby Baker River. The resulting reservoirs would forever alter the course of the pristine rivers and flood-sensitive ecological areas around the lake. Almost 1500 miles of transmission lines would require a huge amount of clear cut through refuges, forests and the habitat of endangered species. The world's environmental organizations are fighting the plan and have managed to get a temporary court injunction on construction, but their long-term success in halting the project is in serious doubt. One concern is that changes caused by altering the path and amount of water will speed up the melt of glaciers in the area. The progress that brought the Carretera Austral and its tourism boom to Villa O'Higgins may soon destroy some of the reasons tourists come here.
Visitors to the Lago O'Higgins area are encouraged not to try to 'fly by the seat of their pants' in terms of lodgings and travel. Because even boat schedules tend to be adjusted on the spur of the moment, it is best to work through a reputable travel service or knowledgeable friend to secure any adventure, especially the first time you go. Some private rentals exists but accommodations may not be modern and they may be difficult to get to – due diligence is necessary. Real estate in the area is available but again, one should be certain that it is reachable and that some basic utilities can be accessed. For the adventuresome traveler, a visit to Lago O'Higgins is a once-in-a-lifetime excursion, one with plenty of rugged travel and grand unspoiled vistas. Come visit one of the last unspoiled wildernesses in South America. Lago O'Higgins certainly isn't easy, but it sure is grand!
Custom Lago O'Higgins house decor
Read our full review of these personalized lake house signs.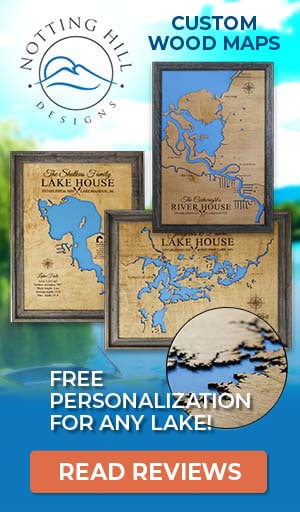 Things to do at Lago O'Higgins
Vacation Rentals
Fishing
Boating
Whitewater Rafting
Camping
Hiking
Horseback Riding
Waterfall
Wildlife Viewing
Birding
National Park
Fish species found at Lago O'Higgins
---
Best hotels and vacation rentals at Lago O'Higgins
The Lago O'Higgins map shown above is a simple and stress-free way to search for trip accommodations. But if you want to take a deeper dive to find the ideal waterfront home, cabin, condo, hotel or resort, visit our favorite lodging partners by clicking the buttons below.
Note: These are affiliate links so we may earn a small commission if you book through them. While there is no extra cost to you, it helps provide resources to keep our site running (thank you)! You can read our full disclosure policy here.
---
Lago O'Higgins photo gallery
New photos coming soon!
Lago O'Higgins statistics & helpful links
We strive to keep the information on LakeLubbers as accurate as possible. However, if you've found something in this article that needs updating, we'd certainly love to hear from you! Please fill out our Content Correction form.
Advertise your Lago O'Higgins vacation rental
LakeLubbers will soon offer homeowners and property managers the opportunity to to showcase their vacation rentals to the thousands of lake lovers searching our site daily for accommodations. If you'd like additional details, please contact our advertising team here.
Looking for the Lago O'Higgins forum?
LakeLubbers previously offered visitors the ability to create accounts and participate in lake forums. When we overhauled the site's content management system in 2021 we had to disable those features. We're evaluating options and welcome your comments and feedback here.
We also encourage you to join our lake-lovin' community on Facebook and Instagram!
Spread the word! Share our Lago O'Higgins article with your fellow Lake Lubbers!