Lady Bird Lake, Texas, USA
Lake Locations:
USA - Southwest - Texas - Hill Country -
Also known as:  Town Lake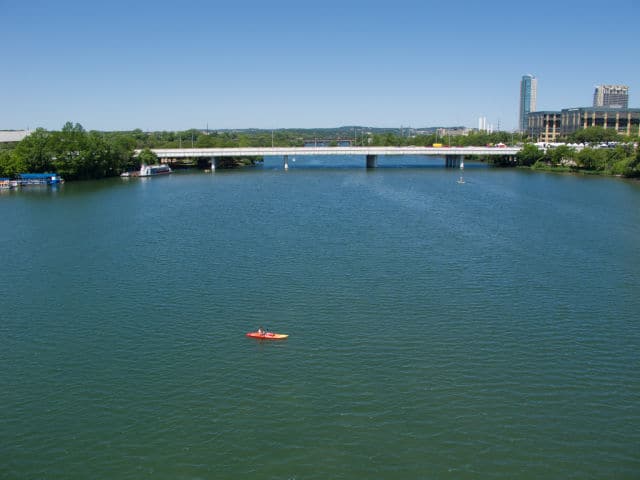 Lady Bird Lake is a beautiful 468-acre reservoir in the capital city of Austin, Texas. The lake is the easternmost lake in a chain of reservoirs on the Colorado River. The reservoir was formed in 1960 by construction of the Longhorn Dam at its eastern end. The western end of the lake is impounded by the Tom Miller Dam built in 1939. The reservoir was created to serve as a cooling pond for the Holly Street Power Plant, and to provide drinking water as well as a place of recreation for residents and visitors to the city of Austin.
Originally named Town Lake, the six mile long body of water was renamed Lady Bird Lake in 2007 in honor of Lady Bird Johnson, the former First Lady of the United States and long-time resident of Austin. A stunning lake in the 1960s, by the 1970s, Town Lake and its shoreline had become neglected, polluted and overgrown with weeds and trash. Appalled by the appearance of the lake, Mayor Roy Butler partnered with Lady Bird Johnson to establish the Town Lake Beautification Committee with the goal of transforming the Town Lake area into an appealing recreation area. Johnson's involvement brought attention and money (including $19,000 of her own) to the project. The lake was cleaned up and stocked, and hiking and biking tree-lined trails were built along the shoreline. In renaming the lake, the City of Austin recognized Lady Bird Johnson for her dedication to reviving the ailing lake.
Lady Bird Lake is a tranquil lake with 18.3 miles of shoreline that can be enjoyed year-round by anglers and paddlers. Along with the University of Texas women's rowing team, teams from northern universities train on Lady Bird Lake during Christmas holidays and spring breaks. Motorized watercraft and swimming are not allowed in the lake, but Austin's largest downtown park, Zilker Park, is adjacent to the lake, and Barton Springs Pool, a natural pool on Barton Creek which is a major attraction for swimmers, flows into the lake. Fish species in Lady Bird Lake include largemouth bass, smallmouth bass, northern pike, channel catfish, carp, and sunfish. Below Tom Miller Dam is Red Bud Isle, a small island formed by the 1900 collapse of the McDonald Dam that now serves as a recreation area with access to the lake for canoeing and fishing.
Nature lovers will find an abundance of birds and wildlife around Lady Bird Lake. Bald cypress, sycamore, cottonwood, elm, and other indigenous trees line the lake and provide shade for an afternoon picnic as well as homes for birds, squirrels, raccoons, and other wildlife. The 10.1-mile long Lady Bird Lake Hike and Bike Trail circles the lake and offers a quiet view of the water and relatively flat trail for exercise.
A unique summertime attraction can be found at the Ann W. Richards Congress Avenue Bridge which spans Lady Bird Lake and is home to North America's largest urban colony of Mexican free-tailed bats. At dusk, from March to September, visitors can watch the dramatic sight of up to 1.5 million bats that fly off in search of their nightly meal of insects. Eight other bridges span the lake, including two pedestrian-only bridges which are part of the Hike and Bike Trail.
Those not interested in bats may find music venues on the banks of Lady Bird Lake more to their liking. Events at the lake include the Austin City Limits Music Festival in the fall, the Austin Reggae Festival and Spamarama in the spring, and many open-air concerts at Auditorium Shores on the south bank and Fiesta Gardens on the north bank.
For vacation rentals and accommodations, downtown Austin is just north of Lady Bird Lake. The fourth-largest city in Texas and the 15th-largest in the United States, Austin has an unlimited number of lodging and real estate options. Situated in the heart of Texas, Austin is surrounded by a particularly beautiful area of green hills and large lakes. Austin is known for its music and live entertainment and is also home to the impressive University of Texas. Austin features some truly beautiful tourist attractions, including the State Capitol building, the Capitol Complex Visitors Center, Zilker Botanical Gardens, the Austin Zoo and may top museums and spectacular gardens.
If you are planning a trip to the Austin area, be sure to pay a visit to shimmering Lady Bird Lake. The mild climate year-round lets you enjoy fishing, boating and walking and offers fun for the whole family as a vacation or retirement destination.
Things to do at Lady Bird Lake
Vacation Rentals
Fishing
Boating
Canoeing
Picnicking
Hiking
Biking
Wildlife Viewing
Birding
Museum
Fish species found at Lady Bird Lake
Bass
Black Bass
Carp
Catfish
Channel Catfish
Largemouth Bass
Northern Pike
Pike
Smallmouth Bass
Sunfish
---
Lady Bird Lake Photo Gallery
Lady Bird Lake Statistics & Helpful Links
At LakeLubbers.com, we strive to keep our information as accurate and up-to-date as possible, but if you've found something in this article that needs updating, we'd certainly love to hear from you!
Please let us know about it on our Content Correction form.
Spread the word! Share our Lady Bird Lake article with your fellow Lake Lubbers!