Lac de Tignes, Rhone-Alps, France
Lake Locations:
France - Southern France - Rhone-Alps -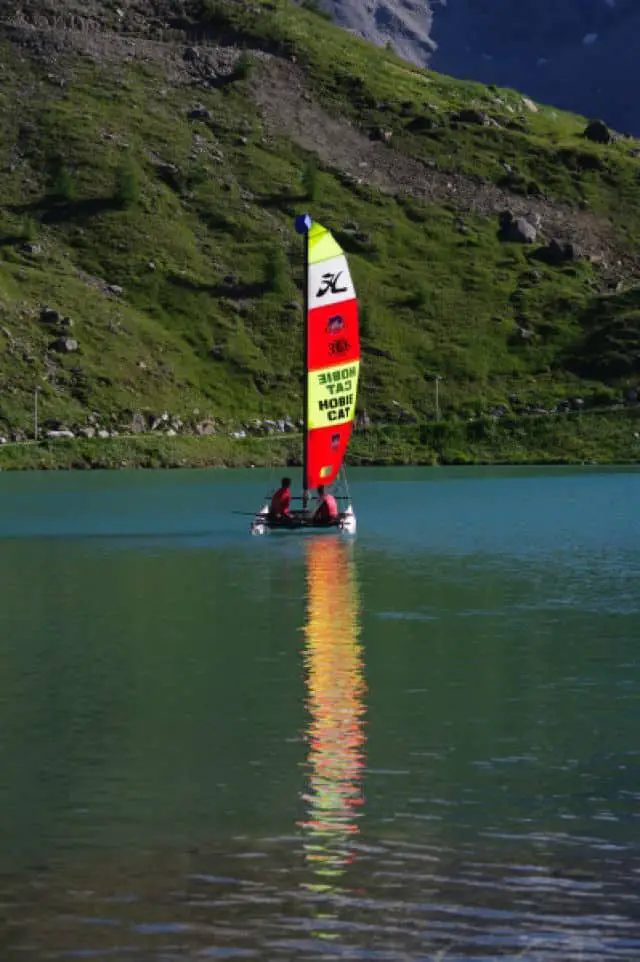 Nestled snugly within the Parc National de la Vanoise in France's Rhone Alps tourism region, Lac de Tignes is a small glassy lake known for its surreal reflections, dramatic mountain landscapes and cold sparkling waters – not to mention its world class skiing. The area is divided into five bases with ski lifts: Le Lac, Le Lavachet and Val Claret are the main three, followed by Les Boisses and Les Brevieres.
Lac de Tignes has an average depth of 148 feet and features two fishing reserves, three car access points and a handicap-accessible footpath. It is equipped with over 60 restaurants and 50 bars, perfect for young university students on holiday, or for couples and families looking for an exciting escape from daily life. Facilities at Lac de Tignes include a lagoon center with a swimming pool, Jacuzzis, fitness area and solarium. There is also a wellness center with Turkish baths, hot tubs and saunas.
With a surface area of 61 acres, Lac de Tignes is a tranquil angling lake. A large population of brown trout inhabits Lac de Tignes, stocked annually. Although the lake is frozen seven months of the year, it provides plenty of phytoplankton, insects and minnows for various sport fish like rainbow trout and lake trout. Other animals present include snails, frogs and newts.
Lac de Tignes boasts an elevation of 5,873 feet above sea level, an altitude that accumulates a great deal of snow in the wintertime – just perfect for the Tignes ski resort that is located just four miles north. Ski season is prolonged due to the Grande Motte glacier. Tignes luxury chalets and ski apartments are available in the area, and renters will be thrilled by the variety of holiday apartments and hotels found here.
Recreation at Lac de Tignes is unquestionably at its peak during the winter season. The Tignes ice area is perfect for both leisure skating and competitive sports. Its open-air rink has a surface area of a half-acre, featuring a game place, ice hockey area and weekly "Disco on Ice" events. Skijoring, a term created to describe horse drawn skiing, is also available here, and it is not uncommon to find equine lovers atop skis or snowboards, attaching themselves to their favorite horse. Snowshoeing, dog sledding and snowmobiling are other great winter activities at Lac de Tignes. Ice driving is an incredible undertaking to watch, with daredevils practicing emergency braking, skidding and counter steering on slick rally tracks.
Scuba divers are sure to love ice diving at Lac de Tignes – but thick wetsuits are mandatory, as water temperatures are unimaginably cold. Night dives are particularly fun at Lac de Tignes, where the lake's natural translucence creates a particularly surreal atmosphere.
During the summer, Lac de Tignes opens a lakeside skate park that was imported from Basel, Switzerland, home of the 2005 European Skateboard Championships. It supports BMX cycling, inline skating and freestyle ATB (All Terrain Boards). Paragliding, horseback riding, rock climbing and white water rafting are also popular among the skateboarding crowd.
Lac de Tignes is located southwest of an artificial lake, Lac de Chevril. This large body of water has a dam that was completed in 1952 – the Barrage du Chevril – and stands 590 feet tall and 970 feet long. Its hydroelectric plant produces water for nearby cities. The original town of Tignes was inundated when the dam was constructed, and those ancient buildings reappear like magic once every ten years when the lake is drained for dam maintenance.
With over 125 miles of hiking trails to choose from, mountain walking is fabulous in the Lac de Tignes area. Golf can be enjoyed at the nearby 18-hole championship golf course, and helicopter rides and ATV tours are offered nearby. Lastly, the nearby Tignes Heritage Centre displays over 700 years of history and artifacts – and best of all, it is free to enter.
Lac de Tignes is nestled within Vanoise National Park. This reserve includes of 200 square miles that were originally protected in order to preserve the Alpin Ibex, a species of wild goat with elongated horns. Other animals populating this area are marmots, chamois and more than 125 species of birds. Vanoise National Park encompasses 100 snowy peaks that reach altitudes of 10,000 feet high. The park receives more than 360,000 visitors per year; combined with the Italian National Park, it makes up one of the largest protected zones in Western Europe. The Col de l'Iseran, the highest Alpine pass in the region, can be traversed by car from July to September. Much like Lac de Tignes, the views of Savoie's intense mountain landscapes are simply unforgettable.
Things to do at Lac de Tignes
Vacation Rentals
Fishing
Swimming
Swimming Pool
Whitewater Rafting
Scuba Diving
Golf
Hiking
Rock Climbing
Biking
Snowmobiling
Dog Sledding
Horseback Riding
Birding
National Park
Fish species found at Lac de Tignes
Brown Trout
Lake Trout
Rainbow Trout
Trout
---
Lac de Tignes Photo Gallery
Lac de Tignes Statistics & Helpful Links
Spread the word! Share our Lac de Tignes article with your fellow Lake Lubbers!