Lac Courte Oreilles, Wisconsin, USA
Lake Locations:
USA - Midwest - Wisconsin - Lake Superior Northwoods Region -
Also known as:  Hayward Lakes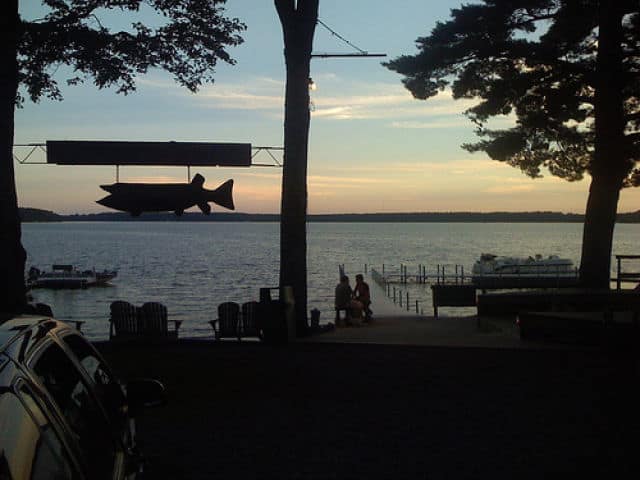 Known for its "really big muskie," Lac Courte Oreilles near Hayward in Sawyer County has been a popular recreation spot with anglers for well over a hundred years. The fertile Wisconsin Northwoods with its wild rice and abundant wildlife has been calling to people for much longer.
Mounds on the southern shore of Lac Courte Oreilles point to the area being inhabited as far back as 500 B.C. More recently the area around Lac Courte Oreilles and the other Hayward Lakes, including Grindstone Lake, Round Lake, and nearby Lake Chippewa, has been inhabited by the Lac Courte Oreilles Band of the Lake Superior Chippewa. The LCO Band is one of six bands thought to have migrated along the St. Lawrence Waterway. The lakes were popular wild rice gathering grounds for the LCO Band. Originally called Ojibwa, the LCO Band settled on the shores of what was then known as Ottaway Lake after a child died and was buried there one winter. The grief-stricken parents refused to leave and the village grew up around them.
It's been said that the history of Lac Courte Oreilles and Sawyer County can be traced from "beaver pelts, white pine, and summer resorts." French fur traders were the first white inhabitants of the area. They traded with the local Indians, intermarried and were accepted into their culture. Courte Oreilles means "short ears" and is the name given the Indians by the French. After the traders opened posts and settled the area, the timber barons moved in to log it. Today Hayward is home to the Lumberjack World Championships as a tribute to its timber rich past. Held annually since 1960 the lake's contest draws over 12,000 visitors a year. Lumberjacks compete at chopping, sawing, logrolling, and a 90 foot tree climb.
Logging changed the area, but the beautiful water brought visitors and summer resorts. The first fishing clubs started as early as 1889, giving anglers from as far away as Chicago and even Kentucky a place to fish and relax. Meanwhile the Lac Courte Oreilles Indians were living on a reservation created by a treated signed in 1854. The reservation is 48,000 acres in Sawyer County and includes about half of the lake. The LCO Band has been instrumental in protecting the lake's water quality, and they still harvest wild rice and spearfish on Lac Court Oreilles.
Lac Courte Oreilles is a large, deep, clear natural drainage lake at the headwaters of the Couderay River. The waters of Grindstone Lake flow into Lac Court Oreilles through Grindstone Creek, and water flows out of Lac Court Oreilles into Little Lac Court Oreilles and Billy Boy Flowage created in 1936. With over 5,000 acres of water there is plenty of room for anglers and recreational boaters, and the lake has healthy populations of walleye, northern pike, smallmouth bass and bluegill. There are also crappie and largemouth bass and some gigantic muskie. In fact, the second largest muskie was caught in Lac Courte Oreilles in 1949 by Cal Johnson. The record for the 67 pound 8 ounce fish can be seen at the National Freshwater Fishing Hall of Fame and Museum in Hayward. Shaped like a 143 foot long, 41 foot tall muskie, the museum has everything to do with fishing, and visitors can even stand in the muskie's mouth.
In winter there is ice fishing, and snowmobiles can drive across Lac Courte Oreilles. Sawyer County has cross-country skiing, and Hayward is the home of the largest American cross-country ski race. The three-day competition draws visitors from all over. There are plenty of trails for hiking and ATV's near Lac Courte Oreilles, and nearby Chequamegon-Nicolet National Forest has over 800,000 acres to explore. Hayward has great restaurants, all kinds of accommodations, and any amenities visitors could want.
The deep, clear water and exceptional fishing will call visitors to Lac Courte Oreilles. The beautiful Wisconsin Northwoods, rich history and fantastic recreation opportunities will keep them there.
Things to do at Lac Courte Oreilles
Vacation Rentals
Fishing
Ice Fishing
Hiking
Cross-Country Skiing
Snowmobiling
Wildlife Viewing
National Forest
Museum
Fish species found at Lac Courte Oreilles
Bass
Black Bass
Bluegill
Crappie
Largemouth Bass
Muskellunge
Northern Pike
Perch
Pike
Smallmouth Bass
Sunfish
Walleye
---
Lac Courte Oreilles Photo Gallery
Lac Courte Oreilles Statistics & Helpful Links
Spread the word! Share our Lac Courte Oreilles article with your fellow Lake Lubbers!