Keuka Lake, New York, USA
Lake Locations:
USA - Mid-Atlantic - New York - Finger Lakes -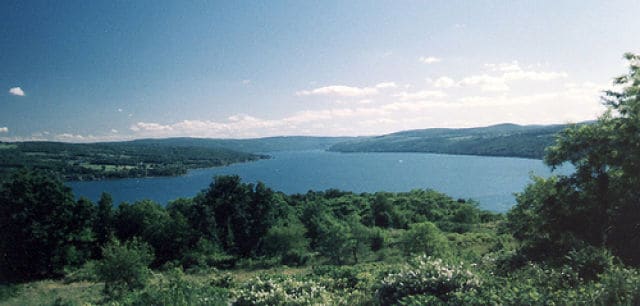 Keuka Lake, nicknamed Lady of the Lakes for its vast natural beauty, boasts two unique characteristics that set it apart from its sister Finger Lakes: First, rather than being long and narrow, Keuka Lake is Y-shaped. This characteristic lends accounts for the lake's old nickname of Crooked Lake. Second, Keuka empties into Seneca lake-the only Finger Lake that empties into another Finger Lake. At 20 miles long, and up to 2 miles wide, 11,584-acre Keuka Lake is the the third-largest of the Finger Lakes.
Lake levels are controlled by Keuka Lake Outlet Compact, comprised of representatives from eight municipalities around the lake, to prevent flooding around the lake and downstream from the lake. The Keuka Lake Outlet, which drops down 270 feet between Keuka Lake and Seneca Lake, was used for industry and transportation for almost 200 years until 1968. Today the Outlet Trail provides scenic beauty for hikers, bikers, and cross country skiers.
The microclimate caused by Seneca Lake's deep, cool waters puts Keuka Lake in the middle of wine country. The gentle hills and mountains covered in vineyards create the vistas seen on many postcards of the area. Scenic day trips around the area to view the ever-changing panorama are always popular. Between April and November, visiting local wineries and attending local wine festivals and events is a an annual summer excursion among many familiar with the region.
Keuka Lake State Park provides the perfect launching ground for your vacation, both figuratively and literally. If you own a boat, you can launch it from their marina and temporarily dock it as needed. If you don't plan to bring your boat with you, rent a power boat and head out into the sparkling waters to enjoy your day. When boating isn't your pleasure, take a sun nap on the park's sandy beach or enjoy an afternoon picnic at its picnic tables. If you want to get your heartbeat up, hike the park's trails and enjoy the wildlife and scenery all around you.
Anglers find themselves dreaming of the record-breaking brown trout, lunker lake trout, rainbow trout and landlocked salmon that the lake offers up to the determined. Fishermen salivate over the excellent smallmouth and largemouh bass fishing that the lake promises. Children delight in the small panfish they catch. Ice fishermen wait all year to cut holes in the ice and take home winter catches of perch and northern pike. Whatever your angling pleasure, Keuka Lake is sure to scratch the itch.
No matter what your pleasure or recreational taste, Keuka Lake offers myriad options that will please every visitor.
Things to do at Keuka Lake
Vacation Rentals
Fishing
Boating
Swimming
Beach
Picnicking
Hiking
Cross-Country Skiing
Wildlife Viewing
State Park
Fish species found at Keuka Lake
Bass
Brown Trout
Lake Trout
Northern Pike
Perch
Pike
Rainbow Trout
Salmon
Trout
---
Keuka Lake Statistics & Helpful Links
We strive to keep the information on LakeLubbers as accurate as possible. However, if you've found something in this article that needs updating, we'd certainly love to hear from you! Please fill out our Content Correction form.
Looking for the Keuka Lake forum?
For years, we offered LakeLubbers visitors the option to create an account, vote on favorite lakes, edit lake descriptions and participate in forums.
In 2021, we embarked on a major site overhaul with a new content database system. While the result is a modern and faster site which is now optimized for both desktop and mobile users, it also meant we had to put account options on hold and take some time to reevaluate ways to interact with our visitors. 
We hope you'll stick around and see what's new here, and of course, we still welcome your comments and feedback regarding anything on LakeLubbers! You can do that here.
Spread the word! Share our Keuka Lake article with your fellow Lake Lubbers!