Jellyfish Lake, Palau
Also known as:  Ongeim'l Tketau , Fifth Lake
Welcome to the ultimate guide for history, statistics, local fun facts and the best things to do at Jellyfish Lake.
If you're considering Jellyfish Lake vacation rentals, we've made it super easy to explore accommodations and nearby hotels using the interactive map below. Simply click on a listing to compare similar properties, best rates and availability for your dates. Or keep scrolling to read our Jellyfish Lake guide!
Jellyfish Lake visitor and community guide
Small but spectacular, Jellyfish Lake on Eil Malk Island in the tiny nation of Palau draws thousands of visitors each year. There are no resorts at Jellyfish Lake; the sole attraction is swimming-specifically snorkeling-with millions of tiny jellyfish!. The small marine lake is connected to the nearby lagoon via fissures and cracks that allow sea water to enter the lake with the tide. This keeps the lake refreshed in the upper part of the waters and allows it to maintain its saline balance. The island itself is one of the Rock Islands. These mostly uninhabited islands can be reached by boat from the city of Koror about 15 miles away. The islands contain about 70 marine lakes; five of them hold the unusual yellow jellyfish. Jellyfish Lake is the only one which is accessible to the public.
The tiny 13 million jellyfish in Jellyfish Lake have evolved to become basically 'sting-less'. These unusual creatures have developed independently of their nearest relatives in the lagoon and have several distinct physical characteristics. Because there are few natural predators in Jellyfish Lake, evolution has eliminated the 'sting' jellyfish are noted for, although those who are sensitive to the jellyfish toxins may experience a mild tingle from contact. A simplified explanation of the jellyfish's behavior is that they are nourished partially by symbiotic algae living in their tissues. The jellyfish migrate daily across the lake, always in a counter-clockwise direction to keep the algae exposed to sunlight and thus keep themselves fed. They also dive down to the poorly-oxygenated lower layers and return to the surface in an effort to provide other nutrients for the algae. Several tour operators lead visitors on snorkeling treks to the island and along the short but rough trail to the lake.
Only snorkeling is allowed; scuba divers' oxygen bubbles disturb the jellyfish. And, scuba diving in the stratified waters of Jellyfish Lake is dangerous to the diver; oxygen saturation within the water goes only to approximately the 50 foot depth. Below that, the water contains a heavy concentration of hydrogen sulfide which can be absorbed by divers through the skin and cause death. Even while snorkeling, participants are encouraged to float prone in the water and avoid kicking which can damage the fragile creatures. Snorkeling, along with scuba diving, are two of the main attractions of the tiny Republic of Palau. The island nation is blessed with many coral reefs inhabited by diverse colorful fish, several shipwrecks as dive targets, and as much to see underwater as there is above the water line. Most visitors take the time to schedule the boat trip to Jellyfish Lake and enjoy Palau's other attractions during the rest of their stay.
Koror is both a state within Palau and the largest city. Almost 70% of Palau's 20,000 citizens live in Koror. The island nation has been under Spanish, German, and Japanese control for much of its recorded history. Japan gained control of the 340 islands that constitute Palau in 1914 under a League of Nations agreement and used it as headquarters for all of Micronesia. After WWII, Palau and Micronesia became trust territories of the United States and declared their independence in 1994. Palau decided not to join the Federated States of Micronesia and maintains its own government. Much evidence of former Japanese occupation remains, and many public buildings and local scenery are reminiscent of Japanese culture. Many of the tour businesses operate in Japanese, and visitors from Japan are common. Enough business is conducted in English that English-speaking visitors from Australia and the United States will find no shortage of tour operators with whom to work.
All types of diving and snorkeling tours are available to visitors. Some tour operators offer live-aboard boats that travel to different dive sites. The atolls, coral reefs, drop-offs and 930 miles of coastlines offer a never-ending undersea landscape awaiting exploration. The area contains the world's best collection of shipwrecks and downed planes for diving. Helen's Reef Reserve holds a wealth of marine life. Closer to Koror, Blue Corner's strong currents attract huge varieties of sea life including reef sharks, wrasses and eagle rays. But that certainly isn't all that tiny Palau offers.
The City of Koror possesses a number of resorts and hotel lodgings to suit every taste and budget. There are spas, museums, terraced hillsides and jungle vistas awaiting visitors. A jungle river boat tour can be arranged, as can hikes into the heavily forested interior. As a day or two of rain should be expected on every visit to this tropical climate, wise tourists can plan ahead to visit some of the indoor attractions of the islands on days when sunshine is limited.
Some of the must-see attractions to be added to the Jellyfish Lake visit are the museums of Koror. Two in particular detail the history and culture of the native people of these islands. The Belau National Museum offers exhibits of both the ancient past and of Palau's experiences under occupation and growth under various other nations. Outdoor exhibits showcase such cultural landmarks as taro plots and an authentic men's meeting hall. The carvings on the men's meeting hall peaks were the fore-runners of the increasingly popular carved storyboards that tourists may purchase. The stories told on the boards were often legends or recorded events and taught social and moral behavior. One of the best places to purchase storyboards are from the shop at the Koror Jail, where inmates learn the craft from traditional carvers. The Etpison Museum holds a more defined collection of cultural arts and contains a gift shop where visitors often purchase art objects.
The Palau Aquarium is located at the Palau International Coral Reef Center, a great place to observe local ocean fishes up close and learn about coral reefs and their protection. Visitors can learn about dolphins at Dolphins Pacific, where dolphin trainers and divers scuba dive with dolphins. The Center also offers kayak eco-tours of Palau's native plants and animals.
A visit to Jellyfish Lake encompasses far more than swimming with tiny jellyfish. All of the natural wonders of both the sea and the Pacific islands lie at your fingertips. Even non-divers will thoroughly enjoy this once-in-a-lifetime trip. Come visit the jellyfish at Jellyfish Lake and delight in nature's diversity.
Custom Jellyfish Lake house decor
Read our full review of these personalized lake house signs.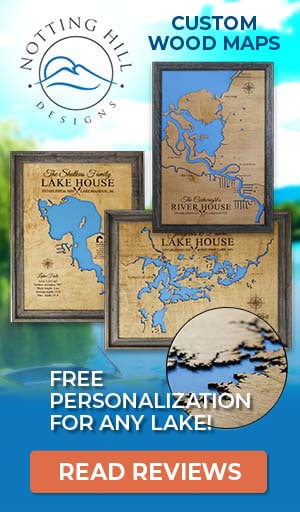 Things to do at Jellyfish Lake
Vacation Rentals
Fishing
Boating
Swimming
Kayaking
Snorkeling
Scuba Diving
Hiking
Birding
Museum
---
Best hotels and vacation rentals at Jellyfish Lake
The Jellyfish Lake map shown above is a simple and stress-free way to search for trip accommodations. But if you want to take a deeper dive to find the ideal waterfront home, cabin, condo, hotel or resort, visit our favorite lodging partners by clicking the buttons below.
Note: These are affiliate links so we may earn a small commission if you book through them. While there is no extra cost to you, it helps provide resources to keep our site running (thank you)! You can read our full disclosure policy here.
---
Jellyfish Lake photo gallery
New photos coming soon!
Jellyfish Lake statistics & helpful links
We strive to keep the information on LakeLubbers as accurate as possible. However, if you've found something in this article that needs updating, we'd certainly love to hear from you! Please fill out our Content Correction form.
Advertise your Jellyfish Lake vacation rental
LakeLubbers will soon offer homeowners and property managers the opportunity to to showcase their vacation rentals to the thousands of lake lovers searching our site daily for accommodations. If you'd like additional details, please contact our advertising team here.
Looking for the Jellyfish Lake forum?
LakeLubbers previously offered visitors the ability to create accounts and participate in lake forums. When we overhauled the site's content management system in 2021 we had to disable those features. We're evaluating options and welcome your comments and feedback here.
We also encourage you to join our lake-lovin' community on Facebook and Instagram!
Spread the word! Share our Jellyfish Lake article with your fellow Lake Lubbers!