Taal Lake, Philippines
Lake Locations:
Philippines - Central Philippines Region -
Also known as:  Lake Taal, Bombon Lake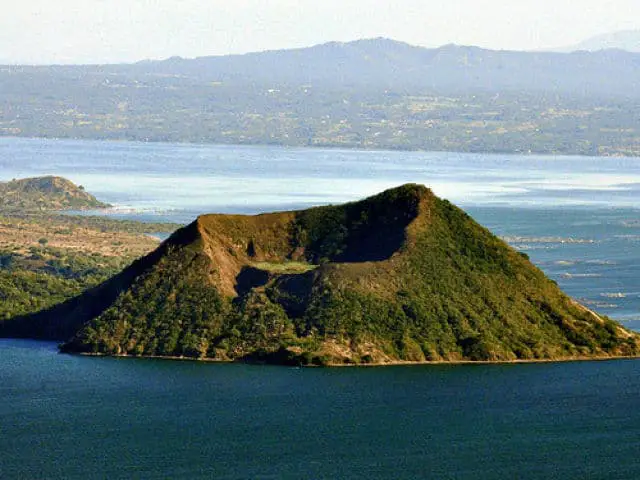 Taal Volcano became extremely active in January 2020. The content below was produced prior to that date. We are leaving our description of Lake Taal online, to preserve details of its history as a vacation destination.
========
Taal Lake, formerly known as Bombon Lake, is one of the deepest lakes in the Philippines at 564 feet. This 57,871-acre lake was once an arm of Balayan Bay. After a series of major volcanic eruptions in the 16th century, the lake was closed off from the sea by newly-formed land bridges. Several centuries of precipitation have diluted the lake's once salty water into freshwater. One of the biggest attractions of Taal Lake is a volcanic island in the middle of the lake which has a lake of its own aptly called Crater Lake.
Taal Lake is located on Luzon Island in the Philippines, 37 miles south of Manila. The region is still volcanically active, but this hasn't stopped the growth of agriculture and industry in the area. The Philippine Government has designated the Taal region as a favored site for setting up new businesses.
An 11,211-acre volcanic island in the middle of Taal Lake makes the lake unique. A 74-acre crater was formed by an eruption in 1754 which blew the top off of the volcano and a large crater formed in the new opening known today as Crater Lake. Swimming is allowed in Crater Lake, but don't stay in for very long; the lake's water is a very diluted form of sulfuric acid with a high concentration of boron, magnesium, aluminum and sodium in salt form. Some believe the water has medicinal properties. Boat tours of Taal Lake are a popular tourist attraction in the area. After crossing the lake, visitors can walk to the top of Taal Volcano or make the journey on horseback. Visitors can enjoy hiking, kayaking, horseback riding, fishing and camping on the island. There's even a small resort on the island. The Taal Volcano is an active volcano, but has been mostly dormant since 1977.
The best way to explore Taal Lake is by boat, and there are plenty of boat rentals to be found at the local yacht club. The yacht club also has a campground where you can pitch your own tent or rent one from the yacht club. Taal Lake is the home of four species of fish. Clupeids, mullets, maliputos, and jacks have the highest populations in the lake. Fishing is an important industry to the area and you will see many small fishing boats out on the lake. Fishing is allowed, but if your goal is to catch a fish to eat, you will find fresh fish for sale at open air markets on the lake or already prepared in local restaurants. The best fishing is said to be from the shores of Volcano Island.
There are some resorts and other types of vacation rentals on and near Taal Lake, but if you'd like to spend some time exploring the area, the nearby towns of Tagatay, Batangas, Lipa City and San Pascual are rich with historical and modern places to spend the night or a week. Bird watching, golfing, mounting climbing, and horseback riding are available for outdoor enthusiasts. Batangas is the place to go for seaside beaches, diving, wake boarding, snorkeling, and other beach activities. The Taal Cathedral in Batangas is one of the many attractions that you should not miss. If you need to go shopping, there are modern malls and stores in Batangas and Lipa City.
==========
With Taal Volcano in an active state, it is unlikely that Lake Taal will be in anyone's vacation plans for a very long time.
Things to do at Taal Lake
Vacation Rentals
Fishing
Boating
Swimming
Beach
Kayaking
Wakeboarding
Snorkeling
Golf
Camping
Campground
Hiking
Horseback Riding
Birding
Shopping
---
Taal Lake Statistics & Helpful Links
Spread the word! Share our Taal Lake article with your fellow Lake Lubbers!