Inks Lake, Texas, USA
Welcome to the ultimate guide for history, statistics, local fun facts and the best things to do at Inks Lake.
If you're considering Inks Lake vacation rentals, we've made it super easy to explore accommodations and nearby hotels using the interactive map below. Simply click on a listing to compare similar properties, best rates and availability for your dates. Or keep scrolling to read our Inks Lake guide!
Inks Lake visitor and community guide
Inks Lake is located about an hour northwest of Austin in the picturesque Texas Hill Country. Measuring just 4.2 miles long and 3000 feet at its widest point, this reservoir was formed in 1938 by the construction of the Inks Dam by the Lower Colorado River Authority. Before Buchanan Dam at Lake Buchanan was completed, LCRA began work three miles downstream on this smaller dam so the two could work in tandem. Inks Dam has no floodgates, and the power plant is the smallest in the Highland Lakes chain. A small amount of water can be released through hydroelectric generation, but the bulk of floodwater passes over an uncontrolled spillway. Water levels are fairly constant, with annual fluctuations about one foot. During flooding situations, the lake level can rise as the flood waters are passed through Inks Lake to other lakes downstream.
Inks Lake is still relatively untouched by the hustle and bustle of civilization. The draw is the environment, nature and wildlife. You will not find commercialized high-rise buildings, condominiums, or overcrowded waterways. Inks Lake is noted for its picturesque scenery and pristine beauty of granite, limestone, cactus and wildflowers. The terrain is rolling hills, pink granite, cactus, and trees. Unique and magical geological features are a big draw for visitors. Gneiss (pronounced like nice), pinkish granite outcroppings, and lichens, a combination of fungus and algae that tints the rock formations in hues of yellow and green, rim the limestone edges of Inks Lake. They pop from the ground like little sculptures.
Inks Lake State Park, a 1,200 acre panorama of natural beauty, borders approximately one-third of the eastern shoreline of the lake. The park's recreational opportunities include swimming, boating, canoeing, water skiing, scuba diving, sailing, and fishing. Deer, turkey, quail, numerous songbirds, and other species of wildlife are abundant here. With more than 200 campsites to accommodate everyone from tent campers to RV users, Inks Lake State Park ranks as the runner-up in overnight camping leaders among Texas state parks. Most of the mini cabins and many of the campsites line the shores of the lake. A two-lane boat ramp is available at the park along with a lighted fishing pier and plenty of shoreline access. Because of the park's popularity, it is a good idea to make reservations well in advance if you would like to camp there.
Inks Lake has been stocked with several species of fish intended to improve the utility of the reservoir for recreational fishing. Fish present in Inks Lake include largemouth bass, white bass, catfish, crappie, and sunfish. Inks Lake offers a variety of cover and structure to fish. The shoreline contains numerous rock piles, ledges, and chunk rock banks. Water color in the reservoir is fairly clear. Although the lake remains at a near constant level, no significant aquatic vegetation is present.
Is photography your passion? With its wealth of natural beauty, Inks Lake is a photographer's heaven. Scenic drives on either side of the lake will provide many opportunities to stop, explore and take pictures. A short, uphill trail leads to a granite overlook above Devil's Waterhole, while the old Highway 29 Bridge, now a pedestrian walkway, spans the width of Inks Lake, allowing a breathtaking view of the lake and the spillway of Buchanan Dam.
If you are looking to take a break from water sports and nature activities, then consider a trip to nearby Longhorn Cavern State Park. There you will be awed by Longhorn Cavern, a Texas Hill Country wonder created over thousands of years by the dissolving and cutting action of water on the limestone bedrock of the area. Fossil remains show that many Ice Age animals once occupied the cave. On your way back to camp, be sure to check out the quaint antique and craft shops along the way. Another fun day can be spent with a tour of Fall Creek Vineyards, or playing golf on the waterfront golf course. And when hunger strikes, there is no shortage of good BBQ in the area.
Inks Lake and the surrounding Texas Hill Country hold many other opportunities for you to explore. Whether it is in one of the other Highlands Lakes, Enchanted Rock, Falkenstein Castle, or a beautiful moonlight walk on the old bridge with the gentle lake breezes, you will never run out of things to do.
Custom Inks Lake house decor
Read our full review of these personalized lake house signs.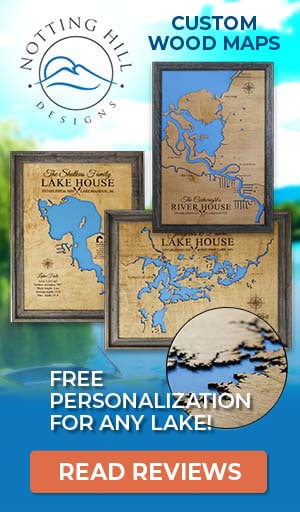 Things to do at Inks Lake
Vacation Rentals
Fishing
Boating
Sailing
Swimming
Canoeing
Water Skiing
Scuba Diving
Golf
Camping
Cabin Rentals
Hiking
Wildlife Viewing
Birding
State Park
Antiquing
Fish species found at Inks Lake
Bass
Black Bass
Catfish
Crappie
Largemouth Bass
Sunfish
White Bass
---
Best hotels and vacation rentals at Inks Lake
The Inks Lake map shown above is a simple and stress-free way to search for trip accommodations. But if you want to take a deeper dive to find the ideal waterfront home, cabin, condo, hotel or resort, visit our favorite lodging partners by clicking the buttons below.
Note: These are affiliate links so we may earn a small commission if you book through them. While there is no extra cost to you, it helps provide resources to keep our site running (thank you)! You can read our full disclosure policy here.
---
Inks Lake photo gallery
New photos coming soon!
Inks Lake statistics & helpful links
We strive to keep the information on LakeLubbers as accurate as possible. However, if you've found something in this article that needs updating, we'd certainly love to hear from you! Please fill out our Content Correction form.
Advertise your Inks Lake vacation rental
LakeLubbers will soon offer homeowners and property managers the opportunity to to showcase their vacation rentals to the thousands of lake lovers searching our site daily for accommodations. If you'd like additional details, please contact our advertising team here.
Looking for the Inks Lake forum?
LakeLubbers previously offered visitors the ability to create accounts and participate in lake forums. When we overhauled the site's content management system in 2021 we had to disable those features. We're evaluating options and welcome your comments and feedback here.
We also encourage you to join our lake-lovin' community on Facebook and Instagram!
Spread the word! Share our Inks Lake article with your fellow Lake Lubbers!