Hudson Lake, Oklahoma, USA
Lake Locations:
USA - Southwest - Oklahoma - Green Country -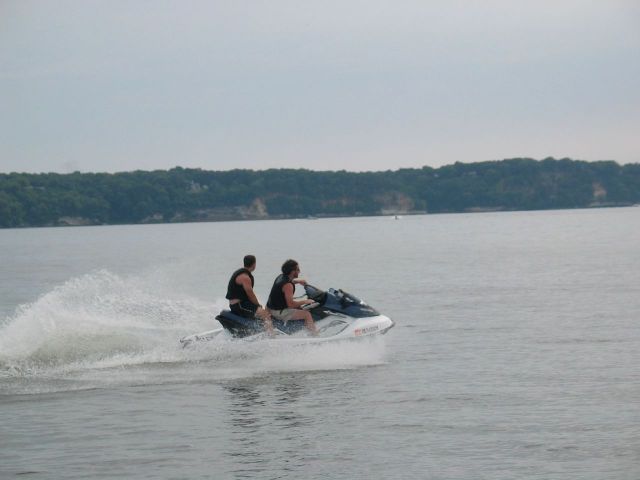 Hudson Lake is located in the Green Country of northeastern Oklahoma in the city of Bartlesville. This scenic lake is owned and operated by the city of Bartlesville as a water supply but the residents of the city and Osage County boast that Hudson Lake is a great recreational lake for boating and fishing.
Located just five miles north of Bartlesville, Hudson Lake's eight miles of shoreline is a great retreat from the city's hustle and bustle. The city maintains a day use park which includes a boat ramp, handicapped dock, picnic area, outdoor grills and a playground. Surrounded by wooded emerald hills that give "Green Country" its name, Hudson Lake has been groomed by area sportsmen's clubs to make it a great fishing lake. Local anglers state that some 60 to 70 pound flathead catfish have been weighed in here as well as some large channel catfish.
Bartlesville received its name from Jacob Bartles, a Civil War veteran who moved to Indian Territory, bought a mill that he eventually expanded into a general store and home for his family. As more settlers moved to the area, the railroad followed and soon more merchants began their businesses, a drugstore was opened, and a public school built. The city was incorporated in 1897 taking its name from one of the earliest settlers and businessmen -Bartles. Later that same year, oil was found nearby and two brothers, Frank and L. E. Phillips, were intrigued by the oil boom and moved to Bartlesville in 1904. These two brothers founded the Phillips Petroleum Company in 1917 and became the area's largest employer as well as one on the top oil companies in the United States.
Bartlesville has come a long way from its humble beginnings and offers attractions of museums, cultural events including symphony orchestras and ballet, fine dining and a wide range of vacation rentals for visitors to enjoy all that Bartlesville has to offer. Just outside the city, ranches with real working cowboys and wide open prairies with bison roaming in the open green fields, gives a hint of the early years and a glimpse into their past. All of this is available with a short drive from Hudson Lake.
Bartlesville and Hudson Lake are located in Osage County, Oklahoma which boasts that it is the largest county in Oklahoma – bigger than Delaware and Rhode Island. With true cowboys who still work on the unspoiled prairies, the proud Osage Indians who keep their heritage alive with museums and colorful powwows, and bison and wild horses that still roam the area, the Osage area remains relatively unchanged from the days of the Wild West. However, for some modern day noise and excitement, Osage County also offers casinos, rodeos, and numerous music venues along with museums, shops, and fine dining establishments and a wide range of vacation rentals from cabins, working ranches, lodges and inns. Both Bartlesville and Osage County have prime real estate available for those wishing to relocate to the wide open area.
Hudson Lake, Bartlesville, and Osage County are great destinations for a glimpse of the Wild West days but with modern conveniences and intrigue. Plan your trip today!
Things to do at Hudson Lake
Vacation Rentals
Fishing
Boating
Picnicking
Cabin Rentals
Horseback Riding
Museum
Playground
Casino Gambling
Fish species found at Hudson Lake
Catfish
Channel Catfish
Flathead Catfish
---
Hudson Lake Photo Gallery
Hudson Lake Statistics & Helpful Links
Spread the word! Share our Hudson Lake article with your fellow Lake Lubbers!