Horsefly Lake, British Columbia, Canada
Welcome to the ultimate guide for history, statistics, local fun facts and the best things to do at Horsefly Lake.
If you're considering Horsefly Lake vacation rentals, we've made it super easy to explore accommodations and nearby hotels using the interactive map below. Simply click on a listing to compare similar properties, best rates and availability for your dates. Or keep scrolling to read our Horsefly Lake guide!
Horsefly Lake visitor and community guide
Horsefly Lake is a 34-mile long lake winding gently through the Cariboo Regional District in south central British Columbia. Located approximately one hour northeast of the community of Williams Lake, Horsefly Lake shares its shore with Horsefly Lake Provincial Park, Crown Land wilderness area, and developed cottages and homes. Resting at the base of the Cariboo Mountains, Horsefly Lake surrounds visitors with snowcapped peaks, mountain meadows, sandy beaches and crystal clear water known for hunting, fishing and outdoor recreation.
Originally the home of Canada's First Nation people, Horsefly, located past the southwest end of Horsefly Lake, was the site of the first gold to be discovered in the Cariboo Gold Rush in 1859. The gold rush was in full swing by 1862 but was short lived. As miners left the district, farmers, trappers and loggers moved into the fertile valleys. Today forestry, tourism and ranching provide the main income stream for the 1,000+ residents living in the rural community of Horsefly.
Named for the biting insect that once frequented the lakeshore, Horsefly Lake fills a glacial basin to a maximum depth of 600 feet (182 meters) and average depth of 216 feet (66.1 meters). The crystal clear water comes from cold mountain streams flowing into numerous locations around the lake. At the southern end of Horsefly Lake the outflow is carried west by Little Horsefly River where it joins Horsefly River and flows north to Quesnel Lake. Near Little Horsefly River, the southwest shore has been developed with private homes, cottages, campgrounds and resorts. Land stretching out from the eastern shore extends into a rare interior rainforest, and along the western shore visitors will find fir, spruce, birch and cedar extending into a wilderness area.
Covering 366 acres (148 hectares), Horsefly Lake Provincial Park sits along the north shore of Horsefly Lake. Where miners once dug for gold, visitors will now find well-equipped campgrounds welcoming campers from mid-May to mid-September. Amenities include vehicle-accessible camping, wheelchair-accessible pit toilet, water, and shower and laundry facilities. Recreational facilities include nature trails, day-use area with gravel beach, dock for swimming, playground with horseshoe pit and basketball net. A boat launch sets the scene for boating, scuba diving, waterskiing, windsurfing and tubing. Boat rentals are available within the park.
There are two unnamed lakes open for fishing within Horsefly Lake Provincial Park, but Horsefly Lake supports the largest population of wild stock rainbow trout up to 8 pounds (4 kilograms), lake trout up to 17 pounds (8 kilograms), Dolly Varden trout and Kokanee salmon. You will often find fly fishermen near the mouth of the mountain streams, but for exceptional fly fishing visitors will want to test their skills in Horsefly River. Horsefly River is the second largest sockeye salmon spawning river in British Columbia and claims to be one of the three most spectacular salmon runs in the world. This pristine mountain river is found flowing through the town of Horsefly 10 miles (16 kilometers) southwest of Horsefly Lake. Every year anglers return to Horsefly River to try their hand at catching rainbow trout and salmon (all catch and release). A fishing license is required and with a sizeable black bear population sharing the river, all recommended safety precautions should be observed.
Horsefly Lake and River offer excellent canoe and kayaking opportunities. Bays and coves lining Horsefly Lake open to photo-ready scenes of mountain peaks and meadows. Novice paddlers will enjoy easy paddling into Little Horsefly River and the 10-12 mile paddle on to Quesnel Lake. For more challenging trips, paddlers may leave Quesnel Lake traveling north on the Quesnel River where it meets the Cariboo River.
If hiking is more your style, you will find leisurely trails along Horsefly Lake beaches, park trails and private resorts. More challenging hikes are found throughout the region. From Suey Bay, near the northeast end of Horsefly Lake, you can follow a four-mile trail leading north through the cedar forest, past Suey Lake to Slate Bay on Quesnel Lake. Across from Suey Bay, Archie Creek flows into Horsefly Lake. A short hike up the creek into the forest takes you to scenic Archie Creek Waterfall. Head north to trails along Horsefly River, and you will find Horsefly Falls and a delightful selection of mountain views.
Abundant wildlife will be found along the shores or in the woodland surrounding Horsefly Lake. Birdwatchers will enjoy viewing Peregrine falcons, bald eagles and golden eagles nesting on the lake's islands. While hiking or paddling the shores, you are likely to spy a magnificent array of native wildlife from moose, elk, deer, beavers, cougar, coyotes, foxes, wolves and bears.
For trophy fishing and additional outdoor activities, be sure to spend time on Quesnel Lake, a 67,173 acre (27,195.84 hectares) lake sitting immediately north of Horsefly Lake. Claiming to be "the deepest fjord lake in the world," Quesnel Lake supports about one fourth of British Columbia's sockeye salmon. In addition to fishing, the lake provides excellent beach access and boating opportunities. With the lake's north and east "arms" extending into the Cariboo Mountains, sweeping vistas, waterfalls and mountain peaks reaching 7,000 feet (2,134 meters) attract the adventurous and energetic.
When you are in the mood for alternate day trips, the village of Horsefly sits southwest of Horsefly Lake. Here visitors can find cafes, groceries, resorts, bed & breakfasts (B&Bs) and friendly service. Williams Lake is the nearest city, located approximately 44 miles (70 kilometers) southwest of Horsefly Lake. Home to the annual Williams Lake Stampede, the community also sits along Highway 97, Canada's major north-south tourism and commerce route. Williams Lake population is approximately 10,500, but they service a regional population over 30,000. With a feel of the "old west" Williams Lake provides a multitude of shops, restaurants and attractions that will fill your day.
With accommodations and vacation rentals ranging from campgrounds, bed & breakfasts (B&Bs), resorts, homes, cottages, and occasional real estate properties, Horsefly Lake is more than a destination. With few lights to be seen and stars glittering overhead, Horsefly Lake is a place to peacefully commune with nature. Whether you stay on the shores of Horsefly Lake or enjoy the sounds of Horsefly River, watch the day fade away knowing that the rise of majestic mountains and crystal clear water will greet you in the morning.
Custom Horsefly Lake house decor
Read our full review of these personalized lake house signs.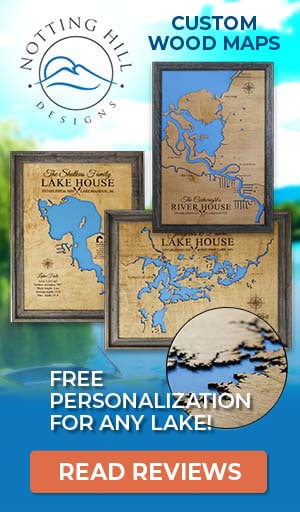 Things to do at Horsefly Lake
Vacation Rentals
Fishing
Boating
Swimming
Beach
Canoeing
Kayaking
Water Skiing
Tubing
Scuba Diving
Camping
Campground
Hiking
Hunting
Waterfall
Wildlife Viewing
Birding
Provincial Park
Playground
Fish species found at Horsefly Lake
Dolly Varden Trout
Kokanee Salmon
Lake Trout
Rainbow Trout
Salmon
Sockeye Salmon
Trout
---
Best hotels and vacation rentals at Horsefly Lake
The Horsefly Lake map shown above is a simple and stress-free way to search for trip accommodations. But if you want to take a deeper dive to find the ideal waterfront home, cabin, condo, hotel or resort, visit our favorite lodging partners by clicking the buttons below.
Note: These are affiliate links so we may earn a small commission if you book through them. While there is no extra cost to you, it helps provide resources to keep our site running (thank you)! You can read our full disclosure policy here.
---
Horsefly Lake photo gallery
New photos coming soon!
Horsefly Lake statistics & helpful links
We strive to keep the information on LakeLubbers as accurate as possible. However, if you've found something in this article that needs updating, we'd certainly love to hear from you! Please fill out our Content Correction form.
Advertise your Horsefly Lake vacation rental
LakeLubbers will soon offer homeowners and property managers the opportunity to to showcase their vacation rentals to the thousands of lake lovers searching our site daily for accommodations. If you'd like additional details, please contact our advertising team here.
Looking for the Horsefly Lake forum?
LakeLubbers previously offered visitors the ability to create accounts and participate in lake forums. When we overhauled the site's content management system in 2021 we had to disable those features. We're evaluating options and welcome your comments and feedback here.
We also encourage you to join our lake-lovin' community on Facebook and Instagram!
Spread the word! Share our Horsefly Lake article with your fellow Lake Lubbers!