Hague Lake, British Columbia, Canada
Lake Locations: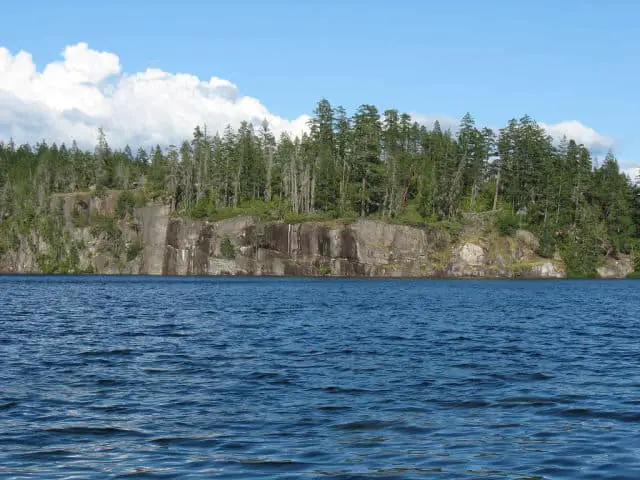 White sand beaches, the scent of toasting sunblock-covered bodies, warm water for swimming, and virgin old growth Douglas fir trees all set against the backdrop of the Coastal Mountain Range's glaciated peaks — it's summer at Hague Lake. Surrounded by the wild beauty of British Columbia, Cortes Island's natural freshwater lake is best known for its swimming and sunbathing beaches. In fact, the area's aboriginal people, the First Nation Coast Salish, called Hague Lake "Kw'as Oyeta" or "hot water lake." The lake's flat bottom and shallow depth means it heats up quickly in the summer, making it perfect for swimming.
Motor boats are not allowed on Hague Lake. It is a quiet lake ideal for windsurfing or paddling by canoe or kayak. It is also popular with anglers both for boat and bank fishing; fly fishing is exceptional. About 10,000 years ago, an ancient strain of cutthroat trout was landlocked in Lake Hague, and today there are plenty of trout to challenge fishermen. There are two parks bordering the lake and miles of walking and hiking trails.
Kw'as Park, pronounced "koass" measures 173 acres and includes a trail that wraps around Hague and Gunflint Lakes. Originally called Little Hague Lake, Gunflint Lake is connected to Hague Lake by a narrow channel. A bridge built by volunteers crosses the channel and continues the trail. Part of the area that became Kw'as Park was logged in the early 1920's. Over 20 percent, however, is virgin old growth forest, and the trails wind through ancient timber stands with spectacular views of both the forest and water.
Manson's Landing Provincial Marine Park borders both the freshwater of Hague Lake and the saltwater of Manson Bay. The 247-acre park was named for Scottish immigrant Michael Manson. In the 1880's Manson established a trading post on the site that would later become the park. The provincial park is home to wildlife and birds including bald eagles, great blue herons, and an array of shore birds. On the Manson Bay side of the park there are Harbour and Dall's porpoises along with saltwater fishing. It is also a popular place to kayak. Neither Kw'as Park nor Manson's Landing Provincial Marine Park has camping, but both have picnic facilities.
Hague Lake is about two hours from Seattle by plane, but the planes only fly in the summer. There is a ferry that runs from Vancouver Island to Quadra Island that is known for its clear water and exceptional scuba diving. From there it goes to Cortes Island and then it's just a short drive to Hague Lake. Named by Spanish explorers in 1792 after Hernando Cortes, the conqueror of Mexico, Cortes Island is part of a chain of islands known as the Discovery Islands at the northern edge of the Georgia Strait. The Spanish, however, did not settle the island. The original inhabitants were the Coast Salish who lived on both the east and west coasts of Cortes Island. Smallpox decimated the native population, but there remains a settlement of Klahoose Salish that have lived on the island since the 1800's. The Klahoose Salish live in Squirrel Cove, one of only three settlements on the island. The others are historic Whaletown, where the ferry docks, and Manson's Landing. There are a library, natural foods shop and restaurants in Manson's Landing.
Cortes Island has a year-round population of under a thousand residents — mostly artists, craftspeople and people seeking an alternative lifestyle — who know how to throw a party. In the summer the population doubles, and the islanders host Sandcastle Day, Cortes Day complete with a parade, and an Oyster Festival. The oysters along with other shellfish come from one of the island's many lagoons. There is also salmon fishing on the island.
Accommodations include a motel and vacation rentals, including some lakefront options on the shores of Hague Lake. The local artisans exhibit in galleries and there are some studios open as well. For visitors in sync with the Cortes Island lifestyle and slower pace, there is real estate for sale. Regardless of the length of stay, slowing down, sipping a drink, and watching the light fade from the deck is the perfect way to end a day on Hague Lake.
Things to do at Hague Lake
Vacation Rentals
Fishing
Boating
Swimming
Beach
Canoeing
Kayaking
Scuba Diving
Camping
Picnicking
Hiking
Wildlife Viewing
Birding
Provincial Park
Fish species found at Hague Lake
Cutthroat Trout
Salmon
Trout
---
Hague Lake Statistics & Helpful Links
At LakeLubbers.com, we strive to keep our information as accurate and up-to-date as possible, but if you've found something in this article that needs updating, we'd certainly love to hear from you!
Please let us know about it on our Content Correction form.
Spread the word! Share our Hague Lake article with your fellow Lake Lubbers!