Honeoye Lake, New York, USA
Lake Locations:
USA - Mid-Atlantic - New York - Finger Lakes -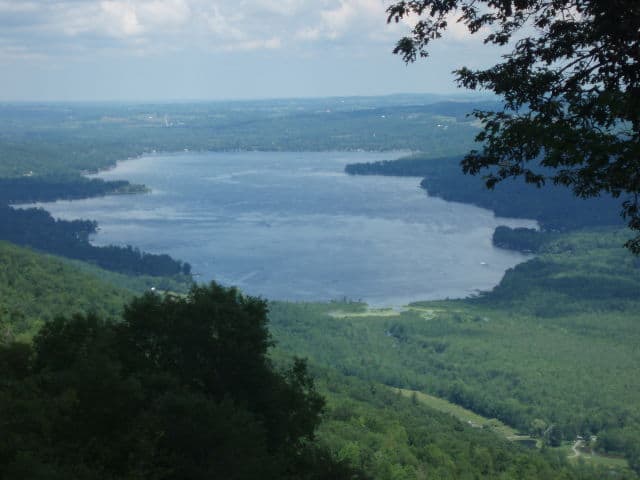 Honeoye Lake, one of New York state's famous Finger Lakes, is located in beautiful Ontario County. Clean and pristine, this minor Finger Lake is the county's blue jewel, providing residents and visitors with more than 1,700 acres of outdoor activity and water fun.
The lake, whose name is an Iroquois word meaning "where the finger lies," is the tenth smallest of the eleven Finger Lakes. Though often thought to be formed by shifting ice masses during the Ice Age, the Finger Lakes were actually preglacial stream valleys or small lakes before the Ice Age, molded and carved into their current form by the shifting glaciers. Many years after their formation, the Iroquois Native Americans arrived to the Finger Lakes area, cultivating the land, fishing the waters, and hunting animals for food.
Today, the Finger Lakes are one of New York's top vacation destinations, pulling in more than $200 million in tourism dollars each year. Honeoye Lake, though comparatively small, welcomes more than its fair share of visitors. Indeed, anglers flock to the lake each year, dreaming of Honeoye's teems of black crappie, bluegill, largemouth bass, pickerel, pumpkinseed, rockbass, smallmouth bass, walleye, and yellow perch. As many will tell you, there's no bad spot or time to fish on Honeoye: the lake's fish bite anytime, anywhere. Among those dedicated enough to brave the winter cold, ice fishing is a Honeoye specialty.
The lake's primary use is water-based recreation, and fishing is only the beginning. During summer months, the reservoir is alive with activity, and Honeoye Lake's surface is always dotted with canoes, kayaks, speed boats, and the occasional sail boat. If you plan to boat, both the Honeoye Lake Public Boat Launch and Sandy Bottom Beach recreation area offer public boat launches. Both are maintained during winter, as well, providing lake access to ice fishers.
Begin your Honeoye Lake vacation at Sandy Bottom Beach, where you can launch your boat, lunch in the picnic pavilion, play baseball at the recreation area's baseball diamond, and amuse the kids at the playground. Dip your toes into Honeoye's inviting waters, which, with a maximum depth of just 30 feet, are the warmest of all Finger Lake waters. If swimming doesn't appeal, simply relax and enjoy the sun along the lifeguarded, sandy beach.
If lounging lakeside is a good way to spend the day, then boating along Honeoye Lake can only be called the lake's most beautiful experience. Taking a boat out onto Honeoye is the best way to discover hidden treasures along the lake's almost 11-mile shoreline, which welcomes bathing birds, shy wildlife, and an incredible wealth of second-growth forest. So when it's finally time to hit the water, launch your boat, head out into the great aquatic wilderness, and ready yourself for scenery that will both amazing and relax you.
As summer fades to fall, and later winter, you'll find that Honeoye is one of those unique lakes that merely shifts focus, offering year round recreational opportunities. Thanks to its northern location and altitude, Honeoye is home to a spectacular autumn leaf spectacle. Each year, the lake's shores blaze with red, orange, and yellow leaves, whose beauty is only rivaled by their own reflections along the lake's crystalline waters. In winter, colorful leaves fade into pure white snow, the perfect canvass for snowmobiling, cross country skiing, and, of course, a good, old-fashioned snowball fight.
No matter what the season, there is one area attraction worth a day trip from Honeoye Lake. Letchworth State Park, located just 35 miles from your freshwater paradise, is one of New York's most incredible displays of gushing water, carved-out rock, and emerald-green scenery, offering miles of walking trails for visitors' enjoyment. Three major waterfalls, one the largest in the state, are enough to take your breath away, and their protective Portage Canyon, nicknamed the "Grand Canyon of the East," will do the same. Postcard-perfect scenery awaits, so a trip here is truly a must.
Only Honeoye Lake's acreage is small, as the New York reservoir is big on year round fun, fishing, and water sports. Vacationing here is the ideal mix of relaxation and active fun, offering a quiet Finger Lake escape, convenient to all activities. After just one vacation, you'll know why so many call Honeoye their favorite Finger Lake.
Things to do at Honeoye Lake
Vacation Rentals
Fishing
Ice Fishing
Boating
Sailing
Swimming
Beach
Canoeing
Kayaking
Picnicking
Hiking
Cross-Country Skiing
Snowmobiling
Hunting
Waterfall
Wildlife Viewing
Birding
State Park
Playground
Fish species found at Honeoye Lake
Bass
Black Bass
Black Crappie
Bluegill
Crappie
Largemouth Bass
Perch
Pickerel
Pike
Pumpkinseed
Smallmouth Bass
Sunfish
Walleye
Yellow Perch
---
Honeoye Lake Photo Gallery
Honeoye Lake Statistics & Helpful Links
Spread the word! Share our Honeoye Lake article with your fellow Lake Lubbers!