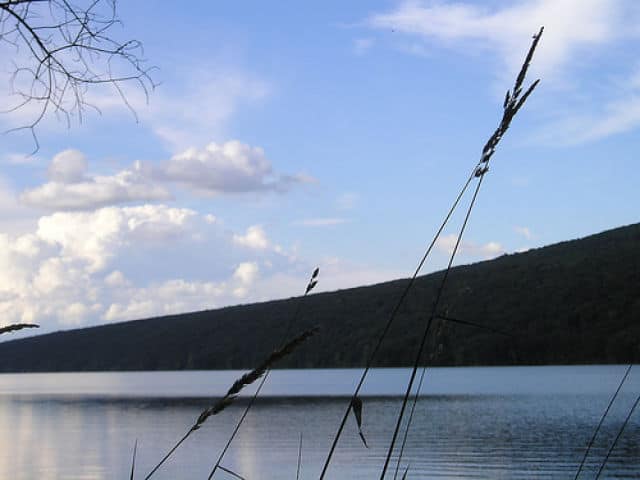 Hemlock Lake, New York, USA
Lake Locations:
USA - Mid-Atlantic - New York - Finger Lakes -
Hemlock Lake, at just 7 miles long and a half mile wide, is one of New York's smallest Finger Lakes, and one of two reserved for supplying water to the City of Rochester. The 1,800-acre reservoir is located in southeast Livingston County, just 25 miles south of Rochester, and serves as a quiet example of how the New York lake country used to be: with most of its shoreline wholly undeveloped, the unassuming lake allows its happy visitors to enjoy many peaceful days and nights.
More than 100 years ago, Hemlock Lake resembled other Finger Lakes, bustling with the energy and activity of summer vacationers and part-time residents. In 1872, the City of Rochester began plans to utilize both Canadice and Hemlock Lakes as a water supply, and began purchasing and knocking down the lakes' many cottages. The City owned Hemlock Lake and much of its surrounding lands until 2010, when the New York Department of Environmental Conservation purchased Hemlock Lake and Canadice Lake from the City. The result of Rochester's preparations and care, in addition to a steady water supply, are two pristine, beautiful sister lakes that feel like a step back in time.
The City of Rochester's strict regulations,, such as stipulating that boats may not exceed 16 feet in length and their motors must be 10 horsepower or less, have helped to maintain water quality and a peaceful environment. Today, visitors enjoy nature in its truest state, where afternoon entertainment is provided by chirping birds and lapping waves, and evening's only night lights are provided by the stars.
In such an idyllic setting, boating is one of Hemlock Lake's favorite activities. For a day on the lake, take your motor boat, kayak, or canoe out onto the reservoir's 1,800 acres, and prepare for an active afternoon spent sunbathing, nature watching, and hiking. While out on the lake, drink in the quiet shores, blue New York sky, and peaceful surroundings, keeping your eyes and ears open for calling birds, playful squirrels, and waterfowl families. When you're ready to head back to land, Lake Hemlock's pristine, undeveloped shoreline is home to a thousand perfect places to land your boat. The east and west sides are bordered by rolling hills, while the southern end is home to wetlands and wildlife.
Lake Hemlock's quiet surroundings also offer an ideal fishing experience. Anglers of all ages and experience love the lake for its gently lapping waters, general privacy, lack of loud motor boats, and active fish population. One of the reservoir's prized catches is land-locked salmon, which promises to give you a run for your money and a tasty dinner. In addition to the salmon, Lake Hemlock is also home to brown trout, lake trout, largemouth bass, rainbow trout, rock bass, smallmouth bass, white crappie, and yellow perch. Keep in mind that to visit Lake Hemlock, you will need to carry your Watershed Visitor Permit with you at all times. The permit can be accessed online or at any park kiosk.
Surprisingly, one of Hemlock Lake's most alluring promises is that of its land activities. Spring and summer are filled with emerald green trees and rolling mountains, easily on par with the beauty of their neighboring Adirondacks and Canadian wilderness. Hikes through the area are famous, affording breathtaking views and startling panoramas, perfect for nature hikers and photographers. In fall, Hemlock Lake's green countryside goes golden with color, as summer heat gives way to the crisp scent of autumn. Visit the lake during this special time, and experience the magic of red, orange, and golden leaves reflected on the lake's mirrored surface.
Hemlock Lake is special place for nature lovers, anglers, and those hoping to get away from life's daily chores. While away your time paddling a boat, fishing for dinner, or simply drinking in the sun, and you'll soon know the definition of satisfied.
Things to do at Hemlock Lake
Vacation Rentals
Fishing
Boating
Canoeing
Kayaking
Hiking
Wildlife Viewing
Birding
Fish species found at Hemlock Lake
Bass
Black Bass
Brown Trout
Crappie
Lake Trout
Largemouth Bass
Perch
Rainbow Trout
Salmon
Smallmouth Bass
Sunfish
Trout
White Crappie
Yellow Perch
---
Hemlock Lake Photo Gallery
Hemlock Lake Statistics & Helpful Links
Spread the word! Share our Hemlock Lake article with your fellow Lake Lubbers!