Harveys Lake, Pennsylvania, USA
Also known as:  Harvey's Lake
Welcome to the ultimate guide for history, statistics, local fun facts and the best things to do at Harveys Lake PA. If you're considering Harveys Lake PA vacation rentals and hotels, we've made it super easy to compare and book using the interactive map below. Or keep scrolling to read our Harveys Lake PA Guide!
Harveys Lake PA Visitor and Community Guide
With a surface area of 658 acres, Harveys Lake is Pennsylvania's largest natural lake by total volume of water. Located in the Northeastern Mountain Region of Pennsylvania, Harveys Lake was named for its discoverer, Benjamin Harvey. An early settler of the Wyoming Valley and member of the Sons of Liberty, Harvey was captured and taken prisoner by British and Native American forces near Wilkes-Barre. Imprisoned in Fort Niagara, Harvey was released the following spring and located the lake while making his way back to his settlement. Harvey never lived at the lake that bears his name but generations of settlers, vacationers and visitors have enjoyed the spring-fed lake.
Settlers moved into the Endless Mountain area around the lake before 1800, engaging in farming and logging. Several early residents attempted a variety of enterprises around Harveys Lake; logging was the most productive. The Harveys Creek outlet supported several small dams for milling and sawing lumber. A small town grew up along the creek, appropriately named Outlet Mills. Ice was cut for commercial use on the lake until 1935. Some saw the lake's proximity to Wilkes-Barre as advantageous to picnickers and soon built resort hotels. The Lehigh Valley Railroad built a spur to the north end of the lake and logs were skidded across the ice for loading. Eventually, the railroad built a picnic area on the shore to attract paying passengers to the lake. By 1890, the lakeshore was filled with resorts, hotels, boarding houses and summer cottages. Steamships plied the waters, taking guests to picnic grounds and around the lake. Theodore Roosevelt visited the Grand Hotel Oneonta in 1912.
With the new century, new amusements were created to attract visitors. A swimming beach was built at Harveys Lake at great expense, with sand shipped in by train. A dance pavilion was built and carousel installed. Trolley lines and buses brought visitors from Wilkes-Barre and Dallas to spend the day. The shoreline filled every available space with eating establishments, photography studios, bath houses and cottages. The old Lehigh Valley Railroad Picnic Ground was sold to a developer who built an amusement park. The Roaring Twenties saw Harveys Lake transformed into more adult entertainment venues, with world-famous jazz, vaudeville and variety acts taking center stage. The Big Band era arrived, as did speakeasies and the occasional home-built still to supply the nightspots during Prohibition.
Time and World War II took their toll on Harveys Lake. The grand old hotels succumbed to fire and weren't rebuilt. The amusement park limped along until the 1960s until it, too was closed; the roller coasters dismantled and shipped to better venues. The trolleys and railroad eventually stopped service; the steamships were by then long gone. Private cottages and homes replaced the hotels and rooming houses. Even the swimming beach passed into private hands.
Improved roads and increased development made the trip to Harveys Lake as simple as the daily commute. Now, the lakeshore has turned into an upscale address for the well-to-do. The entire lake is privately held, except for the State Boat Dock on the southwest shore. There is no longer a public beach. Two marinas, one with an attached campground, provide water access to the lake for boaters. There are still a few choice guest houses and vacation rentals available. Real estate in the area can often be found. The lake has become its own borough, complete with sewer systems. Water quality has improved and the crystal-clear waters are as inviting as they were the day Benjamin Harvey topped the ridge and sighted the lake over 200 years ago.
The new permanent residents of Harveys Lake enjoy their private paradise. The un-crowded waters sport all sorts of watercraft on summer days. Water skiing is allowed, but there is a 45 mph speed limit on weekends. Children enjoy tubing whle the older teens enjoy wakeboarding. Sailing is a favorite activity and sailboat races are held regularly. The local yacht club offers sailing lessons and boaters often sail to local waterfront restaurants for an informal get-together.
Fishermen visit Harveys Lake often to try their luck at catching the brown trout, smallmouth bass, pickerel, walleye, smelt, bluegills and sunfish. The lake is stocked regularly and special rules are in place for trout fishing to encourage optimum growth. Several tournaments are held each year, including an annual pickerel tournament. Winter sees ice fishermen on the lake as soon as the ice is thick enough. Ice skating and ice-boating are popular sports.
Visitors can find many activities in the area to round out a summer vacation. The Endless Mountains are beautiful; the many creeks and the bigger Susquehanna River wind through the valleys next to the narrow mountain roads. The entire area is a photographer's dream. Parts of the old rail bed to Harveys Lake have been converted to trails for cycling and walking, or cross-country skiing and snowshoeing in winter. The Wilkes-Barre Triathlon holds the swimming portion of their annual event at Harvey's Lake.
Two State Parks are located within fifteen miles of Harveys Lake; Frances Slocum State Park and Ricketts Glen State Park. At Ricketts Glen, the Glen Natural Area — a National Natural Landmark — boasts a series of free-flowing waterfalls. The 22 named waterfalls in the area can be viewed from the Falls Trail. Northwest of Harveys Lake, the Tunkhannock area provides many visitor-friendly venues for the tourist's enjoyment. Children especially enjoy the trout hatchery and fee-fishing ponds. They're guaranteed to catch something here! The Endless Mountains Nature Center is open summers for nature exhibits, seminars and children's activities. The North East Pennsylvania Bluegrass Festival brings music lovers every summer to enjoy the many varieties of this historic form of music.
Less than seven miles south of Harveys Lake, the highway to Wilkes-Barre provides all of the necessary shopping and business needs a traveler might want. Fourteen miles from the lake, Wilkes-Barre provides the city environment some crave, with nightlife, restaurants and all types of shopping. There are, of course, several golf courses and movie theaters. The new Wilkes-Barre River Common park hosts events, festivals and gardens for the enjoyment of the public. The nearby city of Scranton has several can't-miss attractions for the adventurous and the history buff. The Lackawanna Coal Mine Tour is a great way to spend a rainy day and the National Historic Site Steamtown offers a Technology Museum and History Museum. These modern buildings explore the people, history, technology and lore of steam railroading. Rail excursions are available based on a published schedule. There is a popular downhill ski facility at the edge of town.
The Endless Mountains provide endless enjoyment to residents and visitors alike. Don't miss a chance to visit this beautiful place. Come for a week or an entire summer. You'll never run out of things to see and do around Harveys Lake.
Custom Harveys Lake PA House Decor
Read our full review of these personalized lake house signs.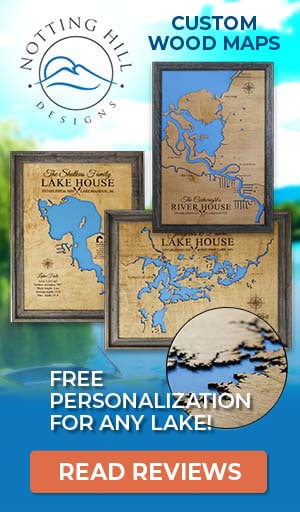 Things to Do at Harveys Lake PA
Vacation Rentals
Fishing
Boating
Sailing
Swimming
Beach
Water Skiing
Wakeboarding
Tubing
Golf
Camping
Campground
Picnicking
Hiking
Ice Skating
Biking
Downhill Skiing
Cross-Country Skiing
Waterfall
Wildlife Viewing
State Park
Museum
Amusement Park
Movie Theater
Shopping
Fish Species Found at Harveys Lake PA
Bass
Black Bass
Bluegill
Brown Trout
Perch
Pickerel
Pike
Smallmouth Bass
Smelt
Sunfish
Trout
Walleye
---
Best Hotels and Vacation Rentals at Harveys Lake PA
The Harveys Lake PA map shown above is a simple and stress-free way to search for trip accommodations. But if you want to take a deeper dive to find the ideal waterfront home, cabin, cottage, condo, hotel or resort, visit our favorite lodging partners by clicking the buttons below.
Note: These are affiliate links so we may earn a small commission if you book through them. While there is no extra cost to you, it helps provide resources to keep our site running (thank you)! You can read our full disclosure policy here.
---
Harveys Lake PA Statistics & Helpful Links
We strive to keep the information on LakeLubbers as accurate as possible. However, if you've found something in this article that needs updating, we'd certainly love to hear from you! Please fill out our Content Correction form.
Advertise Your Harveys Lake PA Vacation Rental
LakeLubbers will soon offer homeowners and property managers the opportunity to to showcase their vacation rentals to the thousands of lake lovers searching our site daily for accommodations. If you'd like additional details, please contact our advertising team here.
Looking for the Harveys Lake PA Forum?
LakeLubbers previously offered visitors the ability to create accounts and participate in lake forums. When we overhauled the site's content management system in 2021 we had to disable those features. We're evaluating options and welcome your comments and feedback here. We also encourage you to join our lake-lovin' community on Facebook, Instagram and Pinterest!
Harveys Lake PA Photo Gallery
New photos coming soon!
Spread the word! Share our Harveys Lake PA article with your fellow Lake Lubbers!