Harris Lake and Lake Nicol, Alabama, USA
Also known as:  Lake Harris
Welcome to the ultimate guide for history, statistics, local fun facts and the best things to do at Harris Lake and Lake Nicol.
If you're considering Harris Lake and Lake Nicol vacation rentals, we've made it super easy to explore accommodations and nearby hotels using the interactive map below. Simply click on a listing to compare similar properties, best rates and availability for your dates. Or keep scrolling to read our Harris Lake and Lake Nicol guide!
Harris Lake and Lake Nicol visitor and community guide
When the City of Tuscaloosa created Harris Lake and Lake Nicol for water supply, little did city officials realize that these two reservoirs would become popular recreation lakes in the Metropolitan region of Alabama. The city quickly outgrew Harris Lake, the first to be built in 1929. Lake Nicol was built upstream along Yellow Creek in 1956. By 1970, the city decided a larger reservoir was needed and built Lake Tuscaloosa nearby on the North River. Harris Lake with at 220 acres and Lake Nicol with 384 acres officially became back-up supplies and a welcome recreational spot just north of the city.
Harris Lake was impounded by two of the state's first arch dams. The reservoir holds about a billion gallons of water, although not all can be withdrawn. Long and narrow along the former creek's path, Harris Lake has almost six miles of wooded, undeveloped shoreline. A public access site along the northeast shore offers plenty of space for launching a canoe or kayak. Although there are no designated swim areas at either lake, recent regulation changes no longer prohibit swimming. Gas motors are prohibited on Harris Lake, but a canoe or kayak can reach all of the secluded coves and arms with ease. This leaves Harris Lake as a haven from motorized noise. Currently, the water from Harris Lake is used for industrial use. Fishing is permitted with catches of largemouth bass, bluegill, crappie and catfish. Locals can provide more detailed fishing information.
Lake Nicol was the second project to create a ready water supply for the area. The reservoir acts as a back-up to the main supply from Lake Tuscaloosa. The dam is located directly above the northernmost reach of Harris Lake and similarly stretches along the former creek's route. Lake Nicol has even more arms and coves than Harris Lake, with a 12-mile shoreline covered in oak and pine. Near the northern end of the reservoir, a dirt road leads to what is called Nicol Park. Although the official City of Tuscaloosa website does not publicize the park, it is known that there is a grassy boat launch and a picnic pavilion at this location. Motorized boats can be used here, but speeds are capped at 25 mph and the boats must stay at least 50 feet from motionless boats, canoes and kayaks. Swimming at Lake Nicol is at-your-own-risk. As with Lake Harris, little information about fish species is available.
Both Harris Lake and Lake Nicol are popular places for birdwatching. The second-growth forest and expanses of shoreline offer great opportunities to view brow-headed nuthatch, grey catbirds, blue grosbeaks, eastern kingbirds, eastern bluebirds and American goldfinches. Periods of lower water levels will find egrets, herons and a variety of shorebirds along the newly-exposed mud flats. Bald eagles and osprey nest near the lakes and, along with hawks and owls, prowl the shorelines looking for their next meal.
Although both lakes feel secluded, they are in close proximity to several residential neighborhoods and a large shopping center. The City owns the entire buffer zone around both lakes and has designated the shoreline as a 'refuge' or 'reserve'. Planning is still underway for any final design for the property, but discussion shows there are hopes for marked hiking trails and more picnic grounds. Tuscaloosa is fortunate to have both lakes near the city that provide outdoor pleasure to residents and visitors.
There are no lodgings directly on either Harris Lake or Lake Nicol. Several campgrounds and RV parks are located near Tuscaloosa, with a campground located on Lake Tuscaloosa's west side. An Army Corps of Engineers Campground is located a few miles east of Harris Lake and Lake Nicol at the Deerlick Creek Recreation Area on Scales Lake.
Tuscaloosa has a variety of large hotels, a few bed & breakfasts, and several small inns. As home to the University of Alabama, Tuscaloosa is a metropolitan city which still retains much Southern charm. Several bed & breakfasts cater specifically to those traveling to the area to cheer on the Crimson Tide. Football fans will enjoy the Paul W Bryant Museum with its football memorabilia. The Children's Hands-On Museum and the Tuscaloosa Museum of Art allow everyone to engage the senses with interesting visuals and creative spaces. The Mercedes-Benz US International Visitor Center and Factory Tour will charm automotive buffs, and the Jemison-Van de Graaff Mansion provides a perfect glimpse into the palatial living spaces of the 1860s. The city is filled with excellent restaurants and many upscale pubs and nightspots that appeal to the younger crowd.
So, although Tuscaloosa doesn't publicize its beautiful small recreation lakes, anyone visiting the area should be aware they are there to serve as a quiet place to enjoy nature, paddle the quiet waters, and generally refill their stores of solitude before the Big Game.
* Statistics listed are for Harris Lake only.
Custom Harris Lake and Lake Nicol house decor
Read our full review of these personalized lake house signs.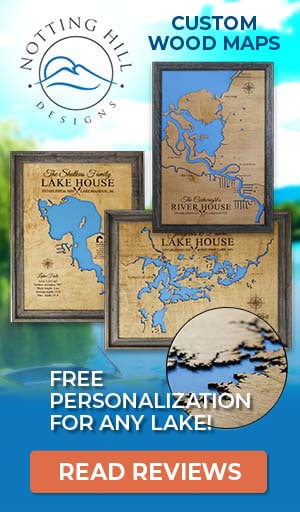 Things to do at Harris Lake and Lake Nicol
Vacation Rentals
Fishing
Boating
Swimming
Canoeing
Kayaking
Camping
Campground
Picnicking
Hiking
Birding
Museum
Shopping
Fish species found at Harris Lake and Lake Nicol
Bass
Black Bass
Bluegill
Catfish
Crappie
Largemouth Bass
Sunfish
---
Best hotels and vacation rentals at Harris Lake and Lake Nicol
The Harris Lake and Lake Nicol map shown above is a simple and stress-free way to search for trip accommodations. But if you want to take a deeper dive to find the ideal waterfront home, cabin, condo, hotel or resort, visit our favorite lodging partners by clicking the buttons below.
Note: These are affiliate links so we may earn a small commission if you book through them. While there is no extra cost to you, it helps provide resources to keep our site running (thank you)! You can read our full disclosure policy here.
---
Harris Lake and Lake Nicol photo gallery
New photos coming soon!
Harris Lake and Lake Nicol statistics & helpful links
We strive to keep the information on LakeLubbers as accurate as possible. However, if you've found something in this article that needs updating, we'd certainly love to hear from you! Please fill out our Content Correction form.
Advertise your Harris Lake and Lake Nicol vacation rental
LakeLubbers will soon offer homeowners and property managers the opportunity to to showcase their vacation rentals to the thousands of lake lovers searching our site daily for accommodations. If you'd like additional details, please contact our advertising team here.
Looking for the Harris Lake and Lake Nicol forum?
LakeLubbers previously offered visitors the ability to create accounts and participate in lake forums. When we overhauled the site's content management system in 2021 we had to disable those features. We're evaluating options and welcome your comments and feedback here.
We also encourage you to join our lake-lovin' community on Facebook and Instagram!
Spread the word! Share our Harris Lake and Lake Nicol article with your fellow Lake Lubbers!