Harlan County Lake, Nebraska, USA
Lake Locations:
USA - Midwest - Nebraska - Frontier Trails -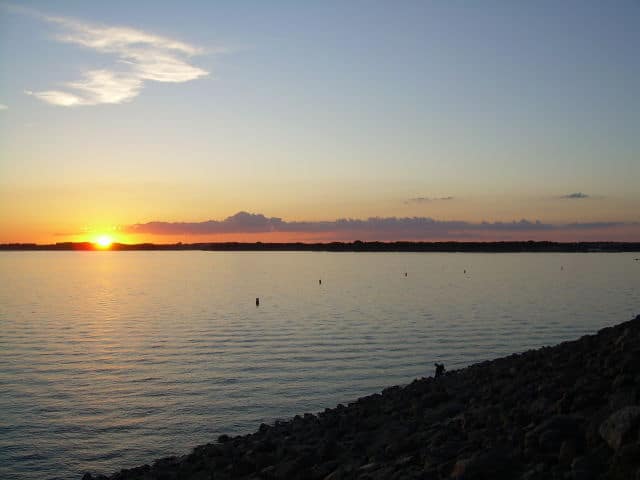 Harlan County Lake covers an impressive 13,250 acres in south-central Nebraska's Frontier Trails region. Just seven miles from the Nebraska / Kansas state line, Harlan County Lake stretches seven miles long with 75 miles of shoreline. The entire lake is open to public access and is a recreational delight. Recreational activities include camping, fishing, hunting, boating, and water skiing,
Harlan County Lake was created by impounding the Republican River. Harlan County Dam was created out of necessity. In 1935 raging waters flooded the Republican River Valley and Republican City. It was estimated that between 100 and 120 lives were lost with an addition of over 10,000 cattle. The devastation prompted the US Army Corps of Engineers to construct the Harlan County Dam. Authorized by the Flood Control Act of 1942, and amended by the act of 1944, the dam was completed in 1952 but the lake did not reach full pool until 1957. With construction of the dam, the town of Republican City had to be moved to higher ground due to the fact that the whole area would be under water with the completion of the dam. Now during low lake levels, visitors of Harlan County Lake can walk through old Republican City; many of the old foundations of houses and businesses still remain.
Harlan County Lake is considered some of the best fishing in Nebraska. Fish species include walleye, white bass, catfish, largemouth bass, crappie and wiper. In addition to fishing, Harlan County Lake offers ample opportunities for hunting. Fur-harvesting goes back to the time of William Cody (Buffalo Bill) who trapped beaver and otter for fur in the Republican River Valley before Harlan County Lake was built. Buffalo Bill states in his autobiography that on a fur hunting expedition he and a companion collected 300 beaver and 100 otter skins. In the present day, fur-harvesters may find coyote, bobcat, beaver, muskrat, mink, raccoon, and opossum. Other animals that can be hunted are pheasant, quail, prairie chicken, whitetail and mule deer, turkey, waterfowl, rabbit and squirrel. All Federal-owned land is open to hunting with the exception of the developed parks and administration areas. All Federal and State hunting regulations apply when hunting at Harlan County Lake.
There are nine recreational parks located around Harlan County Lake. The Corps maintains six established campgrounds; primitive, tent, and RV camping is available. Methodist Cove and Hunter Cove Parks offer camp pads with electrical hook-ups. In addition to camping, Harlan County Lake has two full service marinas on the east end of the lake, Patterson Harbor and North Shore Marina. Boat ramps are available at Gremlin Cove, Hunter Cove, Methodist Cove, Patterson Harbor, Alma City Park and Cedar Point Park. Alma City Park boat ramps are for high lake levels only, while Cedar Point Park is for low lake levels.
Visitors who love nature will enjoy Harlan County Lake's trails. There are trails for hiking, horseback riding, and all-terrain vehicles. The 500-acre ATV trail is located on the south side of Harlan County Dam near Republican City. Another delight for nature lovers can only be enjoyed during the winter months. Hundreds of Bald Eagles stop over the lake on their annual migration, and it is a site to behold.
Harlan County Lake will indeed be a repeat vacation spot for anyone visiting for the first time. With so much to do and see it is no wonder that Harlan County Lake is one of Nebraska's hot spots. Whether visitors want a relaxing swim or an exciting hunt, they will not be disappointed with Harlan County Lake.
Things to do at Harlan County Lake
Vacation Rentals
Fishing
Boating
Swimming
Water Skiing
Camping
Campground
Hiking
Horseback Riding
Hunting
Wildlife Viewing
Birding
City Park
Fish species found at Harlan County Lake
Bass
Black Bass
Catfish
Crappie
Largemouth Bass
Perch
Walleye
White Bass
---
Harlan County Lake Photo Gallery
Harlan County Lake Statistics & Helpful Links
We strive to keep the information on LakeLubbers as accurate as possible. However, if you've found something in this article that needs updating, we'd certainly love to hear from you! Please fill out our Content Correction form.
Spread the word! Share our Harlan County Lake article with your fellow Lake Lubbers!