Georgetown Lake, Texas, USA
Also known as:  Lake Georgetown, Georgetown Reservoir
Welcome to the ultimate guide for history, statistics, local fun facts and the best things to do at Georgetown Lake.
If you're considering Georgetown Lake vacation rentals, we've made it super easy to explore accommodations and nearby hotels using the interactive map below. Simply click on a listing to compare similar properties, best rates and availability for your dates. Or keep scrolling to read our Georgetown Lake guide!
Georgetown Lake visitor and community guide
A perfect example of an engineered water supply, Georgetown Lake covers nearly 1,300 acres along the North Fork of the San Gabriel River. Part of the Brazos River system, Georgetown Lake was created in 1979 along the boundary between the Texas Hill Country and the Prairies and Lakes Regions just west of Georgetown. Originally planned as a flood control measure, Georgetown Lake now supplies water to the cities of Georgetown and Round Rock. Small by Texas reservoir standards, Georgetown Lake has a unique system of water replenishment in periods of drought in the form of a 28-mile long pipeline through which water is pumped from Stillhouse Hollow Lake, a much larger reservoir. This pipeline has allowed Georgetown Lake to meet its water obligations even during periods of prolonged drought such as the 2011 summer.
Built under the control of the United States Army Corps of Engineers, Georgetown Lake is well-supplied with public use lands. In keeping with USACE policy, the Corps maintains control of the shoreline to the high-water mark, but plans recreational sites for public use as an integrated part of the project. Only 20 miles north of the fast-growing capital of Austin, Georgetown Lake serves as a recreational destination to a wide variety of visitors every year. Opened in 1981, development of recreation sites is on-going and their popularity is still growing. The northern shoreline is primarily sandy slopes while the southern shoreline is marked by dramatic sheer limestone cliffs. The more adventurous young visitors sometimes use the bluff for diving into the lake, but this practice is strongly discouraged due to fluctuating water levels and dangerous underwater obstructions.
Four main recreation areas offer restrooms, drinking water, hiking trails and boat ramps. Three of these have campgrounds, while one has a swim beach. Cedar Branch and Jim Hogg campgrounds offer RV pads, electrical hook-ups and water, while Russell Park has a number of tent-only sites and an additional five screened camping shelters with bunk beds. Other small recreation areas offer primitive campsites accessible only via the popular but strenuous 26-mile San Gabriel River Trail that circles the parameter of the lake. The trail portion on the north side of the reservoir is available for cycling. Much of the area is heavily wooded and ideal for bird watching and wildlife viewing. The 1200-acre Hunt Hollow Wildlife Management area is open for hunting in season with proper permits. Special regulations often apply, so hunters should become familiar with all regulations well in advance of arrival.
Georgetown Lake, like many Texas reservoirs, is prime bass fishing territory, particularly for smallmouth bass. Other species caught include largemouth bass, channel catfish, flathead catfish, blue catfish, white bass, crappie, hybrid striped bass and a number of less desirable species. The shallower up-river reaches are well-supplied with underwater stumps, giving excellent cover for sport-fishing. Boat launch ramps are available at Cedar Branch, Jim Hogg and Russell Park, but there is no marina on the lake itself. As water levels regularly fluctuate up to 30 feet, visiting boaters would be wise to check conditions before making the trip just in case there isn't sufficient water at the ramp area to allow for launch. All supplies will need to be carried in, as there is no facility that sells bait or fuel. Complete fishing and boating information, including special regulations are available at the Park Headquarters near the dam. The many coves and inlets make Georgetown Lake an ideal spot for canoeing and kayaking. Because of the limitations on launch sites, only smaller boats ordinarily use the lake.
The nearby small city of Georgetown is an inviting and friendly place to find lodgings for a trip to Georgetown Lake. The restored downtown area is one of the best examples of commercial Victorian architecture in Texas. Of particular scenic interest are the restored Williamson County Courthouse and the Old Williamson County Jail. The Palace Theater has been restored and converted from a movie house to live theater, with performances year round. And the Williamson Museum both offers permanent exhibits of local history and acts as host for a number of annual festivals such as "Chisholm Trail Days" at San Gabriel Park, "Pioneer Day" at Old Settlers Park, and "Archeology Day" at Berry Springs Park & Preserve. Georgetown is the home of the oldest institution of higher learning in Texas: Southwestern University. Something is always on the schedule at Southwestern, from film festivals to concerts to college sports. Georgetown also offers an interesting mix of restaurants, galleries, local craftsmen and unique shops. Those visitors wishing to have more modern amenities than can be found at a campsite can find modern hotel rooms and suites in Georgetown, with the lake only four miles away.
Due to the long drought in the past year, evidence of the historical and prehistoric past have been emerging from the waters of Georgetown Lake. The area along the San Gabriel River is known to have been a favored hunting and camp site of several local Native American tribes. Since the early days of European settlement, the former riverbanks held mills, fords and small homesteads. Many left their mark under the acres of water that deluged them with the building of the dam. Now, as water levels recede, unusual artifacts have occasionally begun to reappear. These reappearing artifacts are of great interest to both visitors and archaeologists, and visitors are warned not to disturb or attempt to remove any such 'found' objects. The lake is only a few miles from the famous Gault Site, where 60% of the known Clovis-type projectile points have been recovered through careful and concise archeological study. Such accidental finds emerging from the receding waters are of major interest to archaeologists, who must try to date them accurately based on the surroundings in which they were found. For this reason, any such finds must not be disturbed but reported to Park officials as soon as possible.
Those wishing to visit Georgetown Lake for a day of fishing or swimming will find convenient lodgings available in both Georgetown and Round Rock. Busy Austin is only a short distance to the south. There are no resorts or rental properties directly on Georgetown Lake, but several housing developments including condos have been built just outside of the perimeter, some with beautiful lake views. Occasionally, some may be found for short-term rental. Real Estate is available in the area but again, not on the lake itself. As the Georgetown area is an easy commute to Austin, these properties are becoming more popular. If this sounds like the kind of relaxed vacation you would enjoy, come to Georgetown Lake for a weekend or longer. The bass await, as do the campsites and nature trails. Will we see you soon?
Custom Georgetown Lake house decor
Read our full review of these personalized lake house signs.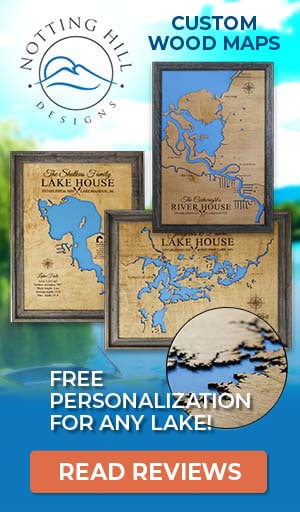 Things to do at Georgetown Lake
Vacation Rentals
Fishing
Boating
Swimming
Beach
Canoeing
Kayaking
Camping
Campground
Hiking
Biking
Hunting
Wildlife Viewing
Birding
Museum
Fish species found at Georgetown Lake
Bass
Black Bass
Blue Catfish
Catfish
Channel Catfish
Crappie
Flathead Catfish
Largemouth Bass
Smallmouth Bass
Striped Bass
White Bass
---
Best hotels and vacation rentals at Georgetown Lake
The Georgetown Lake map shown above is a simple and stress-free way to search for trip accommodations. But if you want to take a deeper dive to find the ideal waterfront home, cabin, condo, hotel or resort, visit our favorite lodging partners by clicking the buttons below.
Note: These are affiliate links so we may earn a small commission if you book through them. While there is no extra cost to you, it helps provide resources to keep our site running (thank you)! You can read our full disclosure policy here.
---
Georgetown Lake photo gallery
New photos coming soon!
Georgetown Lake statistics & helpful links
We strive to keep the information on LakeLubbers as accurate as possible. However, if you've found something in this article that needs updating, we'd certainly love to hear from you! Please fill out our Content Correction form.
Advertise your Georgetown Lake vacation rental
LakeLubbers will soon offer homeowners and property managers the opportunity to to showcase their vacation rentals to the thousands of lake lovers searching our site daily for accommodations. If you'd like additional details, please contact our advertising team here.
Looking for the Georgetown Lake forum?
LakeLubbers previously offered visitors the ability to create accounts and participate in lake forums. When we overhauled the site's content management system in 2021 we had to disable those features. We're evaluating options and welcome your comments and feedback here.
We also encourage you to join our lake-lovin' community on Facebook and Instagram!
Spread the word! Share our Georgetown Lake article with your fellow Lake Lubbers!