Franklin Pierce Lake, New Hampshire, USA
Lake Locations:
USA - New England - New Hampshire - Monadnock -
Also known as:  Jackman Reservoir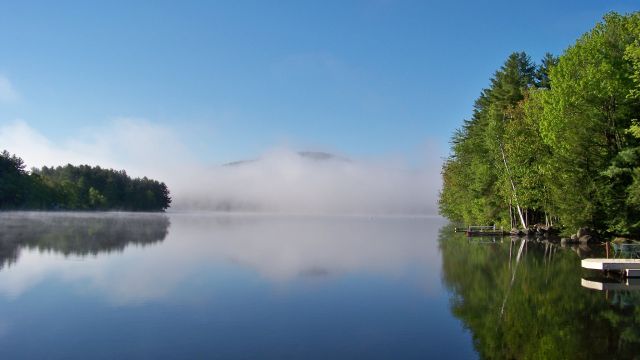 Franklin Pierce Lake in New Hampshire's Monadnock Region is a relatively unknown gem. Also known as Jackman Reservoir, the 520-acre lake sits on the outskirts of historic Hillsborough and is close enough to draw visitors from the surrounding states — if they find out about it!
Formed by damming the north branch of the Contoocook River by Public Service of New Hampshire, the lake is used as water storage and supply source for the Jackman Power Generation Station. Franklin Pierce Lake is likely the only lake in the country with a former president's birthplace under its waters. The 14th president, who preceded Lincoln, was born in a small cabin that was flooded when the lake filled.
Franklin Pierce Lake has since developed into a highly desirable address at which to live. It is also well-loved by visitors who discover its vacation rentals for annual vacations. Much of the shoreline remains wooded and there is a no-wake zone for the benefit of canoeists, kayakers and fishermen. The lake is quite private with only small Manahan Park at the west end of town providing a swimming area and boat launch. The majority of the seven-mile shoreline is composed of private land and residences whose occupants enjoy the lake year round. All types of water sports are enjoyed here, including power boating, water skiing, tubing, pontooning and sailing. The newly-formed Franklin Pierce Lake Association is in the process of beginning to monitor the lake against invasive weeds and hopes to assure its continued health.
Franklin Pierce Lake is known as a superb warmwater fishery. Rainbow and brown trout have been stocked and, in an effort to encourage larger fish, there is no closed season on them. Other game fish caught are smallmouth bass, pickerel, horned pout or bullhead, white perch, northern pike and bluegill. Known locally as 'hard water season,' ice fishing is a favorite activity in winter. While others are out skiing at nearby ski slopes, the hardy fishermen bundle up and brave the ice for hours at a time. For once, they know they will have the lake to themselves, except for the occasional ice skater or ice boater. At night, the lake is dotted with the lights from their Coleman lanterns.
The Jackman Reservoir region is popular for recreational opportunities on dry land as well. The nearby Villages of Hillsborough (yes, there are several connected villages) are home to golf courses and recreational parks. Two state-owned forest preserves are partially within the town lines: Fox Research and Demonstration State Forest and Low State Forest. There are myriad opportunities for hiking, cycling and bird watching along the many trails. Not far north of Franklin Pierce Lake, Pillsbury State Park is an important link in the Monadnock-Sunapee Greenway, a 51-mile hiking trail that connects Mount Monadnock with Mt. Sunapee to the north. The diverse environments within the park, including many small lakes and wetlands, make it a favorite for watching wildlife, camping and canoeing. The Contoocook River Trail begins right in town with numbered markers that correspond to an informational brochure available at the library.
Hillsborough is still today made up of four villages: Hillsborough Bridge Village (the downtown), Hillsborough Center, Hillsborough Upper Village and Hillsborough Lower Village. History buffs can visit the Franklin Pierce Homestead near Franklin Pierce Lake, where the former president grew up listening to his father Benjamin, two-time governor of New Hampshire, talk politics and patriotism with visitors such as Daniel Webster. In nearby Concord, the Pierce Manse, family home after Franklin's term as a senator, is preserved and available for tours. Hillsborough possesses five stone bridges (out of an original twelve), built without mortar, that carried traffic over the many brooks and creeks in the town. There are many nature-focused attractions in and around Hillsborough, along with the usual opportunities for shopping, dining, the arts and nightlife.
The visitor who selects a lake vacation rental at Franklin Pierce Lake will never be bored. The variety of activities in the immediate area are bound to keep an active family busy for the duration of their visit. There are usually vacation rentals available, but you should reserve lodging well in advance. Those who wish to locate more permanent lodgings will find that there are usually real estate opportunities to be found around the lake. Now may be the time for you to start planning your escape to Franklin Pierce Lake. Come for a week – stay for a lifetime.
Things to do at Franklin Pierce Lake
Fishing
Ice Fishing
Boating
Sailing
Swimming
Canoeing
Kayaking
Water Skiing
Tubing
Golf
Camping
Cabin Rentals
Hiking
Ice Skating
Biking
Wildlife Viewing
Birding
State Park
State Forest
Shopping
Fish species found at Franklin Pierce Lake
Bass
Black Bass
Bluegill
Brown Trout
Northern Pike
Perch
Pickerel
Pike
Smallmouth Bass
Sunfish
Trout
White Perch
---
Franklin Pierce Lake Photo Gallery
Franklin Pierce Lake Statistics & Helpful Links
Spread the word! Share our Franklin Pierce Lake article with your fellow Lake Lubbers!