Etosha Salt Pan Dry Lake, Namibia
Welcome to the ultimate guide for history, statistics, local fun facts and the best things to do at Etosha Salt Pan Dry Lake.
If you're considering Etosha Salt Pan Dry Lake vacation rentals, we've made it super easy to explore accommodations and nearby hotels using the interactive map below. Simply click on a listing to compare similar properties, best rates and availability for your dates. Or keep scrolling to read our Etosha Salt Pan Dry Lake guide!
Etosha Salt Pan Dry Lake visitor and community guide
Little-known by the world, Namibia's Etosha Salt Pan Dry Lake provides refuge to many varieties of African wildlife. Ensconced within 8,000 square mile Etosha National Park, the huge dry lake bed covers a vast area that receives visits from a wide variety of animals and birds. During the rainy season, the dry lake bed sometimes floods to a depth of about four inches, but the water quickly dissipates leaving only waterholes. A few permanent springs dot the perimeter of the 80-mile long salt pan and are usually populated by large numbers of birds and visiting wildlife. Over 300 species of birds are seen here regularly and, in years of good rain, flamingos and great white pelicans use the temporary lake as a breeding ground. Etosha Salt Pan Dry Lake is a photographer's dream come true; few other landscapes can offer the wide variety of animals that are found at Etosha.
Part of the Kalahari Basin, Etosha means Great White Place in the native tongue, but many call it 'the place of dry water'. Originally a huge shallow lake about 12 million years ago, the Etosha Salt Pan was fed by the Kunene River. When the Kunene River changed course with geological upheavals thousands of years ago, the lake dried up, leaving the huge mud flat topped with mineral deposits. Now, the Ekuma River is the sole source of water for the lake but little water reaches it, having mostly seeped into the riverbed along its 160-mile course. The concentrated mineral salts prevent many types of vegetation from growing here. That which does is often unusual and perfectly suited to an inhospitable environment. The area surrounding the dry lakebed is primarily savannah and native bush. One of the more popular locations within the park for visitors is the Haunted Forest, with the weirdly-shaped Moringa trees. The Acacia tree variety here has nearly-deadly spikes, giving them the name umbrella-thorn trees. Nearby Oliphantsbad is a favored location for viewing elephants. Mineral-laden dust often swirls with the winds, creating an eerie scene from which the area's famed elephants often emerge to travel to waterholes. The elephants at Etosha are among the world's tallest. Dust, thorns and salt predominate in the summer heat, making the Namibian winter-May to September-the optimal time for visiting the park and the dry lake.
Not only is it cooler in the winter months, but larger numbers of native animals seek out the waterholes at this time. This is big game country; elephants, giraffes, Burchell's and Hartmann's zebras, blue wildebeests, red hartebeests, red elands, gemsboks, springboks, kudus, black-faced impala, ostrich and even the endangered black rhino can be viewed here. Some only winter here and spend the summer in wetter areas south of the park. Less easy to spot but always nearby are the prides of lions, families of cheetahs and solitary leopards hidden in the tall savannah grasses. Etosha National Park is home to 114 mammal species, 110 reptile species, 340 bird species, 16 amphibian species and even one species of fish. The park was originally designated in 1907 while Namibia was under the control of Germany and known as German South-West Africa. Originally the park was four times the size of the current park but has since been reduced to a more manageable size. The western part of the park has been restricted from most casual visitors, but guests at the new Dolomite Camp have limited access. Access to all areas is by permit only.
Germany ruled Namibia until 1915 when the country was overrun by troops from South Africa. After attaining its independence in 1990, Namibia now obtains some development aid from Germany and is slowly becoming a modern, autonomous state. An historic reminder of the often-contentious relationship with Germany survives in the park in the form of a rebuilt German fort that was taken by Owambo tribesman around the turn of the last century. The rebuilt Fort Namutoni, previously the northernmost German outpost, is one of three original 'rest camps' maintained within the park by the government. The other two traditional rest camps are Halali and Okaukuejo. Each camp has tourist facilities such as a restaurant, a shop selling basics, a service station for fuel and basic repairs, and a swimming pool, as well as various grades of accommodation and camping facilities. Onkoshi Camp and Dolomite Camp have been added since 2008 and are more modern. Many of the main waterholes are flood-lit at night for optimum game viewing. Additional waterholes have been dug to attract more game but have in some instances reduced the numbers of animals to be seen in a single location.
Reservations are necessary as Etosha National Park is extremely popular around holidays, and accommodations are limited. Although the park is about 310 miles north of Namibia's capital of Windhoek, it is easily accessed by car. Park management warns however, that there is no camping allowed except at the designated rest stops, so visitors without reservations must either leave the park or sleep in their cars-an often un-nerving prospect given the amount of large animals and predators in the park.
A number of commercial lodges exist just outside Etosha National Park and are often the preferred option for visitors to Etosha Salt Pan Dry Lake. Most have more modern and more luxurious accommodations, offer wild game drives, both within their own reserves or in Etosha National Park, and generally provide the kind of 'safari' experience that the park itself does not provide in some of the rest camps. Accommodations are of all types, often as tented luxury rooms with private baths and gourmet meals. Some offer day tours to a Himba village, overnight trips to Epupa Falls on the Kunene River, or visits to working farms and ranches. Several encompass game rescue facilities and offer a first-person glimpse into efforts to preserve the wild species the area is known for. The main entrance to the park is called the "Andersson Gate" situated near Okaukuejo in the south. The eastern entrance is called the "Von Lindequist Gate" and is near Namutoni. The new "Nehale lya Mpingana Gate" (King Nehale Gate) was opened at the beginning of 2003 in the north-east.
Namibia is still sparsely populated. To the east lie the Highlands, to the west the Namib Desert, ending at the inhospitable Atlantic coastline. Most of the coastline is designated national park, but much of the area is accessed from the single coastal highway. The nearest access to the Atlantic coastline from Etosha Salt Pan Dry Lake is the Torra Bay area, accessed by road beyond the new Torra Conservancy. Established in 1996, the Torra Conservancy offers sustainable hunting and eco-tourism to benefit the local inhabitants. Windhoek is both the largest city and the capital; nearly all government offices are found here. An international airport serves small Windhoek, and cars may be rented here for visits to the Etosha area. As many businesses and service points do not take credit cards, it is sometimes easier to join a reputable tour group to avoid having to carry large amounts of cash. Careful planning will help first-time visitors make the most of their visit to the Etosha region. This is a definite 'must' on the adventurous traveler's bucket list. Come stalk the elusive black rhino and experience the waterholes of the Etosha Salt Pan Dry Lake. There is no place on earth quite like it!
Custom Etosha Salt Pan Dry Lake house decor
Read our full review of these personalized lake house signs.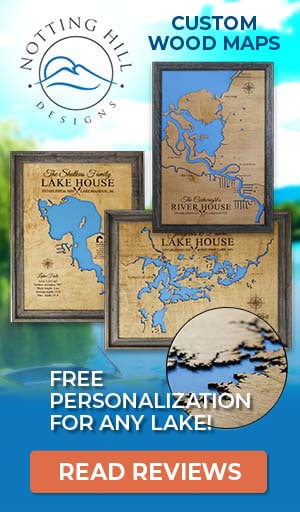 Things to do at Etosha Salt Pan Dry Lake
Vacation Rentals
Fishing
Swimming
Swimming Pool
Camping
Hunting
Wildlife Viewing
Birding
National Park
---
Best hotels and vacation rentals at Etosha Salt Pan Dry Lake
The Etosha Salt Pan Dry Lake map shown above is a simple and stress-free way to search for trip accommodations. But if you want to take a deeper dive to find the ideal waterfront home, cabin, condo, hotel or resort, visit our favorite lodging partners by clicking the buttons below.
Note: These are affiliate links so we may earn a small commission if you book through them. While there is no extra cost to you, it helps provide resources to keep our site running (thank you)! You can read our full disclosure policy here.
---
Etosha Salt Pan Dry Lake photo gallery
New photos coming soon!
Etosha Salt Pan Dry Lake statistics & helpful links
We strive to keep the information on LakeLubbers as accurate as possible. However, if you've found something in this article that needs updating, we'd certainly love to hear from you! Please fill out our Content Correction form.
Advertise your Etosha Salt Pan Dry Lake vacation rental
LakeLubbers will soon offer homeowners and property managers the opportunity to to showcase their vacation rentals to the thousands of lake lovers searching our site daily for accommodations. If you'd like additional details, please contact our advertising team here.
Looking for the Etosha Salt Pan Dry Lake forum?
LakeLubbers previously offered visitors the ability to create accounts and participate in lake forums. When we overhauled the site's content management system in 2021 we had to disable those features. We're evaluating options and welcome your comments and feedback here.
We also encourage you to join our lake-lovin' community on Facebook and Instagram!
Spread the word! Share our Etosha Salt Pan Dry Lake article with your fellow Lake Lubbers!