Essex Chain of Lakes, New York, USA
Lake Locations:
USA - Mid-Atlantic - New York - Adirondacks -
Also known as:  Deer Pond, Mud Pond, Third Lake, Seventh Lake, Sixth Lake, Fifth Lake, Fourth Lake, Second Lake, First Lake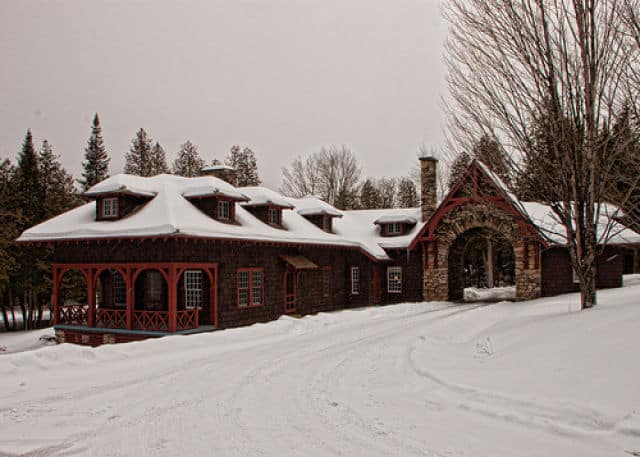 After long months of anticipation and hours of negotiation, the newly-acquired Essex Chain of Lakes opened in New York's Adirondacks region. An 11,600-acre tract of former Finch, Pruyn and Co. land used for timber harvesting was opened October 1, 2013 to interim use while the Adirondack Park Agency and other interested parties determined its final access designation. Some areas of the 69,000 acres being acquired will be made available to motorized traffic, and other parts of the tract may be designated as Wilderness, Wild Forest or one of several other designations. The Essex Chain of Lakes portion has been the area garnering the most attention, as paddle-sport fans have been itching to gain access to the chain. They now have their chance to explore this large acreage that has been closed to the public for over 100 years.
Not all of the lakes in the Essex Chain are directly connected. Lakes which can be reached via a short portage include Deer Pond, Mud Pond, Third Lake, Seventh Lake, Sixth Lake, Fifth Lake, Fourth Lake, Second Lake and First Lake. Early reports cite the longest portage as about half a mile for these lakes. Access to Eighth Lake, Jackson Pond and Grassy Pond is unclear at this time, but all are very close to the listed lakes in the chain. Posted press releases say that 11 lakes and ponds can be reached with short portages within the Essex tract. Even reaching the access point requires watercraft be carried a quarter of a mile from the parking area off from Cornell Road at the intersection of 'Boots to Cornell' Road. No motors are allowed on the chain at this time and likely will not be in the future. Currently, the members of the existing hunting and fishing club on Third Lake are allowed to use motors of less than 10 hp on Second through Sixth lakes still have access by private vehicle and snowmobile to some areas that are not publicly available to motorized access. The few leaseholders will remain until their current leases expire before 2020.
The Essex Chain of Lakes lies in an area that has never been developed for housing or industry, except for scattered logging endeavors, resort camps and private cottages. Heavily treed, the shorelines support a variety of wildlife including the occasional moose. Deer, wild turkey, rabbit, squirrel, raccoon, fox and other woodland mammals are common in the area, and waterfowl flock to the quiet waters. Views of nearby mountains are spectacular from Third Lake, including Dun Brook Mountain, Blue Mountain, Vanderwhacker Mountain and the Fishing Brook Range. A section of rare floating bogs can be seen between Fifth and Sixth Lakes.
Located in the midst of several tracts of public lands including wildlife reserves and two other Finch, Pruyn & Co. acquisitions (Indian River and OK Slip Falls), thousands of acres will soon be opened for hiking, snowshoeing, cross-country skiing, nature observation and horseback riding on miles of old logging roads. Both Cedar River and Hudson River can be accessed from within the new State-acquired lands. Hunting, fishing and trapping will be allowed in certain areas. Requests for mountain bike trails are already being considered, and plans are in the works for some form of restroom facilities. In 2014, 11 campsites opened at the lakes, by permit only from May through October. Campers should contact the Center for Nature Interpretation in the Adirondacks for camping permits (see sidebar).
The nearby small town of Newcomb has anticipated the opening of the Essex Chain of Lakes area with mixed feelings. Somewhat economically depressed due to the gradual loss of paper mill jobs, townspeople have feared the loss of income from the camps and cottagers on leased lands which will soon be gone. Small local logging companies have traditionally leased sections from the former owners for timber harvest-a source of jobs and income in the area. Any area that is designated Wilderness limits the people who will visit, threatening to reduce recreational dollars that could benefit the community. Opening the Essex Chain of Lakes section alleviates those fears to some extent, as they hope for increased real estate sales and tourist dollars. Campground designations and increased access are their best hopes for an economic revival in the area. The State is well-aware of these economic needs and is working to make sure large areas are not made off-limits to outside groups wishing to enjoy this pristine area of the Adirondacks Park.
Located about two hours north of Albany, the Essex Chain of Lakes is the ideal distance for a weekend spent paddling this beautiful little chain. At least one bed & breakfast is available at Newcomb, along with the Adirondacks Park Visitor Interpretive Center, now under management of the SUNY College of Environmental Science and Forestry (ESF). Located in the upper Hudson region of the Adirondacks Park, the Interpretive Center offers boardwalks and nature trails among bogs, swamps, forests, old-growth hemlocks, streams and lakes along with maps and information on all the park has to offer.
Newcomb features several nearby hiking trails, mountain bike routes, a golf course and other outdoor activities. Located on the Hudson River, the town offers a public beach, and local businesses rent canoes and kayaks. Outfitters arrange whitewater rafting on the Hudson and hiking trips into the surrounding mountains. Santanoni Great Camp and the Santanoni Preserve are nearby and offer a variety of nature activities along with tours of one of the earliest of the Adirondacks Great Camps. Several campgrounds, small resorts and private rental lodgings are available near Newcomb. The small Hudson River Information Center contains a museum featuring the early days of logging history and the uses of the river during early settlement.
More information on the Essex Chain of Lakes is eagerly awaited. Meanwhile, visitors are welcome to come and tramp the now-open forest roads and hike or paddle the lovely lakes and ponds in the chain. Plan to be one of the first to view this beautiful and long-hidden gem of the Adirondacks.
*No statistics are yet available for this chain of lakes.
Things to do at Essex Chain of Lakes
Vacation Rentals
Fishing
Swimming
Beach
Canoeing
Kayaking
Whitewater Rafting
Golf
Campground
Hiking
Cross-Country Skiing
Snowmobiling
Horseback Riding
Hunting
Wildlife Viewing
Birding
Museum
---
Essex Chain of Lakes Photo Gallery
Essex Chain of Lakes Statistics & Helpful Links
Spread the word! Share our Essex Chain of Lakes article with your fellow Lake Lubbers!