El Dorado Lake, Kansas, USA
Lake Locations:
USA - Midwest - Kansas - South Central -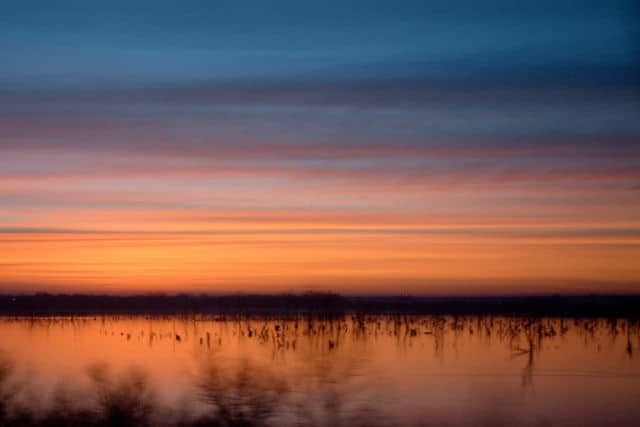 Completed in 1981, South Central Kansas' El Dorado Lake is an 8,000-acre reservoir bordering the stunning tall grass prairies and rolling mounds of the Flint Hills. The lake boasts an average depth of 19 feet, and an impressive 50 billion gallons of potential storage volume. The project was constructed by the U.S. Army Corps of Engineers for water supply and flood control. It also offers an impressive 97 miles of shoreline used for recreational purposes. The top of the dam stands at 1,370.5 feet above sea level.
Several recreational areas make up El Dorado Lake – Bluestem, Boulder Bluff, Overlook, Shady Creek,and Walnut River – all of them known for their phenomenal wildlife watching. Bluestem is best remembered for fantastic opportunities to view Canada geese, warblers, tree swallows and bald eagles; Boulder Bluff's rock quarry is home to numerous collared lizards and waterfowl; Shady Creek hosts meadowlarks, common nighthawks, deer and greater prairie chickens; and Walnut River provides a habitat for chickadees, cardinals, woodpeckers, hawks, vultures and minks. Biking, boating, water skiing, jet skiing and horseback riding are other popular El Dorado diversions. Local facilities include four major campgrounds (some with electric hookups), cabins, boating ramps, marinas, picnic areas and playgrounds. Beach swimming areas, hiking and equine trails are also available, along with restrooms, shower houses, laundry facilities and a sailing club.
The hiking trails around El Dorado Lake host many of Kansas' 800 varieties of wildflowers, particularly during May-June and August-September. At these times, hikers should keep an eye out for rose verbena, Missouri evening primrose, upright coneflower, and the purple prairie clover. A short walk to a lookout point made of limestone can be found on the left side of the basin, offering some of the best views of El Dorado Lake and its dam. Nearby, a plaque commemorates the old schoolhouse (circa 1897) that previously occupied the premises. Boulder Bluff Horse Trail wraps 12 miles around the lake's picturesque shoreline, and is suitable for horseback riding, hiking, and biking. The ADA Trail is a 2.5-mile lark through the Walnut River area. Double Black Diamond Mountain Bike Trail is a tough 2-mile biking path that can also be tackled on foot. Teter Nature Trail is an easy 3/4-mile stroll through the scenic woodlands of the Butler County Historical Society Wilderness Area – expect to see deer, raccoon, turkey, and a variety of plant life here. The Walnut Ridge Trail is another short, 3/4-mile stretch of terrain that connects to the Linear Trail, which in turn crosses the Walnut River bridge.
Fishing and hunting are also popular at El Dorado Lake, which is overflowing with game fish like largemouth bass, walleye, channel catfish, flathead catfish, white crappie, black bullhead and drum. White bass, carp, black crappie, smallmouth bass and bluegill are also present. Rainbow trout are stocked in the Walnut River from October 15 to April 15; although sportsmen are required to obtain a special trout permit in addition to regular fishing permits. Anglers have the most fishing success along the rip-rap (stones lining the border of the lake that prevent erosion) near the dam and along the railroad. Crappie and largemouth bass are also drawn to the timber fish attractors that have been strategically placed throughout the lake. Additionally, "Old Bluestem Lake" is a favorite hiding place for flathead catfish. For hunters with proper permits, quail, prairie chicken, turkey, pheasant and deer can be pursued on the grounds to the northern side of the lake.
Just three miles southwest of El Dorado Lake lies the City of El Dorado. Founded in 1870, the municipality features 12 public parks that offer concerts, BMX bike races, picnics, skating, swimming, tennis, soccer, baseball and softball. The town's main street is a lovely place to shop and stroll. Undoubtedly worth a stop is the Coutts Memorial Museum of Art, which holds works from legendary artists like Renoir and Remington. Nearby, the Kansas Oil Museum displays antique equipment from the 1920s through the 1950s, and also describes the town's fascinating history in the oil industry. Families will love the Playhouse Doll Museum, a charming exhibit of dolls and collectors' items located in the Antioch Church. During the summer, the El Dorado Broncos play at McDonald Stadium – this semi-professional team is a key competitor in the National Baseball Congress World Series. The oldest historical sites in the area date back to the late 1800s, and feature the 1958 El Dorado Tornado Memorial, the Butler County Courthouse, the Missouri Pacific Railroad Depot, and the Carnegie Library. With so many things to see and do, El Dorado Lake is the perfect place for a family vacation or summer home.
Things to do at El Dorado Lake
Vacation Rentals
Fishing
Boating
Sailing
Swimming
Beach
Jet Skiing
Water Skiing
Tennis
Camping
Campground
Picnicking
Cabin Rentals
Hiking
Biking
Horseback Riding
Hunting
Wildlife Viewing
Birding
Museum
Playground
Antiquing
Fish species found at El Dorado Lake
Bass
Black Bass
Black Bullhead
Black Crappie
Bluegill
Carp
Catfish
Channel Catfish
Crappie
Flathead Catfish
Largemouth Bass
Perch
Rainbow Trout
Smallmouth Bass
Sunfish
Trout
Walleye
White Bass
White Crappie
---
El Dorado Lake Photo Gallery
El Dorado Lake Statistics & Helpful Links
Spread the word! Share our El Dorado Lake article with your fellow Lake Lubbers!