Eagle River Chain of Lakes, Wisconsin, USA
Also known as:  Cranberry Lake, Catfish Lake, Voyageur Lake, Eagle Lake, Scattering Rice Lake, Otter Lake, Lynx Lake, Duck Lake, Yellow Birch Lake, Watersmeet Lake.
Welcome to the ultimate guide for history, statistics, local fun facts and the best things to do at Eagle River Chain of Lakes.
If you're considering Eagle River Chain of Lakes vacation rentals, we've made it super easy to explore accommodations and nearby hotels using the interactive map below. Simply click on a listing to compare similar properties, best rates and availability for your dates. Or keep scrolling to read our Eagle River Chain of Lakes guide!
Eagle River Chain of Lakes visitor and community guide
The Eagle River Chain of Lakes in far northeastern Wisconsin is known to fishermen as prime Musky water, but the lakes are also a prime vacation destination for the entire family. The Eagle River Chain includes nine lakes that span 3,928 acres with 68 miles of shoreline: Catfish Lake, Voyageur Lake, Eagle Lake, Scattering Rice Lake, Otter Lake, Lynx Lake, Duck Lake, Yellow Birch Lake, and nearby Watersmeet Lake. The chain, although partly natural lakes, is created and deepened by the Otter Rapids Hydroelectric Dam at the end of Watersmeet Lake. Vilas County, next to the Michigan state line, and adjoining Oneida County are in the Northern Highlands Lake District of Wisconsin, one of the highest densities of lakes in North America.
The connecting Three Lakes Chain, also known as Burnt Rollways Reservoir, contains another 7,600 acres and 106 miles of shoreline. But, instead of three lakes, there are actually 20 connected in this chain, with several more not technically connected but a very short distance away. All are great fishing lakes: Long Lake, Planting Ground Lake, Rangeline Lake, Townline Lake, Round Lake, Island Lake, Little Fork and Big Fork Lakes, Fourmile Lake, Medicine Lake, Laurel Lake, Spirit Lake, Big Stone Lake, Deer Lake, Crystal Lake, Dog Lake, Big Lake, Whitefish Lake, Maple Lake, and Virgin Lake. Although it is popularly stated that there are 28 lakes in the chain, it appears there are more than that indirectly connected. Together the two chains create the largest inner coastal freshwater chain in the world.
The Eagle River Chain of Lakes and the Three Lakes Chain are connected and navigable by boat via an ingenious tramway at the Burnt Rollways Dam, operated by the Wisconsin Valley Improvement Company (WVIC). In operation since 1911, the hoist system moves boats from the lower Eagle River Chain (1614 feet) to the somewhat higher Three Lakes Chain (1625 feet). WVIC also maintains the 2.5-mile channel below the hoist into Cranberry Lake (955 acres). Other popular lakes nearby are Dam Lake, North Twin Lake, and Bass Lake. The lakes are relatively shallow; the deepest spot is 57 feet. Although the water is clean, clarity is poor as the water is stained with tannin, a naturally occurring harmless byproduct of vegetation. (Hint for the Musky Hunter: use fluorescent baits at the edges of the weed beds.)
The two chains are bound by Eagle River on the north and Three Lakes on the south. The area saw sporadic settlement throughout the 1800s, but settlers soon found the soil too thin for much farming. As a local wit says, the land wasn't good for much except growing trees, and it did that in abundance. The few settlers coexisted with local Native Americans for several years.
It wasn't until the 1880s that there was a major influx of lumbering men and lumber interests to the Eagle River Chain of Lakes area. Coming across from the Upper Peninsula of Michigan, loggers flooded into the small settlement of Eagle River. At one point, the town had over 2500 residents, mostly living in hotels and boarding houses. Rail lines soon were laid to transport out the lumber produced. Rail travel opened up the possibility of visits to the northern lakes for many, and the area quickly became popular for hunting, fishing and camping. Currently the population is around 1500 and stays stable at that number. Smaller Three Lakes saw a similar temporary lumber boom and settled back to become a sleepy small town that enjoys its visitor population immensely. Most of the harvestable timber was exhausted by 1910 and has since been replanted and re-grown.
Fishermen come here to pursue the famed and wily Muskellunge but can also catch Walleye, Northern Pike, Crappie, Perch, Largemouth Bass, Smallmouth Bass, Bluegills, Rock Bass, several varieties of Bullhead Catfish, and Shiners. The Eagle River Area Chamber of Commerce and Visitor Center and Musky Clubs Alliance of Wisconsin, Inc. sponsor the Annual National Championship Musky Open Tournament in August each year. There are several other fishing tournaments scheduled annually for the angler's enjoyment. In winter, there is ice fishing on the lakes. Truly, fisher folk could be happy here year round.
The Eagle River Chain of Lakes never saw the intense resort development of many lakes farther south, likely due to its remote location. It has always sported a few resorts scattered among the lakes and is beginning to develop more resort properties and condos. Some lakes are sparsely populated; none are crowded. There is everything here from exclusive resort complexes with all desired amenities to small fish camp-type properties to family homes. Although some are year-round residences, more are summer cottages. Most services are accessible by boat, and Eagle River has a solid supply of restaurants, activities and entertainment. Water sports enjoyed here include rafting, kayaking, sailing, boating, waterskiing, jet skiing, swimming, snorkeling, diving, and windsurfing, so there's always plenty for the non-fisherman to do on the water.
The Eagle River Chain of Lakes offers plentiful off-lake activities, too, including golf, mountain biking, cross-country skiing, downhill skiing, snowboarding, sledding, tubing, hiking, hunting, horseback riding, and miniature golf. Wildlife viewing is a popular pastime, particularly the many bald eagles in the area. Combine two of these while hiking or biking the Three Eagle Trail starting near Three Lakes. Groomed snowmobile trails add to the enjoyment of the winter months. And the Town of Eagle River is prepared to entertain any discerning visitor with shopping and fine dining.
Visitors to the Eagle River Chain of Lakes soon find that Eagle River is nicknamed the "Snowmobile Capital of the World," because the World Championship Snowmobile Derby is held at an ice oval on the north side of the city. The Wisconsin Hockey Hall of Fame is at the Eagle River Stadium in Eagle River. The Historical Depot has displays from early Eagle River area logging days. And, each winter, the historically faithful Klondike Days Voyageur Encampment is held near town.
Yes, the Eagle River Chain of Lakes demands more than a cursory look. It's a beautiful setting for outdoor activities and year round fun.
Custom Eagle River Chain of Lakes house decor
Read our full review of these personalized lake house signs.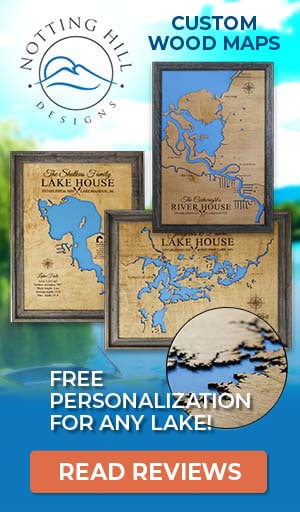 Things to do at Eagle River Chain of Lakes
Vacation Rentals
Fishing
Fishing Tournaments
Ice Fishing
Boating
Sailing
Swimming
Kayaking
Jet Skiing
Water Skiing
Tubing
Snorkeling
Golf
Camping
Hiking
Biking
Downhill Skiing
Snowboarding
Cross-Country Skiing
Snowmobiling
Horseback Riding
Hunting
Wildlife Viewing
Birding
Miniature Golf
Shopping
Fish species found at Eagle River Chain of Lakes
Bass
Black Bass
Bluegill
Bullhead Catfish
Carp
Catfish
Crappie
Largemouth Bass
Muskellunge
Northern Pike
Perch
Pike
Smallmouth Bass
Sunfish
Walleye
Whitefish
---
Best hotels and vacation rentals at Eagle River Chain of Lakes
The Eagle River Chain of Lakes map shown above is a simple and stress-free way to search for trip accommodations. But if you want to take a deeper dive to find the ideal waterfront home, cabin, condo, hotel or resort, visit our favorite lodging partners by clicking the buttons below.
Note: These are affiliate links so we may earn a small commission if you book through them. While there is no extra cost to you, it helps provide resources to keep our site running (thank you)! You can read our full disclosure policy here.
---
Eagle River Chain of Lakes photo gallery
New photos coming soon!
Eagle River Chain of Lakes statistics & helpful links
We strive to keep the information on LakeLubbers as accurate as possible. However, if you've found something in this article that needs updating, we'd certainly love to hear from you! Please fill out our Content Correction form.
Advertise your Eagle River Chain of Lakes vacation rental
LakeLubbers will soon offer homeowners and property managers the opportunity to to showcase their vacation rentals to the thousands of lake lovers searching our site daily for accommodations. If you'd like additional details, please contact our advertising team here.
Looking for the Eagle River Chain of Lakes forum?
LakeLubbers previously offered visitors the ability to create accounts and participate in lake forums. When we overhauled the site's content management system in 2021 we had to disable those features. We're evaluating options and welcome your comments and feedback here.
We also encourage you to join our lake-lovin' community on Facebook and Instagram!
Spread the word! Share our Eagle River Chain of Lakes article with your fellow Lake Lubbers!