Eagle Mountain Lake, Texas, USA
Lake Locations:
USA - Southwest - Texas - Prairies and Lakes -
Also known as:  Eagle Mountain Reservoir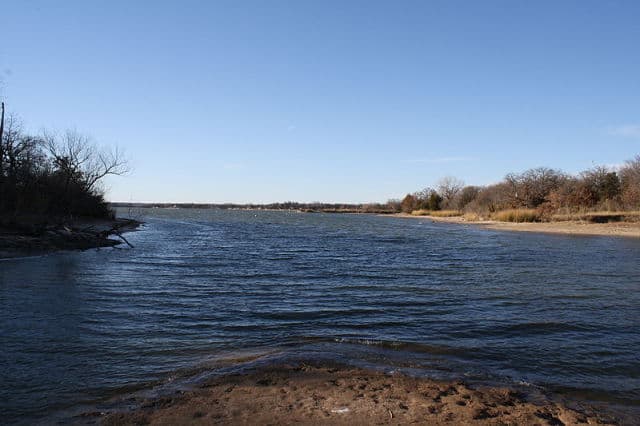 Eagle Mountain Lake was created to alleviate two contradictory problems: periodic flooding along the Trinity River and a looming water shortage in Fort Worth. One of a series of flood control dams built by the United States Army Corps of Engineers, the Eagle Mountain Dam was constructed across the West Branch of the Trinity River between Eagle Mountain and Burgess Gap. Completed in 1932, the reservoir was filled in 1934 and in the 70 years of its existence, the resulting Eagle Mountain Lake has come to offer far more to local residents. Indeed, the many visitors to Eagle Mountain Lake see it as a favorite boating and water sports destination without giving much thought to its original purpose. Now owned and operated by the Tarrant Regional Water District, its shoreline displays elegant homes who prize their water views and enjoy easy access to the lake. Located an easy 20 minutes from downtown Fort Worth, Eagle Mountain Lake has spawned several marinas that offer access and boating services to the public.
With nearly 9000 acres of water surface and 60 miles of shoreline, the sprawling reservoir provides a watery pallet for a variety of waterborne delights. Early on, a group of Fort Worth business owners established the Fort Worth Boat Club on nearby Lake Worth. Activities naturally gravitated to the new, larger Eagle Mountain Lake where the club still focuses on sailing. The lake is home to several yearly regattas and a regular stop on the Texas Yacht Racing circuit. Local sailors cruise the lake on every possible day with a decent breeze. The lake also provides wakeboarding, water skiing, tubing, canoeing, kayaking and pontooning.
Several annual events such as the Christmas Raft Parade and the Eagle Mountain Lake Tie-up are can't-be-missed events to a loyal crowd of fans. Friends meet here most summer weekends for impromptu boating get-togethers and parties. Marinas rent boats and offer all possible amenities to boaters, along with providing wet slips, dry slips, trailer storage, a stocked ship store, gas dock, and 24-hour security. Lakeside restaurants and bars offer dock access, meals and refreshments to thirsty lakelubbers. A floating restaurant near the south shore is an added attraction. Eagle Mountain Lake also has lodging facilities along the shoreline.
Some marinas offer camping space for tents or RVs. A small camp on the northeast shore provides camping space or rustic cabins and rents kayaks. All offer water access and boat launching. Fishing is a big draw to Eagle Mountain Lake with catches of largemouth bass, spotted bass, channel catfish, white bass and white crappie. Texas Parks and Wildlife has stocked the lake with Florida largemouth bass in the past which appear to be thriving. The crappie make it a habit to hang out in the shadow of the many private docks and boathouses, making this an excellent spot for the youngsters to catch 'the big one'. The many arms along the irregular, elongated reservoir provide for plenty of still-fishing opportunities. These same areas offer swimming spots and wildlife watching opportunities for canoes, kayaks and pontoons.
Eagle Mountain Lake is unusual in that there is no large state park along its shores. Instead, the nearby town of Azle maintains two park areas abutting the southwest arm of the lake. Here can be found playgrounds, picnic areas, a fishing dock, boat launch, volleyball and basketball courts and a soccer field. On the northeast bank of the lake, the 400-acre Eagle Mountain Park holds a nice selection of walking trails in a natural setting. Several housing developments on and near the lake have been carefully designed to keep the lake's appearance as natural as possible. There are even condo developments nearby that allow for easy access to the reservoir.
The towns of Azle, Pelican Bay and Newark provide all of the necessary services and supplies for visitors to spend carefree days at the lake. With the Fort Worth-Dallas Metroplex about 30 minutes away, big-city activities can round out the perfect vacation at Eagle Mountain Lake. Between the lake and Lake Worth along the Trinity River, the Fort Worth Nature Center and Refuge offers the opportunity to view wildlife from boardwalks across wetlands harboring numerous species, including alligators. Near the north end of the reservoir, the River Valley Motocross Park provides tons of fun for racing enthusiasts, a well-kept track and a family-oriented atmosphere. Fort Worth holds several water parks, a major amusement park and dozens of smaller attractions from rodeos to the Fort Worth Museum of Science and History. Golfers won't even have to leave the lake to enjoy a great public course at 'The Refuge', an exclusive golf course-centered development. Other golf courses are nearby. Shopping venues abound, and no member of the family will ever be bored.
In addition to several campgrounds and rental cabins, some private home rentals are also available. All types of lodgings are found in the area surrounding the lake, from quaint bed-and-breakfasts to small motels, with large chain hotels near Fort Worth. Real estate is available in all price ranges, with building lots and existing housing for sale on the lake itself. Apartments, condos and townhouses can be found in the lakeside communities, with excellent schools and city amenities. Eagle Mountain Lake provides the best of both worlds: city lights and laid-back country hospitality.
Things to do at Eagle Mountain Lake
Vacation Rentals
Fishing
Boating
Sailing
Swimming
Canoeing
Kayaking
Water Skiing
Wakeboarding
Tubing
Golf
Camping
Campground
Picnicking
Cabin Rentals
Hiking
Wildlife Viewing
Birding
State Park
Museum
Playground
Amusement Park
Shopping
Fish species found at Eagle Mountain Lake
Bass
Black Bass
Catfish
Channel Catfish
Crappie
Largemouth Bass
Spotted Bass
White Bass
White Crappie
---
Eagle Mountain Lake Photo Gallery
Eagle Mountain Lake Statistics & Helpful Links
Spread the word! Share our Eagle Mountain Lake article with your fellow Lake Lubbers!