Delavan Lake, Wisconsin, USA
Lake Locations:
USA - Midwest - Wisconsin - Southern Savanna Region -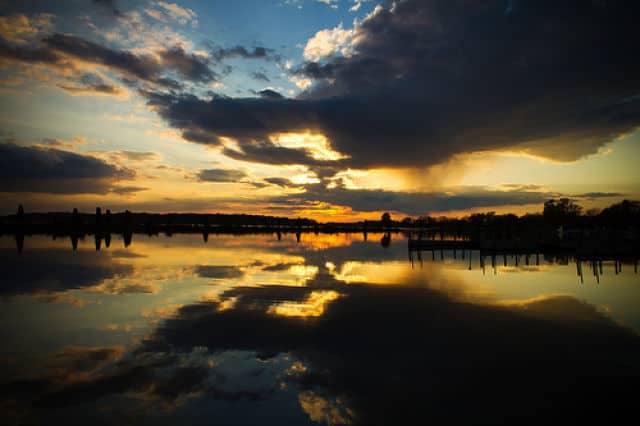 One of the more popular of Wisconsin lakes is Delavan Lake in the Southern Savanna region. Delavan Lake has had a glorious history: the lake was a favored summer resort location from the 1800's until the advent of the automobile made travel easy and convenient. As a measure of its affluent past, the lakeshore holds several Frank Lloyd Wright homes. Indeed, Wright designed two boathouses on the lake. Not to be outdone by Wright's design expertise, there is a boathouse on the lake made in the shape of a Pagoda: local lore says it came from the 1893 Columbian Exposition held in Chicago.
At the other end of the scale, the village of Delavan for many years acted as winter quarters for as many as 26 circuses. The idea for forming the P.T. Barnum Circus was developed in 1871 in Delavan by W. S. Coup, who also was first to put a large circus on rails and introduced the second and third ring to the performance. About 70 members of the "circus colony" are buried in Spring Grove and St. Andrew's cemeteries. There are rumors that an elephant that died was given a 'burial at sea' in Delavan Lake during that period.
With all of the past history it holds, Delavan Lake now is associated with sailing and water sports. A near neighbor to Lake Geneva, the sailing culture is alive and growing on Delavan Lake. The heavily-developed lake has seen many smaller cottages removed in favor of higher priced summer homes and condos. Residential properties can still be found at reasonable prices with a little looking, and rentals are always available.
The local yacht club is very active in the Inland Lakes sailing and racing associations. The racing and regatta season is in full swing during the spring, summer and fall months and becomes one of the main attractions for visitors to Delavan Lake. Several regattas are hosted at Delavan Lake each summer, and avid sailing teams travel to racing events throughout the United States to compete. The club also gives sailing and boating safety classes.
Sailing, of course, isn't the only water activity occurring on Delavan Lake. Fishing is a popular activity, with Bluegill, Largemouth Bass, Muskellunge, Smallmouth Bass, Northern Pike, Walleye and Yellow Perch caught. A few years ago during the fish survey, two blue walleye hybrids were caught. Also called blue pike, these fish are never found this far south and it's suspected the fish were introduced during one of the annual stocking events. In winter, ice fishing takes center stage, with fishing contests and tournaments held here regularly. There is a public access boat ramp available, located on the northeast shore off Hwy 50.
Delavan Lake is a sterling example of lake problems that can be corrected. Beginning in the 1940s, the lake suffered major eutrophism (weedy) with algae blooms. A key feature of the clean-up effort was the construction of three sediment retention ponds within a constructed wetland a couple of miles upstream on the inlet, Jackson Creek. This 2,072-acre lake has undergone a transformation via the efforts of sound water management and watershed practices and is now a clean and enjoyable body of water upon which to live and play.
For the visitor or year-round resident wanting something different, there are a variety of activities occurring nearby. Due to its proximity to Lake Geneva, activities and festivals are abundant. Concerts and performance arts are a regular occurrence at West Lake Geneva, and no summer visitor would want to miss the Lake Geneva Venetian Festival each summer. There is also a triathlon that draws many visitors each year.
As a change of pace, there is harness racing at the Elkhorn Fairgrounds several times each summer. About 7 miles from Delavan Lake, Elkhorn also hosts the Walworth County Farmers Market each Saturday from June through October. Trails for hiking, bicycling and snowmobiling may be accessed within a short distance of Delavan Lake.
At 63 miles from Madison and 87 miles from downtown Chicago, Delavan Lake is accessible in ways that many lakes farther north are not. It's a perfect spot for a weekend or a summer. Come and enjoy the water and the area.
Things to do at Delavan Lake
Vacation Rentals
Fishing
Ice Fishing
Boating
Sailing
Hiking
Biking
Snowmobiling
Fish species found at Delavan Lake
Bass
Black Bass
Bluegill
Largemouth Bass
Muskellunge
Northern Pike
Perch
Pike
Smallmouth Bass
Sunfish
Walleye
Yellow Perch
---
Delavan Lake Photo Gallery
Delavan Lake Statistics & Helpful Links
Spread the word! Share our Delavan Lake article with your fellow Lake Lubbers!