Deal Lake, New Jersey, USA
Lake Locations:
USA - Mid-Atlantic - New Jersey - Shore -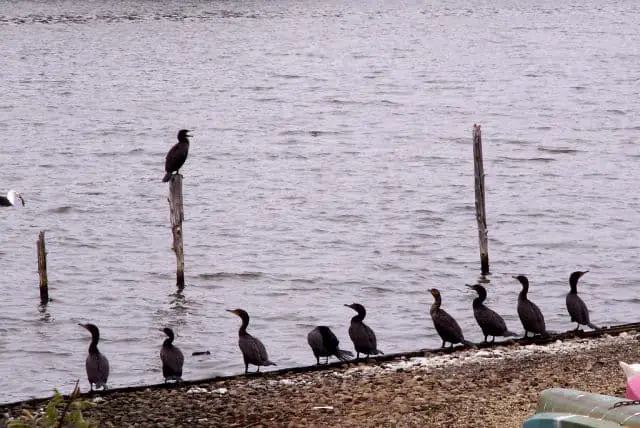 The largest freshwater coastal lake in New Jersey, Deal Lake is composed of a unique series of shallow ponds and channels clustered together — as opposed to a typical, single-bodied structure. Located in the middle of Monmouth County, its long, thin fingers touch seven municipalities: the Allenhurst, Deal, and Interlaken boroughs; Loch Arbour Village; the City of Asbury Park, and Neptune and Ocean townships.
Deal Lake's 158-acre surface area is covered in beautiful lily pads and fallen trees that serve to attract shallow-dwelling fish. Extremely superficial depths (90% of the lake is between three and four feet deep), create fruitful conditions for deal bass, carp, largemouth bass and migrating herring. Additionally, Deal Lake's proximity to the saline waters of the Atlantic Ocean — into which it drains — allows for saltwater creatures like oysters, clams, gizzard shad, alewife and blue back herring to prosper. Spring's pre-spawn conditions, once water temperatures rise to the mid-50s, are ideal for catching bass. During the summer, bass like to loiter among the lily pads, and the best time of day to catch them is at dusk and dawn. Fall is feeding season, and buzzbaits work wonderfully at this time of year. Sport fishing during the winter months is not encouraged, mostly due to unstable ice.
In addition to fishing, Deal Lake and the surrounding areas are utilized for a variety of other activities. Unlimited horsepower engines are permitted on the lake, and it is not uncommon to find boatmen zipping their vessels about in both planned and improvised races. Canoeing, kayaking, and wildlife watching are also wonderful diversions, and explorers can hope to find animals like raccoons, osprey, herons, chipmunks, egrets, mallards, loons, painted turtles, and snapping turtles.
Surfing is also popular near Deal Lake, on the waves of the Atlantic. Additionally, Asbury Park brings an amazing music scene and nightlife to the table — venues such as the Stone Pony and the Saint regularly headline a variety of both well known and up-and-coming bands. Theaters, golf courses, lighthouses and museums commemorating everything from bicycles to battlefields can be found in the surrounding Monmouth County area.
Deal Lake has an extensive history, during which it has undergone quite a few name changes. Hundreds of years ago, the Lenape Indians used to call it Lake Uliquecks, a title that was later changed to White's Pond — as evidenced by an antique map from 1781. During the Revolutionary War, British troops gathered fish, clams, and oysters from the lake to feed the hungry residents of England. By the 1800s, residents began referring to the lake as Hogs Swamp Pond, but then changed the name again to Boyleston Great Pond. In the late 1800s, a land developer gave the lake its current name — and then proceeded to seal off the inlet connecting Deal Lake to the ocean, reducing it to a small artificial drainage channel, or flume. Stripped of its natural cleansing method, Deal Lake began to collect storm water from all seven of the surrounding towns — and all of the trash, silt, and waste that came along with it.
The Deal Lake Commission was developed in 1974 to fund dredging and to combat water pollution. The commission, which is made up of one volunteer representative from each municipality, works hard to ensure the preservation of the lake for future generations. Today, Deal Lake's shores are lined with gorgeous houses and other high-end developments. Vacation homes and prime real estate properties have become widely available. Whether or not you like kayaking, clamming or surfing the powerful waves of the Atlantic, there is something for everyone in and around Deal Lake.
Things to do at Deal Lake
Vacation Rentals
Fishing
Canoeing
Kayaking
Golf
Biking
Wildlife Viewing
Birding
Museum
Antiquing
Fish species found at Deal Lake
Bass
Black Bass
Carp
Gizzard Shad
Largemouth Bass
Shad
---
Deal Lake Statistics & Helpful Links
At LakeLubbers.com, we strive to keep our information as accurate and up-to-date as possible, but if you've found something in this article that needs updating, we'd certainly love to hear from you!
Please let us know about it on our Content Correction form.
Spread the word! Share our Deal Lake article with your fellow Lake Lubbers!