Conesus Lake, New York, USA
Lake Locations:
USA - Mid-Atlantic - New York - Finger Lakes -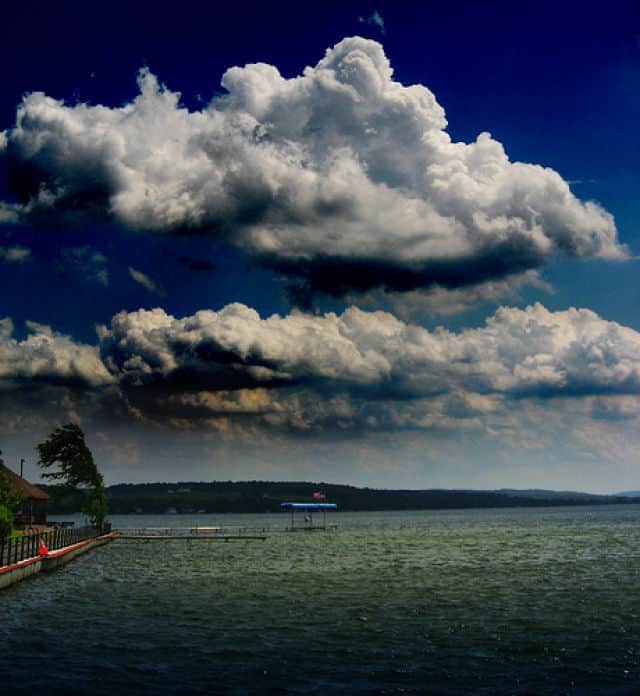 Livingston County, New York considers Conesus Lake to be its pride and joy, the jewel of the county. Indeed, this Finger Lake's original Seneca name means "Always Beautiful," and with emerald green shores and sapphire blue waters, Conesus Lake lives up to both of its names, affording the area's residents and visitors ideal conditions for land and water fun.
Conesus Lake is well known as a year-round destination, offering warm-weather activities like water skiing and swimming, and cold-weather activities like snowmobiling and ice fishing. This large repertoire of four season offerings has allowed the New York reservoir to grow in popularity – in less than 100 years, its number of summer cottages has soared from less than 100 to 1,100.
Boating is one of Conesus Lake's favorite activities, and there are several boat launches around the lake. Vitale Park, a.k.a. Sand Point, is in the town of Livonia, and offers a hand boat launch, green park, and a popular spot for outdoor summer concerts. Pebble Beach, Sand Point's neighbor, also offers a hand boat launch, as well as great fishing. The only public boat launch, Conesus Lake Public Boat Launch has both a hand and trailer boat launch, as well as picnic facilities, fishing, and room for the kids to run around. Lastly, the Conesus Inlet Fish and WIldlife Management Area offers 1,120 acres of fishing, hunting, trapping, hiking trails, and a hand boat launch to get you out onto the lake.
Boating on Conesus Lake consists of sailboats riding the breezes, speed boat going for joyrides, kayaks gently circling hidden coves, and pontoon boats exploring all that the lake has to offer. Many of the motor boats pull zealous water skiers and wake boarders behind them, dodging imaginary obstacles as they speed their way to an unforgettable day on Lake Conesus.
Long Point Park was once a lake amusement park, and now offers one of the lake's only official public swimming spots. Offering picnic tables, charcoal grills, a pavilion, and lifeguard-present swimming, Long Point Park is a popular family destination for a great day on land and water. Of course, many lake lubbers prefer to find their own swimming spots, and if you have a boat at your disposal, feel free to explore the lake's 3,420 acres in search of you own private swimming hole.
For many, a visit to Conesus Lake would not be complete without a morning spent fishing for the evening's meal. Luckily, the lake offers great fishing, and anglers often catch bluegill, brown bullhead, chain pickerel, largemouth bass, northern pike, pumpkinseed, rock bass, smallmouth bass, sunfish, tiger muskies, walleye, and yellow perch.
The Finger Lakes are part of New York's prized wine country, and this water-filled area is actually home to the highest concentration of U.S. wineries outside of the Napa Valley. More than 100 wineries wind their way around the Finger Lake's shores, and if you're a wine connoisseur, a trip to Conesus Lake must be accented by a day or two tasting the Finger Lake wines and touring their parent wineries.
One of Conesus Lake's most unique offerings is its annual "Ring of Fire" Fourth of July Celebration, and if you can schedule your trip around the event, you won't regret it. At the end of the day on July 3, when night has fallen, the lake participates in a well-orchestrated fireworks celebration: all around the lake's shoreline, bright red flares are lit, creating a "ring of fire" around the lake. This ring surrounds the ensuing fireworks, whose bright colors are beautifully reflected off the lake's calm surface.
Conesus Lake is a Finger Lake offering exquisite natural beauty, amazing water activities, and a lake community that is both tight-knit and creative. Living here feels like a constant vacation, and a vacation to the lake's shores will make you want to live here.
Things to do at Conesus Lake
Vacation Rentals
Fishing
Ice Fishing
Boating
Sailing
Swimming
Beach
Kayaking
Water Skiing
Wakeboarding
Picnicking
Hiking
Snowmobiling
Hunting
Wildlife Viewing
Amusement Park
Fish species found at Conesus Lake
Bass
Black Bass
Bluegill
Brown Bullhead
Chain Pickerel
Largemouth Bass
Northern Pike
Perch
Pickerel
Pike
Pumpkinseed
Smallmouth Bass
Sunfish
Walleye
Yellow Perch
---
Conesus Lake Photo Gallery
Conesus Lake Statistics & Helpful Links
Spread the word! Share our Conesus Lake article with your fellow Lake Lubbers!