Columbus Lake, Wisconsin, USA
Lake Locations:
USA - Midwest - Wisconsin - Lake Superior Northwoods Region -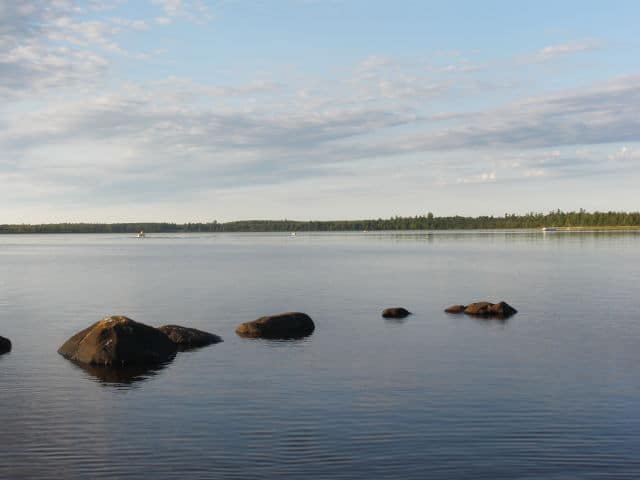 Columbus Lake is a hidden gem on the road less taken. The nearly 700-acre lake is just north of Sugar Camp in the Northwoods tourism region of Wisconsin. Columbus Lake has sandy banks and tree lined shores, perfect for wildlife habitat and wading during the warm summer months.
Columbus Lake just a 15 minute drive from three communities: Rhinelander, Three Lakes or Eagle River. Its shores are largely undeveloped. Most of the frontage is private, except two fairly isolated parcels of state land touching the lake on the north and northeast shorelines. There are no public boat launches; only "wilderness type access" is available to the public.
Columbus Lake is what Department of Natural Resource agents call a branch lake meaning water flows in and out of the lake. This helps keep the water quality good. So good in fact that the lake is not actively stocked, the species in Columbus Lake are self-sustaining. Columbus contains muskellunge, northern pike, walleye, largemouth bass, smallmouth bass and pan fish.
You will need to look to the surrounding communities for a vacation rental when visiting Columbus Lake since there are few houses on the lake itself. The neighboring communities also offer a host of activities. Columbus Lake is surrounded by national forest land, specifically the Ottawa and Nicolet National Forests. Since Wisconsin is home to more than 15,000 lakes, one of the characteristics of both forest lands is clear pristine lakes. The area is a four season destination with each time of the year offering different activities. In the spring and summer there are fishing, canoeing, camping, hiking, and horse back riding. When fall arrives, so do the hunters or folks who stop to see the area's famous fall colors. There are 3,600 miles of back roads to take in the scenery. Winter brings a lot of snow so cross-country skiing, ice fishing and snowmobiling are the norm. Area snowmobiling clubs help cut and maintain hundred of miles of snowmobiling trails. It is a great way to enjoy the snowy landscape.
Winter in Eagle River brings about a special project. On and off since 1920 the people of the town have built an ice palace. The "Castle" is constructed with more than 3000 12-inch-thick ice blocks cut from a local lake. The blocks are then hauled to downtown Eagle River and the beautiful castle is built. It only takes about 700 man-hours!
You may want to put a visit to the Rhinelander Logging Museum Complex on your agenda on your trip to Columbus Lake. In the complex you can tour the Rhinelander School Museum which depicts school in the pioneer days. The Logging Museum is a series of buildings representing a true-to-life replica of a lumber camp of the 1870's, consisting of a bunkhouse, a cook shanty, and a blacksmith shop, plus many artifacts. The SOO Line Depot was built in 1892 by the SOO Line Railroad. It remained in constant railroad service until 1989. There is also a model train display in the basement of the depot. It is a representation of the prototype railroads operating in Rhinelander in the 1920's through the 1940's.
The communities neighboring Columbus Lake offer a wide variety of museums. In addition to the Logging Complex, there is The Northwoods Petroleum Museum in Three Lakes. The museum has displays from the major oil and tire companies hailing the days when a gallon of gas was under a buck. The Northwoods Children's Museum in Eagle River offers an all day diversion for the kids. The 22 interactive exhibits offer a wide range of creative play. There are also special facilitated craft workshops during the school year on Saturdays at 1 p.m. The Nicolet Art Gallery is on the campus of Nicolet Technical College in Rhinelander. The World Snowmobile Headquarters and Museum is aptly stationed in Eagle River, the site of the World Championship Snowmobile Derby.
If you are an adventurer and have a habit of taking the road less traveled then a trip to Columbus Lake could make all the difference. If some members of your traveling party like more populated destinations the surrounding communities have something for them as well.
Things to do at Columbus Lake
Fishing
Ice Fishing
Boating
Canoeing
Camping
Hiking
Cross-Country Skiing
Snowmobiling
Horseback Riding
Hunting
Wildlife Viewing
Birding
National Forest
Museum
Fish species found at Columbus Lake
Bass
Black Bass
Largemouth Bass
Muskellunge
Northern Pike
Perch
Pike
Smallmouth Bass
Walleye
---
Columbus Lake Photo Gallery
Columbus Lake Statistics & Helpful Links
At LakeLubbers.com, we strive to keep our information as accurate and up-to-date as possible, but if you've found something in this article that needs updating, we'd certainly love to hear from you!
Please let us know about it on our Content Correction form.
Spread the word! Share our Columbus Lake article with your fellow Lake Lubbers!