Cheat Lake, West Virginia, USA
Lake Locations:
USA - South - West Virginia - Mountaineer Country -
Also known as:  Lake Lynn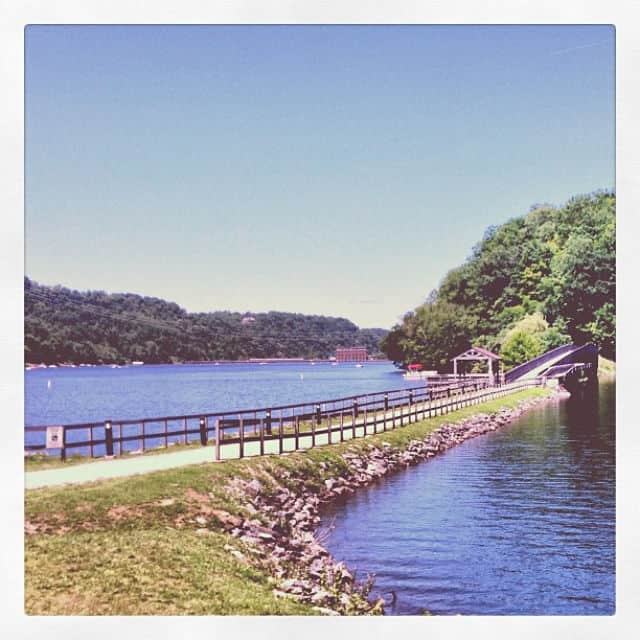 A dam built across the Cheat River in 1925 created the scenic reservoir of Cheat Lake. Originally called Lake Lynn, the dam sits nearly at the border between West Virginia and Pennsylvania. Located in West Virginia's Mountaineer Country region, the reservoir meanders amid scenic green mountains and beneath canyon walls. Built for hydroelectric power generation, Lake Lynn was renamed Cheat Lake in 1976, but the power generation project still retains the Lake Lynn designation. Located only about ten miles east of Morgantown, WV, Cheat Lake is gaining in popularity both as a recreational resource and as a bedroom community. A number of large homes enjoy secluded views from the cliffs overlooking the lake.
As a colonial surveyor, George Washington envisioned using the Cheat River as a transportation system. It wasn't until 1910 that work began on the Lake Lynn Dam, and obstacles created by World War I delayed the project until 1925. The Lake Lynn Project was dedicated in 1927 with the placement of a bronze plaque proclaiming the lake and power generation as dedicated to the public 'in lasting beauty for recreation and the supplying of essential service'. At one time, cottages could be rented by employees of the long-defunct railway that ran along the eastern bank of the lake. Now, the lake boasts three marinas, a golf and spa resort, a number of trails and one at-your-own-risk swimming beach at Cheat Lake Park. The community of Cheat Lake along the eastern shoreline offers food, supplies and services to residents and visitors.
Much of the main part of the lake is popular with pleasure boaters and water sports enthusiasts: water skiing, tubing, windsurfing and wakeboarding. Several quiet backwater embayments are particularly popular with those who enjoy canoes, kayaks and pontoon boats. Little Cheat Lake Park along the eastern shoreline is well-positioned for those who enjoy quiet waters and a wealth of wildlife. Located in a no-wake portion of the lake, the 4.5-mile Cheat Lake Trail bisects the park with an unpaved trail along the old former railway and its causeways across two embayments. A playground, rest rooms, and the swim beach separate several somewhat secluded picnic areas with picnic tables and grills. The name, Mill Stone Beach, derives from old millstones scattered around the area, remnants of old grist mills once common along the river. The parking area on Morgan's Run Road is a distance from the lakefront, so some walking is required. A driveway down to the lake allows for handicapped access, but the parking isn't very close to the shoreline. Currently, no camping is available.
Fishing is a favored sport at Cheat Lake. In years past, acid mine runoff killed fish and endangered water quality. Several years of concentrated efforts by such groups as Cheat Lake Environment and Recreation Association (CLEAR) and the Cheat Lake Advisory Council have monitored water quality and worked to improve recreational opportunities at the reservoir. They have succeeded to the point that Cheat Lake is one of the better lakes in the region for largemouth bass fishing and the location of regular bass tournaments. Channel catfish, crappies, sunfish and walleye round out the angling selection. A fishing dock at Cheat Lake Park allows even the littlest anglers to try their luck. A boat ramp lets visitors launch small hand-carried boats. Larger craft will need to use the commercial marinas where they will find boat gas, boat rentals, snacks, supplies, restaurant, fishing equipment and rental slips available.
The area near Cheat Lake is a trail-lover's dream. The Cheat Lake Trail intersects the Cheat Haven Trail. Plans are in the works to expand the trail into Pennsylvania to connect with the Mon River trail that becomes the Caperton Trail along the riverfront in Morgantown. Just upstream (south) from Cheat Lake, Cooper's Rock State Forest holds over 20 trails suitable for hiking, mountain biking and cross-country skiing. Many of the trails skirt the bluffs of Cheat River Gorge and offer excellent overlooks among the trees. In June, the trails are ablaze with azalea and rhododendron. Deer, fox, owls, songbirds, squirrels and other forest denizens can often be seen. Coopers Rock State Forest offers the closest campground to Cheat Lake, a 25-site campground with electricity, hot showers, water and even wifi to registered campers. Several small streams cross the state forest, and a small six-acre impoundment is stocked with trout for fishing. Farther upstream, some of the East Coast's best whitewater rafting can be found in the Cheat River Gorge.
Cheat Lake has been under the management of several hydroelectric companies, beginning with Allegheny Energy, First Energy and most recently Harbor Hydro Holdings LLC. Rapidly multiplying environmental restrictions have caused many smaller hydroelectric projects to close in recent years, and the Lake Lynn Power Station is not large. However, Harbor Hydro recently invested in several improvements at the dam to solve a years-old problem of debris clogging the dam outflows and causing flooding. Apparently Harbor Holdings has every intention to keep Lake Lynn Power Station in operation for the foreseeable future.
Lodgings in the area are provided by the golf resort, campgrounds and RV resorts nearby, and a few private home rentals. The entire area along the river is a popular vacation destination, so there are guest cottages and campgrounds not far away. Morgantown, home of West Virginia University, is located only ten miles west. The city provides hotels, guest cottages and bed & breakfasts, along with multiple restaurants, entertainment venues and shopping. If your idea of an ideal vacation includes water sports, fishing, great scenic vistas and quiet wooded trails, then Cheat Lake is the perfect spot to spend your time. Toss the kayak on the rood-top carrier, pack the tent or RV, and head over to Cheat Lake to enjoy a scenic vacations in the West Virginia mountains.
Things to do at Cheat Lake
Vacation Rentals
Fishing
Fishing Tournaments
Boating
Swimming
Beach
Canoeing
Kayaking
Whitewater Rafting
Water Skiing
Wakeboarding
Tubing
Golf
Camping
Campground
Picnicking
Hiking
Biking
Cross-Country Skiing
Wildlife Viewing
State Forest
Playground
Shopping
Fish species found at Cheat Lake
Bass
Black Bass
Catfish
Channel Catfish
Crappie
Largemouth Bass
Perch
Sunfish
Trout
Walleye
---
Cheat Lake Statistics & Helpful Links
Spread the word! Share our Cheat Lake article with your fellow Lake Lubbers!