Cayuga Lake, New York, USA
Lake Locations:
USA - Mid-Atlantic - New York - Finger Lakes -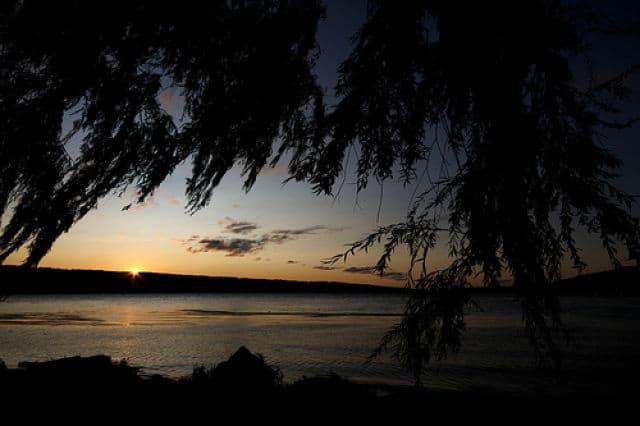 Cayuga Lake, located in western New York, is the second largest Finger Lake in both surface area and volume. Boasting 38.2 miles in length, 1.7 miles in average width, 42,956 surface acres, and a maximum depth of 435 feet, this Finger Lake will give you all the room you need to explore.
The parks and protected land around the lake help to preserve its natural beauty. The Allan H. Treman State Marine Park is located in Ithaca, home of Cornell University, at the south end of the lake. The park is one of the largest inland marinas in New York, offering visitors a marina, boat lauch dockage, pump out station, fishing pier, picnic tables and playing fields. At the north end of the lake sits the Montezuma National Wildlife Refuge, operated by the United States Fish and Wildlife Service. What began as a migratory bird refuge has grown to become a 7,200 acre preserve of swamps, pools, and water channels that provide a temporary home for migratory birds and a permanent one for the area's land animals and marine life. All four seasons provide ample opportunity to view animals in their natural habitat. The third park in the area is Cayuga Lake State Park, which lures visitors with its beaches, gentle slopes to the lake, campsites, cabins, and various fishing locales.
Cayuga Lake proudly gives a home to Frontenac Island, one of only two islands in the Finger Lakes chain. And if you have a yen for fishing, the lake and its lone island provide the perfect backdrop for your passion. Frontenac Island is known for its northern pike population and general good fishing conditions. Cayuga Lake boasts lake trout, rainbow trout, brown trout, smallmouth bass, largemouth bass, perch, bullhead, bluegill, crappie, rock bass, and others. The lake's forte, however, is its trout fishing, for which it is well-known. So pack your bait box and your poles, and head up to Cayuga to indulge in a day of fishing while surrounded by beautiful, sparkling waters.
While some may find Cayuga's waters a bit too cool for comfort, all can enjoy boating around the area. Boat rentals — powerboat, kayak, canoe, and more — are available at the marinas and Cayuga Lake State Park. The lake's almost 66 square miles beg to be explored. Take a picnic lunch with you and arrange your schedule so you can stop at one of the lake's several picnic areas, or simply stop your boat and drift a bit as you enjoy the tastes in your mouth and the sun on your skin. If you can pry yourself away from the lake, try some wine tasting along the Cayuga Wine Trail, comprised of 16 wineries around the lake.
The New York State Canal System operates the Cayuga-Seneca Canal along the Seneca River which provides boating, canoeing, and kayaking opportunities. Visitors can also hike and bike along the Canalway Trail. The canal was constructed to connect Seneca Lake and Cayuga Lake to the New York State Barge Canal system. Cayuga Lake's Mud Lock C&S Canal Dam, completed in 1912, improves navigation and prevents flooding and shoreline ice damage. The lake's water level is drawn down each winter to minimize ice damage and store heavy spring runoff.
If you find yourself lucky enough to visit this lake, don't be alarmed if you hear what sounds like cannon fire or a sonic boom. Cayuga Lake, like its neighbor Seneca Lake, is one of the few areas in the world to experience the Guns of the Seneca, an aural phenomenon yet to be scientifically explained. To the human ear, the booms sound like distant loud thunder, even when there is not a cloud in the sky. When the early white settlers arrived to the lake, the native Haudenosaunee (Iroquois) told them that the sounds were caused by the Great Spirit in his continuing work to shape the earth. Nowadays, it is said that they could be caused by meteorite impacts, gases escaping from the lake's surface, earthquakes, and more. Draw your own conclusions or make up your own myths, but whatever you do, try to enjoy this unique experience.
Things to do at Cayuga Lake
Vacation Rentals
Fishing
Boating
Swimming
Beach
Canoeing
Kayaking
Camping
Picnicking
Cabin Rentals
Hiking
Biking
Wildlife Viewing
Birding
National Wildlife Refuge
State Park
Fish species found at Cayuga Lake
Bass
Black Bass
Bluegill
Brown Trout
Crappie
Lake Trout
Largemouth Bass
Northern Pike
Perch
Pike
Rainbow Trout
Smallmouth Bass
Sunfish
Trout
---
Cayuga Lake Photo Gallery
Cayuga Lake Statistics & Helpful Links
Spread the word! Share our Cayuga Lake article with your fellow Lake Lubbers!