Calaveras Lake, Texas, USA
Lake Locations:
USA - Southwest - Texas - South Texas Plains -
Also known as:  Calaveras Reservoir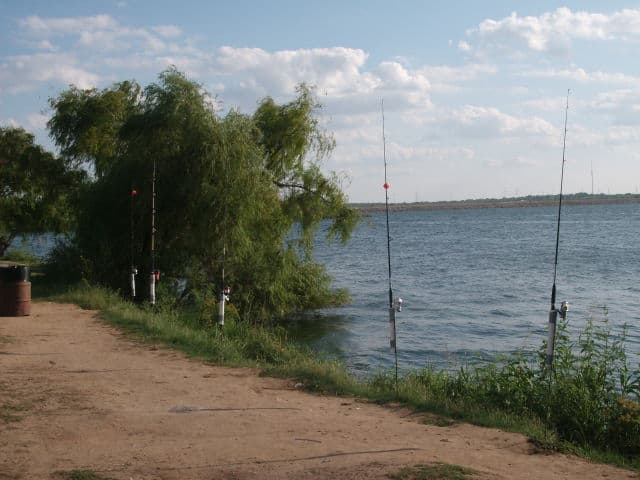 Created in 1969 to be a power plant cooling pond, Calaveras Reservoir has developed into one of Texas' premiere bass lakes. The manmade jewel is 20 miles southeast of downtown San Antonio in the South Texas Plains tourism region of Texas. It is known for its trophy-sized fish catches, great boating, and water sport opportunities.
Calaveras Reservoir and the smaller Victor Braunig Lake were one of the first projects in the nation to use treated wastewater for cooling power plants. Calaveras is filled in part with wastewater that has undergone treatment at a San Antonio Water System treatment plant. The City Public Service Board of San Antonio is in charge of the lake and the dam. The CPS Energy plant is still a major feature on the shore of Calaveras Lake.
The San Antonio River Authority manages Calaveras Lake Park, a public park that offers visitors picnicking, hiking trails, primitive camp sites and public boat launches. The 146-acre park is also a great place to bird watch. The 3600-plus acre lake attracts the great egret, double-crested cormorant, American white pelican, osprey, common moorhen, American coot, and pied-billed grebe. In the reeds along the lake, bird enthusiasts will see marsh wrens, swamp and Lincoln sparrows as well as common yellowthroats.
The spring is a great time to hike Calaveras Park — the nature trail is one of the newest attractions at Calaveras Park. Nature decorates the park with wildflowers like Indian paintbrush, Siberian wallflowers and Texas bluebonnet, making a hike pleasant and scenic. The 2000-foot stroll meanders along the northern part of the recreational shoreline where well-placed benches offer a place to rest or take in the beautiful views.
Anglers head to Calaveras Lake to fish the well-stocked pond. Red drum, hybrid striped bass, catfish and largemouth bass are plentiful in the lake; the Calaveras Lake record largemouth bass weighed in at a whopping 13 pounds, a blue catfish tipped the scales at 31 pounds, and the record red drum weighed and impressive 30 pounds. Spring — March through May — is the best time to catch largemouth bass, which can be found in the bulrush and along the rip-rap near the dam and intake point. March through May is also the best time to reel in channel catfish, though they can be caught year-round.
March through August is a good time to hunt for red drum in Calaveras Lake. The first eight months of the year are good for reeling in hybrid striped bass; though the peak season for the hybrid stripped bass runs from March to May. Anglers can reel in the big one from a boat or one of the park's lighted fishing piers. Once caught, anglers may use the fish cleaning station to ready it for the trip to the fire or the ride home.
Water sports are a big draw to Calaveras Lake. Motor boats, personal watercraft and waterskiing are favorite pastimes at Calaveras. Self-propelled canoes and kayaks are also favorites on the lake's blue waters. It is important to note that sailboats are not permitted on the lake.
After a day on the water, you may want to make a trip to San Antonio for nightlife or culture. History lovers should also schedule a trip to the Alamo, where part of the original fort remains and is open to visitors. Bexar County surrounds Calaveras Lake and the county boasts more than 650 registered historical sites. There are museums in the county and San Antonio area, such as the Briscoe Western Art Museum, The Pioneer Trail Drivers Texas Ranger Museum and The San Antonio Museum of Art, just to name a few.
The San Antonio River Walk is located just below the City's downtown streets. Hotels, art galleries, gift shops, restaurants and cafes line the River Walk. Guests are treated to live music while visiting unique boutiques. San Antonio also has a zoo and several amusement parks. You can find vacation rentals and real estate in San Antonio or closer to Calaveras Lake in the towns of Floresville and Elmendorf, Texas.
Calaveras Lake was built to cool a power plant that provides electricity to San Antonio but is now known now for its excellent fishing, water recreation and peaceful hiking trails. Its proximity to historical sites, amusement parks and the night life of San Antonio make it a destination that suits many tastes.
Things to do at Calaveras Lake
Vacation Rentals
Fishing
Boating
Sailing
Canoeing
Kayaking
Water Skiing
Camping
Picnicking
Hiking
Hunting
Birding
Museum
Amusement Park
Fish species found at Calaveras Lake
Bass
Black Bass
Blue Catfish
Catfish
Channel Catfish
Largemouth Bass
Striped Bass
---
Calaveras Lake Photo Gallery
Calaveras Lake Statistics & Helpful Links
Spread the word! Share our Calaveras Lake article with your fellow Lake Lubbers!